The growth of the artisanal food industry has allowed more people to bring their dreams of traditionally made products into reality.
Take Sarah Hoffmann, owner of Green Dirt Farm near Weston.
Hoffmann's dream of running a farm began in childhood. Hoffmann traveled across the country as the daughter of a U.S. Navy officer. Rather than live on military bases, Hoffmann's family lived on farms—either producing commercial products or hobby operations. Because of her childhood experiences, Hoffmann hoped one day to have a farm of her own.
Today, Green Dirt Farm sells its artisanal cheese made from sheep's milk online and in retail stores locally and across the country. Its flock of 150 ewes resides on hilly farm property that includes 70 acres of pasture.
Its products have been recognized for excellence; Green Dirt Farm won two 2018 Best in Class awards at World Cheese Championships for its Fresh Plain and Wooly Rind cheeses.
How it all started
Hoffmann was exposed to the cheese business early on.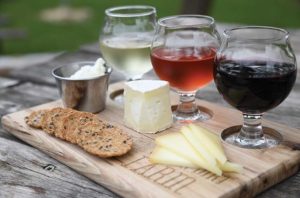 "My aunt had a gourmet cheese shop when I was in college, and I helped sell cheese during the holidays," Hoffmann said. "That's probably where I got my love for cheese."
She earned a degree in chemistry but was determined to have farming in her life.
"I wanted to have a small family farm business where my kids could grow up," Hoffmann said.
After an internship apprenticeship with Growing Growers, Hoffmann and her husband, John Spertus, bought their farm in 2000. She started out growing organic vegetables but learned the soil wasn't ideal for that use.
That's when sheep entered the picture.
"Sheep were my favorite livestock animals growing up," she said. "They are funny, calm and yet comical. … With my background, cheese-making seemed like what I should have been doing. It was perfect for my educational and family background."
Developing cheeses
Hoffmann spent lots of time researching cheese-making.
"I did lots and lots of trial and error," Hoffmann said. "I went to visit with traditional cheese makers in France … as well as reading and meeting with other cheese-makers."
By 2008, Green Dirt Farm was selling its signature sheep's milk cheese. Its ewes are milked twice a day.
Hoffmann developed a variety of cheeses and sold them at farmer's markets. Later, she added yogurt and other cheeses.
Sales took off. Then something unexpected happened.
"We had so many customers at farmers markets who wanted to come out and see what we do that we decided we needed to find a way to have guests on the farm without interrupting operations," Hoffmann said.
New offerings by demand
That's when Green Dirt Farm started its special tastings. Area chefs would do dinners in the farm's barn. With its special events growing as well as its product line, space on the farm became an issue. In 2016, Hoffmann resolved the challenges by opening The Creamery shop and café nearby.
"We pulled it off because it was kind of a necessity for us. … We were having a lot of growing pains."
The Creamery has helped move Green Dirt Farm's bottom line and gives Hoffmann a place to interact with customers, she said. Events are still held at the farm itself from May to October, and tours are given year-round.
What's ahead
Hoffmann operates the farm with the help of 12 employees, including daughter Eliza Spertus, who is farm manager.
Green Dirt Farm is adding to its products. It has a partnership with two Amish communities and is experimenting with blended cheeses involving cow's milk and goat's milk.
Green Dirt Farm's sheep milk only part of the year, and there is a short shelf-life for these cheeses, yet many distributors want products all year. Hoffmann's next challenge is how to keep her product going year-round.
Hoffmann said settling in the Greater Kansas City area has proven to be a great place to make her sheep farm a reality.
"We have the perfect climate for grassland agriculture and affordable land, Hoffmann said. "Because of there being so much agriculture here, there is a lot of support."