The magnet-lined vest is marketed to mechanics and other trades.
Grant Miner, the inventor of the Mag-Vest, has just signed a deal that could introduce his product to customers across the country.
For the next two years, the Lawless Group of Texas will have exclusive distribution rights for the magnet-lined vest—which is designed for plumbers, mechanics and other tradesmen who don't want to lose track of tools and parts.
The distribution deal is a coup for Miner. As a manufacturer's representative, Lawless has relationships with everyone from QVC to the nation's biggest brick-and-mortar retailers.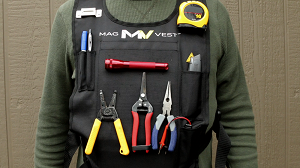 While the Mag-Vest is marketed to the construction and equipment repair industries, Miner created it with a very different audience in mind: surgeons.
Miner works as a sales rep specializing in medical devices, so he's spent a lot of time in operating rooms. After a while, he wondered why doctors—who have to have everything handed to them—didn't wear some kind of tool belt. Because surgeons' instruments are almost always steel, he hit on the idea of using magnets.
Miner and his wife, Jennifer, built the very first Mag-Vest prototype using a runner's vest and some magnets they bought at Home Depot. That was about two years ago.
Since then, Miner has joined the E-Scholars program at the University of Missouri-Kansas City. That gave him the technical know-how to build a business around Mag-Vest. A Kickstarter campaign last year raised more than $15,000 for production costs.
Along the way, Miner has made a couple of lucky connections. He found his Shanghai-based manufacturer after talking with another local inventor. And he caught the Lawless Group's attention because one of their associates saw the Mag-Vest at the National Hardware Show and raved about it.
Miner still works in sales. The arrangement with Lawless Group will allow Mag-Vest to grow without forcing Miner to quit his day job.
"I love what I do," he said, "but if I were really honest with myself, I consider myself more of an inventor than an entrepreneur."
He still hasn't given up on his original concept: developing a Mag-Vest for the medical industry. Miner's deal with Lawless Group gives him the freedom to keep pursuing this market.
His advice for other aspiring inventors? When you start to doubt yourself, keep pushing.
"There were a couple times along the way when I wanted to give up," Miner said. But positive feedback from industry contacts and potential customers gave him confidence.
"I think that is what kept me going. 'There really is something here, I just have to keep going.'"