Some of KC's best food truck operators share the hard-earned lessons they've learned on the job.
---
Kansas City's veteran food truck operators serve a wide range of classic and innovative dishes to hungry customers. Running a food truck, essentially a mobile small business, comes with unique challenges and exciting opportunities.
New entrants want a slice of the pie— and it's a big pie. According to online trade magazine Mobile Cuisine, the U.S. food truck industry generated $1.2 billion in revenue last year. More than 4,100 food trucks operate in the United States. Luckily, novice and aspiring food truckers in Kansas City can learn from experienced operators who have launched a mobile food business.
Staying Ahead of the Learning Curve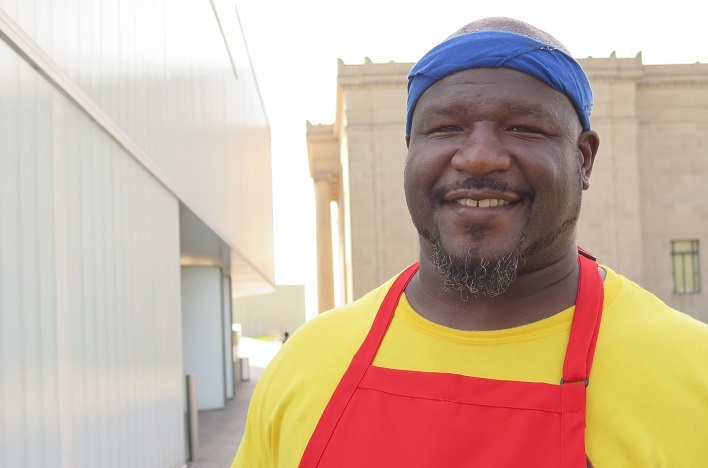 SAVE THE DATE

The second annual Food Truck Face-Off will take place from 4 to 9 p.m. June 3, First Friday, at The Roasterie, 1204 W. 27th St. in Kansas City, Mo. This competitive, judged event features multiple food trucks competing for the votes of food judges and the public. Visit is.gd/kcfoodtruck2016 for details and tickets.
Brandon Simpson, founder of Jazzy B's, knows that being a profitable food truck operator requires far more than four wheels and a tempting menu. Simpson initially developed the idea for Jazzy B's, a fusion of barbecue and Cajun food, as a restaurant concept while in college. When he realized his restaurant concept would require more than $1 million in startup costs, he set aside the idea.
After being laid off from jobs in construction and sales, Simpson reconsidered his food-based business idea. "I was torn between a storefront or testing the market with a food truck," he said.
Simpson opted for the food truck route, which enabled him "to move around Kansas City and touch an audience in all parts of the city," he said. "Also, the startup cost was much lower."
Simpson didn't have any professional culinary experience. As the owner and self-taught chef of Jazzy B's, Simpson encountered a series of hurdles when he started.
"My first year was a mess. My menu changed due to customer [feedback] and the limitations of the truck," Simpson said. "Learning about the different health department jurisdictions confused me."
The biggest learning curve was determining whether or not to pay a fee to attend events where he could make sales. "A bad event can deplete a truck's funds very fast," he said.
Now Simpson shares his experiences through a "Business of Food Trucks" course that he leads for Mid-Continent Public Library. He offered a few tips for novice food truck operators: "Be patient and smart with food costs. It is better to run out of food than it is to take it home. Make sure customers come back because of the experience they have at your truck and not just because of how good your food is."
Upscale Cuban Food From Scratch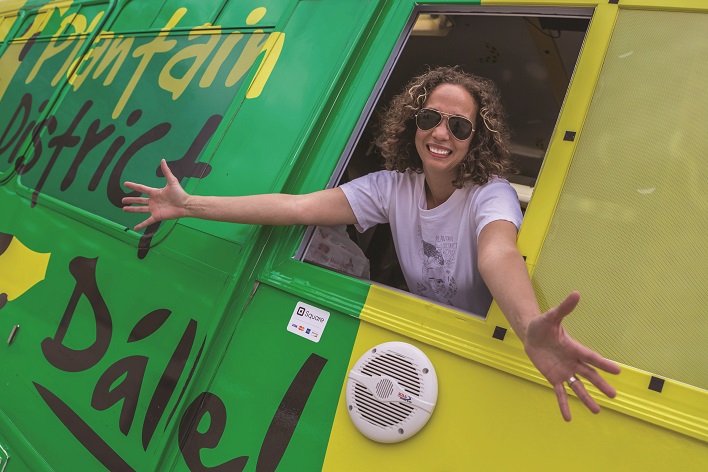 (photo courtesy of Jill Annie Photography)
Owner Rachel Kennedy's Plantain District specializes in gourmet Cuban food. Since October 2014, Kennedy and chefs Wanda Burke and Andrew Dalton have prepared and sold Cuban sandwiches, hand-sliced plantain chips, picadillo, rice and beans, lechón (roasted pork) and other from-scratch Cuban dishes.
Some food truck menus vary regularly, balancing best-selling classics with specials, such as Plantain District's Vietnamese bánh mì and Cuban-inspired street tacos, to offer new items for frequent customers.
Kennedy's bachelor's degrees in business and dietetics provided her motivation to enter the food truck business.
"I felt that a food truck would be a good marrying of the two," Kennedy said. "I worked in restaurants throughout college and always had a healthy respect for the food industry. Food trucks were catching on in KC since 2012, so I wanted to test the waters as well."
Kennedy hired chefs so she could focus on the business side of running the truck. Early challenges provided learning experiences.
"Our truck is diesel. We had no idea that you had to plug the truck in when outdoor temperatures dip below 40 degrees," Kennedy said. "Our truck wouldn't start, and we had it towed."
Adapting to work in a kitchen within a truck adds complications. "You have truck issues, kitchen issues or even both," Kennedy said. "Say everything is prepped and ready for a big event. Then you start the truck and realize you have a flat tire. Hundreds of combinations of things can go wrong. A good day is when they didn't!"
Food preparation involves time-consuming work and attention to detail, especially for major events. Plantain District served food at Boulevardia, Boulevard Brewing Co.'s annual urban street festival. Preparation for that event took weeks. A typical small-scale event usually requires a week to plan a menu, grocery shop, estimate headcount, prepare food at a commissary in North Kansas City and serve.
Kennedy considers factors such as weather, the presence of other food trucks, time of day and event promotion. Plantain District relies on social media to market and notify customers of the truck's location and schedule during the March through November season.
"Food trucking is an all-day, everyday type of job," Kennedy advised. "I put in an obscene amount of hours."
Kennedy clarifies the ups and downs of the business for others. "Most people think it is glamourous to be your own boss," she said. "It is amazing, but there are also all the tasks that you are responsible for as a boss, like payroll, dishes and keeping your customers happy."
From the Big Easy to the Heartland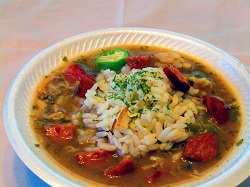 Mark Drouin of Cajun Cabin Food Truck and Catering began operations in June 2011. His fare includes jambalaya, gumbo, red beans and rice, and etouffée.
Preparation of these foods "makes it easy to serve large crowds quickly as well as cater indoor parties," Drouin said.
Cajun Cabin emerged after Drouin and his family moved to Kansas City from New Orleans in 2009, post-Hurricane Katrina. He had worked at a community center one mile away from the Superdome. When donors' financial support for the center dried up, Drouin began selling Sno-Cones, hot dogs and nachos from a stationary trailer to generate funds.
After relocating to Kansas City, Drouin developed a mobile food truck. He bought and converted an old Snap-on tool truck from Craigslist with minimal initial costs.
"It took a while to know where to go and establish a name," Drouin said. "The first couple of years were tough, due to harsh winters in the Midwest. We weren't ready to be suddenly out of work for two months. Now there is more awareness in the business community. You can have gourmet food catered to the front door of your office."
With an established reputation and a full-time operation, Drouin relies on social media, word of mouth and a website for marketing. He has seen a steady 20 percent annual increase in business. He plans to add a new operation, Fleur de Lis Catering, with Cajun and Southern-style foods to complement the food truck business. Catering is "guaranteed money versus vending somewhere."
"When you first start out, you say 'yes' to everything," he said. "Try to have backup financial surplus to get through the first two years. Unexpected things come up. Have a product that sets you apart from the crowd. Also, include food on your menu that can easily be catered indoors. There is a whole market that doesn't depend on being in a truck."
Helping Hands Matter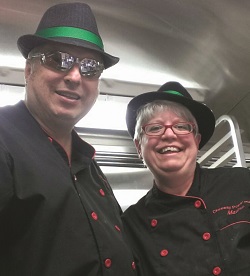 Bruce and April Durnell own and operate Cheeesy Pops' Pizza. Before entering the food truck business, Bruce worked three decades in the metal fabrication industry. April spent 27 years in college administration. The Durnells relocated from Springfield, Mo., to Kansas City and began narrowing options for a new venture since Bruce had retired.
They decided on a pizza-based food truck. Bruce was born in Naples, Italy, the birthplace of the pizza. His heritage and upbringing inspired Cheeesy Pops' pizza recipes. They contracted with MAG Specialty Vehicles to rebuild a Hostess delivery truck.
The older couple faced challenges that weren't accounted for in the business plan.
"The pizza dough was a living being and was out of control," Bruce said. "It took the first 30 days of operation to figure out how to manage the dough."
"The main challenge was the underestimation of our physical abilities," April said. "Long hours and physical labor with limited staff made operations taxing and limited the number of events that could be booked."
Working next to a wood-fired and propane- fueled pizza oven burning at 800 to 900 degrees was also an adaptation.
Before getting into the food truck business, the Durnells suggest, prospective operators should "find a truck owner and shadow them for a week to see what it is really all about."
"Develop a detailed business plan to help identify profitability," Bruce said. "We love what we do, but it has turned out to be more than a retirement pastime than we planned."
"Plan on hiring help. Doing all of this yourself as owners is not possible," April suggested. "Year Two looks much different for us. We hired an assistant manager and several employees. We are also investing in our own commissary as sharing with another business is difficult and limits production."
(All photos courtesy of Pete Dulin unless otherwise noted.)