It feels a little like a party. The Christmas decorations are out, Motown classics play softly in the background, and Mary Carol Garrity looks right at home as she waves hello to guests. 
Garrity, the founder of Nell Hill's, isn't literally at home—she's at her décor and home furnishings store in The Village at Briarcliff. But she is in her element. There's nothing she loves more than being on the floor of her store, welcoming shoppers and guiding them to the perfect addition to their own homes.
"One thing I've really tried to keep true to over the years," she said, "is someone could come in here and spend $5 or they could spend many thousands and walk out happy."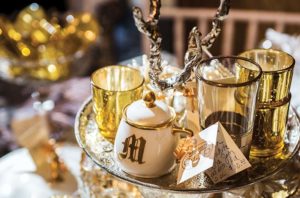 Garrity has kept her doors open for 36 years—no mean feat in the world of retail—while earning a national reputation and a devoted following among her customers.
What's the secret to Nell Hill's longevity? A willingness to change.
"What I started out to be and what I ended up being were two different things, and that's because I persevered and I was flexible on what I was doing," Garrity said.
From the Gourmet Corner to Nell Hill's
Garrity has owned her own shop since she was 25, though it wasn't originally Nell Hill's.
She had been working retail in Wichita when her dad, George, talked her into moving back home to Atchison and opening a specialty food shop, the Gourmet Corner. The morning he suggested the idea, Garrity went to work and gave two weeks' notice.
It was a big leap to open a gourmet food business in a town of 10,000 people in rural Kansas, but retail was in her blood. Her parents owned and operated a clothing store, and she grew up watching and assisting them.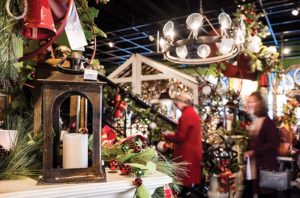 Unfortunately, there was only so much demand for gourmet food. As much as she loved the work, Garrity realized that she had to change things up if she was going to survive. So she expanded her lineup of goods. Bath products led to soap dishes, which led to mirrors.
In the space above the Gourmet Corner, she soon was selling jewelry, artwork, furniture—what you would recognize today as Nell Hill's. (The name comes from Garrity's grandmother, an idea suggested by Garrity's sister Judy.)
As Nell Hill's blossomed, Garrity had to make another adaptation: She had to learn to delegate.
Early on, she shouldered the hard work by herself. During the busy seasons, she would wake up at 3 a.m., go to the shop and stock the shelves, come home to clean up and then head right back to wait on customers.
Today, she relies on a much bigger group of designers, associates and warehouse staff. Most of the year, the team consists of 50 people. During the holidays, close to 100 people are employed by Nell Hill's.
Finding people with the right sensibility isn't easy, Garrity said, but the current crew is probably the best she's ever had.
One of the most important team members is her husband, Dan, who joined Nell Hill's about 10 years ago. An attorney by training, he helped set up systems that streamlined inventory, delivery and other back-office functions. While Mary Carol tends to be more of an optimist when it comes to new projects, he's more likely to ask hard questions about the nitty-gritty details.
Without Dan, Nell Hill's Kansas City location might never have happened.
The Briarcliff developers had courted Nell Hill's for a long time, encouraging Garrity to open a store on their property, but she always resisted. Finally, Dan encouraged her to hear them out.
"Thirty days later," Garrity said, "we signed the papers on the building."
'Retail May Be Hard, but It's Never Dull'
The Kansas City location, now celebrating its 10th year, has been a tremendous success, partly because life is different for today's shopper.
Back when Garrity opened her shop in Atchison, it was commonplace for a group of girlfriends to hop into a car for an afternoon's adventure. They were happy to drive a couple of hours to check out a cool store or an interesting restaurant.
Life is busier now for the average customer, who's juggling work, family and everything else. They might not be able to get away for an afternoon outing, but they do have time to drive to Briarcliff.
"If I were to open up my store this year … it was plenty hard then, but it would be so much harder now," Garrity said.
In 2016, Nell Hill's experienced another big change: Garrity closed and consolidated her Atchison store with the Kansas City location.
She was careful to do it in a way that minimized any potential impact to her hometown and her team. None of the Atchison staff lost their jobs—a van shuttles them to work and home each day. And Garrity found another store owner to move into Nell Hill's old space.
The Atchison store's sales had tapered off as fewer shoppers were willing to make the drive. It was time to make the change.
"If you're not willing to change, you're not going to survive," Garrity said. "And you know what? It makes it a little more interesting. The one thing I'll say: Retail may be hard, but it's never dull. I never get bored."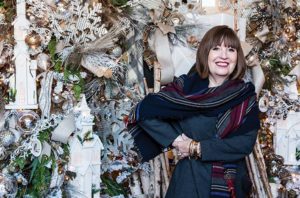 'I Backed Myself into A Lot of Corners'
Naturally, the Kansas City store opened just in time for the Great Recession.
"And so there were a lot of sleepless nights," Garrity said, "because we thought, 'Oh my gosh, we've just invested all our money into this building and this business—what were we thinking?'"
And, of course, they rode it out. Decades of experience helped them navigate the tough times.
If you ask Garrity if there's anything she wishes she knew when she was starting out—knowledge that could have helped her avoid setbacks—her answer might surprise you.
"No, because you know what, part of my ignorance to everything made it work," she said. "Because I didn't have enough common sense to question what I was doing."
In her 20s, she took necessary risks that a more seasoned entrepreneur might not have.
Case in point: Garrity was invited to exhibit at the first-ever Holiday Mart sponsored by the Junior League of Kansas City.
"And that was really my big break," Garrity said, "because when people saw my merchandise and saw the prices and everything, they started driving up to Atchison."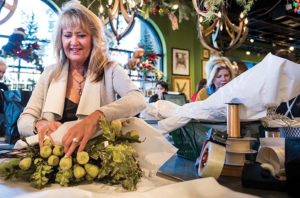 But the Holiday Mart could have easily ended in disaster. Garrity had invested in a big order of inventory that arrived two weeks before the show—and that came with net 30 terms. If the Holiday Mart hadn't gone well, if customers hadn't responded immediately, it could've been the end of her store.
"But I did it, and it worked," Garrity said. "When I was younger, I backed myself into a lot of corners like that."
Making Nell Hill's successful has demanded hard work, but Garrity also is careful to note that she has benefited from some luck breaks, too.
Her business has been featured by Forbes magazine, NBC's "Today Show" and other national media outlets. It all started when a reporter from the Wall Street Journal wrote about the shop.
"He called us one day, and I thought he was selling subscriptions," Garrity said. "He did this very lovely article. It was so amazing how many people came from that article."
These new customers drove from Kansas City, from Omaha, and increasingly, Nell Hill's welcomed shoppers from Texas and other parts of the country.
While Nell Hill's still attracts national attention, Garrity now spends a good deal of effort creating her own content. She writes blog posts that are turned into a nationally syndicated newspaper column, and she has penned nine books on home decorating. That's not counting the store's active presence on social media.
"When you're in business," Garrity said, "you've got to be able to be quick on your feet to change. Even before all this, I was always changing. I was always changing our looks, I was changing our style of doing things."
'To Me, That's Success'
What does future look like for Garrity? She has two goals right now.
"One, I want the store to be better and better because you're only as good as what you've got in your store at the time and how it looks," she said. "And I want to spend some time away."
She and Dan always take a nice vacation every year, and she wants to make more time for more trips.
There may come a day when she's ready to retire, but she still feels enthusiastic about coming to work.
"I don't measure success by how much I'm selling," Garrity said. "I would've felt just as successful if I had kept that little shop in Atchison and never done anything more than that—never had this store, never expanded into other stores, never done anything like that.
"Because if you're happy and you love what you do, and you can eke a living out of that—to me, that's success."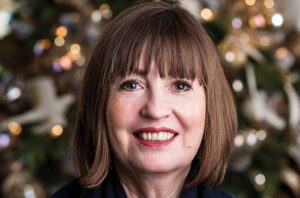 ENTREPRENEUR // Mary Carol Garrity
COMPANY INFORMATION // Nell Hill's | 4101 N. Mulberry Drive, Kansas City, MO | (816) 746-4320 | www.nellhills.com
TYPE OF BUSINESS // Home décor and design emporium
YEAR FOUNDED // 1981
EMPLOYEES // 50 to 100, depending on the season
KEYS TO SUCCESS // "If you're not willing to change, you're not going to survive."