The startup unites American innovation and Swiss craftsmanship.
---
As the founder of luxury watch brand Niall, Michael Wilson's vision of American manufacturing is a far cry from assembly lines and smokestack-topped factories.
From his Country Club Plaza retail boutique and workshop, Wilson leads a business that integrates Swiss horology (the art of making timepieces) with American ingenuity and craftsmanship. With each handcrafted Niall watch, Wilson is pioneering a dynamic model of small-scale custom manufacturing.
"We're starting a revolution in American manufacturing by using an aerospace mind-set to apply their technology to watchmaking," he said.
The name of Niall (pronounced "nile") is drawn from Wilson's direct paternal lineage to Niall Noigiallach, the legendary fourth century High King of Ireland. Yet the company's forward-looking focus remains squarely on materials, service, products and brand-building that surpass the contemporary standards of competitors. Niall marries Space Age potential with timeless Midwestern values, Swiss expertise and American know-how.
"Innovation comes from the Edison approach," Wilson said. "I have entrepreneurial grit and try lots of things with processes and materials. I look for what's best. There are no sacred cows. We make things our way but in a time-honored profession. We maintain an open mind-set."
For example, Niall partnered with Corning to devise a means of using Gorilla Glass in watchmaking. This chemically- enhanced super-glass provides more than double the break resistance of sapphire. Niall's timepieces incorporate this highly durable super-glass to protect its inner workings.
Since summer 2016, Niall timepieces have used carbon fiber dials. Made with carbon fiber-reinforced polymers, the dials are precisely engineered and possess unparalleled durability as a beautiful, integral component.
Like Father, Like Son
Niall was founded in 2012, but the company's roots really stretch back to when Wilson was growing up, and watching and learning from his entrepreneurial dad.
"My father was a self-made man in the food equipment industry," Wilson said. He manufactured equipment that helped produce some of the most recognized shelf-stable food.
And when the younger Wilson graduated from Shawnee Mission South in 2003, he received an important gift from his father: a Tag Heuer Professional watch. It sparked an enduring love of quality timepieces and later inspired Michael to start Niall.
Niall, however, was not Wilson's first company. That was Wavelength Media, a website development agency that was acquired in 2013.
After the sale, Wilson had to look for his next big adventure. This time, he wanted to pursue an opportunity with no ceiling on its potential for growth.
"Why spend time and energy on something with limits on capacity?" Wilson said. "I wanted to chase something complicated."
He decided to create a company that produced American-made watches.
Wilson spent four years on research and development. He contacted watchmakers, manufacturers, laser cutters, engineers, Swiss watchmakers and experts across the United States and around the world.
That was another lesson from his dad: To succeed, you need to know as much as you possibly can about your field of expertise. As the owner of his company, Rob Wilson did his best to know more than anyone else in the room.
"If my father could be a recognized expert on particle physics and microwave technology in the food processing industry," Michael Wilson said, "why couldn't I do the same in watchmaking?"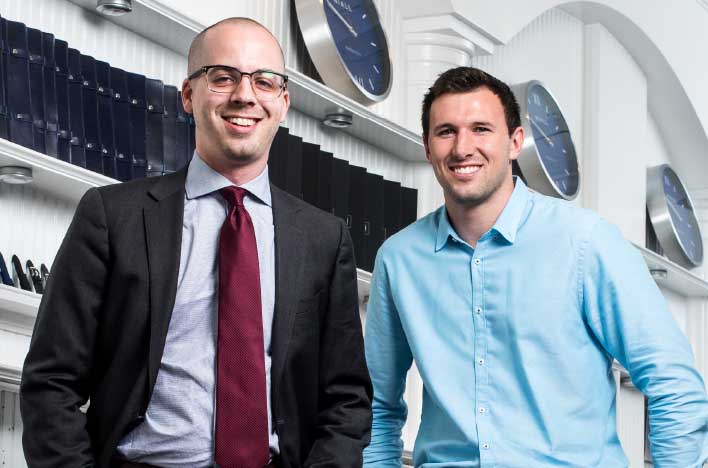 Made in America, Mostly
When he was launching Niall, Wilson was adamant about developing both his brand and his watches in America.
Niall's watches are 90 percent American-made, including the cases, dials, hands, crowns, glass, gaskets, bezels, screws, straps and buckles. The cases and bezels for Niall's One Series and GMT watches are individually manufactured from a solid block of the highest grade, corrosion-resistant stainless steel.
Each timepiece is hand-assembled, tested for quality assurance and polished in Kansas City. Half of Niall's watches are customized.
Niall's inner watch mechanisms, known as a movement or caliber, are manufactured by leading Swiss movement maker Eterna. Through a key connection and fortuitous timing, Niall forged a relationship with Eterna as the Swiss firm's first customer outside of Europe.
Eterna was seeking a watch company that could introduce its new Caliber 39 movement line to the U.S. market. Niall needed direct access to a Swiss movement maker before that country's governing regulations restricted third-party access in coming years.
Through a key contact in Chicago, Wilson arranged a meeting with Eterna's CEO and struck a deal.
"It is a lucky partnership and match made in heaven at the right place and time," said Wilson. "We needed each other."
Dominik Maerki, Niall's chief watchmaker and head of production, was another essential figure in the company's launch.
Maerki apprenticed at Eterna and became one of the youngest production managers at Omega SA, a Swiss watchmaker. His career eventually led him to Swatch Group's presence in Miami, Florida. He fell in love, married and moved to his wife's home state of Arkansas.
But most of his work there involved watch repair, and Maerki wanted more. So when he learned about Niall, he lobbied for a job with the startup.
It was a critical hire, Wilson said.
"Dominik single-handedly brought us from trying to learn how to make watches to making them," said Wilson. "Our success began with him. He elevated us."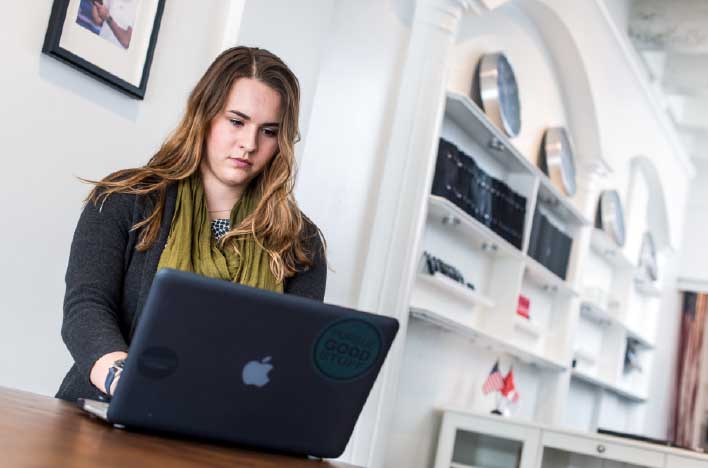 Luxury Defined
With Niall, Wilson has made a deliberate choice to pursue the luxury end of the watch business.
When he was doing his initial market research, he found that 23 out of 25 brands sold watches for $5,000 or more. "Why not chase that market?" he said.
To win over luxury buyers, Niall's brand is a "full reflection of exceeding standards beyond what is called for."
"It is an experience you cannot find elsewhere," Wilson said. "I'm proud of the experience that we deliver to Kansas City and our customers."
Between its two lines, GMT and One, Niall's prices start at $3,750.
Panda, a best-selling GMT model, presents a white face with two smaller black displays for hours, minutes, seconds and Greenwich Mean Time, plus a power reserve of 65 hours and other features. The heavier One line has a sculpted, bulkier look with clean, elegant design.
Several KC celebrities wear Niall watches, including Royals manager Ned Yost, University of Kansas basketball coach Bill Self and actor Paul Rudd.
Matching service with its high-tech materials and quality standards, Niall offers a four-year warranty plus lifetime service. Its service time of 10 to 15 days on average far exceeds the industry average of 60 to 90 days. Niall's on-site workshop at the Country Club Plaza location is a strategic advantage.
Even as Niall gains momentum as a luxury watch brand, Wilson already envisions the company exploring other product lines and possibilities.
"Niall has the capacity to create beyond technology that is wearable," he said. "There's endless capacity to what
we can become if we do the right things."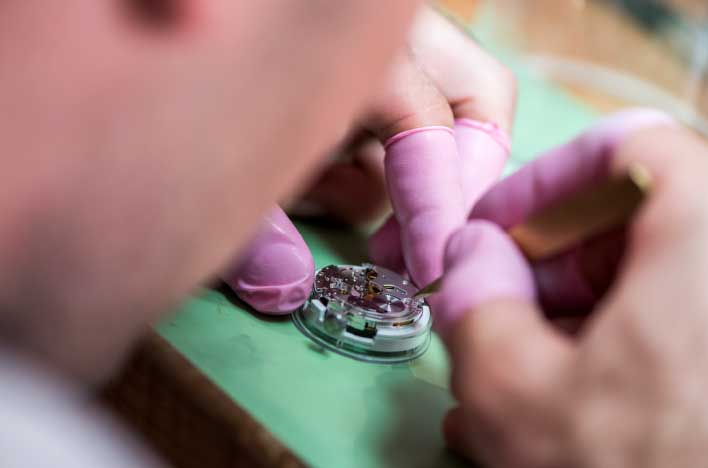 Belief Begins Within
To become an enduring brand, Wilson advised "building a company that you believe in."
"Know why you exist. Every customer, investor and employee should believe in the brand," he said. "It's not for the faint of heart. I wanted to give up twice. I slept on it, woke up and realized I have too much fortitude to give up. If you don't know who you are and what you want to create, then it's hard to create a brand."
Possessing a guiding philosophy and morals is vital to the brand.
"Niall is something I'm proud of," said Wilson. "It was ideated, built and birthed in Kansas City. I'm in this to build an industry here so it's more than one company, and is a viable option for the next generation of watchmakers to be in Kansas City. I hope we can provide value, impact, coolness and swagger to bring Kansas City to the next level."
(photography by Dan Videtich)