Missouri manufacturing showed a strong pulse in February with a Purchasing Managers' Index (PMI) of 66.8, an increase of 13.1 points and the highest since 2004.
The PMI measures new orders, production, supplier delivery times, backlogs, inventories, prices, employment, import orders and exports, and other factors. Economists consider it a key economic indicator. A score greater than 50 usually indicates an economy that is expanding. A score below 50 forecasts sluggish economic growth.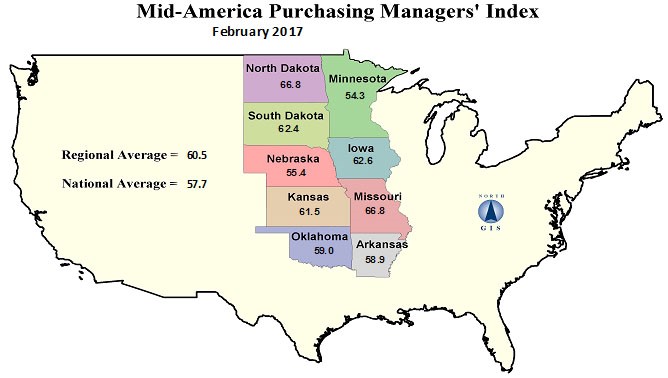 The number from the monthly Mid-America Business Conditions Survey was well above the 50.0 expansion threshold. It also was higher than other states in the survey. Arkansas was at 58.9, Iowa at 62.6, Kansas at 61.5 and Minnesota at 54.3. Nebraska showed 55.4, North Dakota 66.8, Oklahoma 59.0 and South Dakota 62.4.
Overall, the February Mid-America Regional Index rose to 60.5 from the previous month's score of 54.7 percent. The survey is conducted by Creighton University in Omaha, Neb.
Nationally, the February PMI for manufacturing registered 57.7 an increase of 1.7 points from the January reading of 56.0 percent. New orders (65.1) increased by 4.7 points while production (62.9) showed an increase of 1.5 points. The national purchasing manager's indices are produced by the Institute for Supply Management.
Supplier deliveries (54.8) increased by 1.2 points while inventories (51.5) increased 3.0 points from January. Employment (54.2) decreased by 1.9 points from the prior month.
According to the report, 17 of 18 manufacturing industries grew in February: textile mills; apparel, leather and allied products; machinery; computer and electronic products; primary metals; plastics and rubber products and nonmetallic mineral products. There was also growth in chemical products; paper products; fabricated metal products; transportation equipment; food, beverage and tobacco products; wood products; electrical equipment, appliances and components; printing and related support activities; petroleum and coal products; and miscellaneous manufacturing.