The founder of Function Junction tells the story of her small business expansion.
Mary Merola was only 23 in 1977 when she opened her first Function Junction kitchen and housewares retail store in Kansas City.
"Our original plan was to open three stores in 10 years, and we opened three stores in 10 months," Merola said. "It was a whirlwind of activity and an incredibly steep learning curve."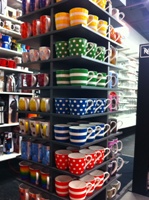 Over the next two years, Merola opened three more stores. At its height, the Function Junction chain would have 17 locations in Missouri, Kansas and Nebraska, including more than 10 stores in the Kansas City area.
In the late 1990s, Merola chose to downsize so she would have more time to smell the flowers, she said.
So Function Junction went from 17 locations to five, and eventually down to its only remaining store at the Crown Center Shops, where the business is actually having its second stint. Function Junction's first run at Crown Center was from 1980 to 1999, and Merola was successfully wooed by the landlord to return in 2005.
"We have an almost 30-year relationship with Crown Center, and I put them as one of the absolute best landlords in the marketplace," Merola said. "They are very supportive to us, and we view it as a partnership."
But even with only a single store, Merola wasn't done expanding. This year she and co-owner Rebecca Wilkie moved Function Junction from the third floor of Crown Center to a larger location on the second floor, where she was able to significantly enhance her inventory.
"I evaluated what we were selling well," Merola said. "I looked at all the new trends in culinary—different kitchen tools, different cookware, different appliances, bar products, you name it—and I took the opportunity to bring in the latest and greatest in every category."