SJC Marketing is setting up another shop in the Northland.
The full-service marketing communications, content creation and branding firm opened a second location in April at the iWerx coworking center, 1520 Clay Street in North Kansas City.
Four team members, including Anna West, SJC's vice president of operations, will work out of the NKC office. SJC Marketing retains its headquarters in St. Joseph; the remaining staff of 16 work there or remotely.
Susan Campbell, owner and principal, said the desire to connect with more companies in the metro area as well accommodate her staff who live in Kansas City led to the decision to create a new office at iWerx.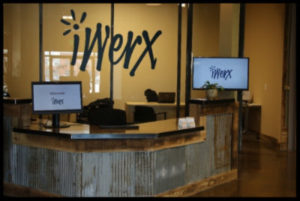 She said the overall vision is to "build the company to the next level."
"You need to be in the market, participating, networking, and making relationships," Campbell said. "We needed to be there."
Started in 2005 as Susan J. Campbell Copywriting Solutions, SJC Marketing partners with small to mid-sized businesses and nonprofits in marketing, communication and digital strategies. Campbell, a St. Louis native, said SJC Marketing has 55 clients throughout the United States, including the Northland.
Moving into iWerx was a byproduct of a conversation Campbell had with Karla Martinez, CEO of the Kansas City Women's Chamber of Commerce, who encouraged her to check out the coworking space. Campbell said iWerx provides the collaborative and friendly environment her company was looking for in a space.
"That's the type of environment we need to be in," Campbell said.
Robert Curland, managing partner of iWerx, said SJC Marketing has been very willing to help other companies working at iWerx. The company adds the expertise in marketing and branding that many post-revenue startups are looking for, he said.
"They're a great team, and they're very talented," Curland said.
With SJC Marketing, iWerx now has 48 members in the North Kansas City facility. A Gladstone location is set to open in October.
Campbell said she knows this is taking "baby steps" in building new relationships with business leaders, but she's confident it will pay off for the firm.
"We're good at what we do," she said. "We're excited to meet with new companies and see this (move) turn into a lot of collaborative opportunities for us."