Jill Minton had a tough time finding restaurants that served high-quality, healthy food. So she started her own.
A lot of food entrepreneurs want to be the next Starbucks. But could the next big thing be right here in Kansas City?
In the span of just a few years, t.Loft has grown from a stand at a local farmers' market to three cafés serving healthy food in Kansas City and Lawrence, with a fourth to open soon. Local business consultants call it one of the hottest fast-casual restaurant brands in the region.
"The health movement is just so powerful right now," said Jill Minton, who founded the business with her husband, Brandon. She was chosen for this year's Pipeline Entrepreneurial Fellowship, a regional accelerator program for high-potential companies.
It's the first time that Pipeline—which tends to work with technology or bioscience companies—has selected a brick-and-mortar company.
Joni Cobb, Pipeline's president and CEO, pointed out that t.Loft isn't just part of the successful fast-casual market niche. She's part of the healthy fast-casual niche that is quickly gaining in popularity as Americans shift their eating habits.
"Those are exploding markets," Cobb said.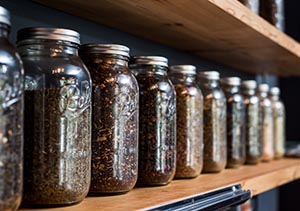 The Mintons have found success by focusing on two key factors: convenience and clean eating. The menus at t.Loft are free of gluten, artificial flavoring, dyes and preservatives. That's critical for many customers who don't or can't order from just any restaurant.
But it's hardly just for the uber health-conscious. The high quality of food and juices makes it a stand-out for foodies of all factions.
The menu includes juices like the Brainberry, a combination of blueberry, strawberry, apple and lemon. Customers can order meal and breakfast "bowls" that range from the Sonoma Quinoa (kale, grapes, apples, quinoa, goat cheese, walnuts and cranberry pear vinaigrette) to the Sunrise (chicken, red peppers, onion, spinach, feta cheese, eggs and salsa).
The menu is customizable and extensive, offering teas, snacks, salads, protein shakes, protein balls and more.
And t.Loft's spaces are just as welcoming. Crystal chandeliers decorate the ceiling. The tables were hand-crafted by Brandon Minton and his father. And comfortable furniture ranging from stylish sofas to a porch swing invite customers to stay and hang out. Employees are energized and ready to offer suggestions for newbies.
"This place is fun," said Brewster Ellis, a faithful customer who regularly drives from Loch Lloyd in Cass County to the State Line location. He started going there with his wife, Kathy, when her health demanded a strict diet.
Brewster Ellis keeps a four-cup juice holder in his car so he can pick up juices for co-workers at Merrill Lynch. He eschews meeting business clients and friends at Starbucks. The ambience at t.Loft is better.
"The thought of going to Starbucks just doesn't grab me," he said.
'YOU PUT YOUR HEART AND SOUL IN IT'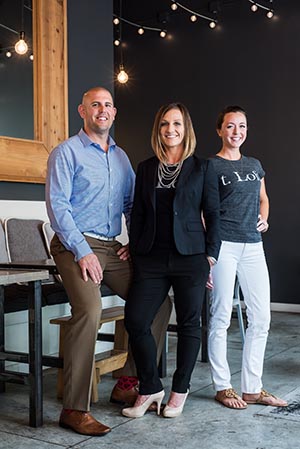 Jill Minton had always lived a healthy lifestyle, but she made a radical shift about six years ago when she, her father, her sister and her daughter were diagnosed with celiac disease. They started making juices and teas. They eliminated processed foods.
"We all realized how much better we could feel," she said.
They also realized how difficult it was to find high-quality, reliable and convenient restaurants to fit their dietary needs. Surely others faced the same obstacle.
That's when Minton began dreaming about t.Loft. She put together a business plan but needed to test the market before investing in space. She went to the Overland Park Farmers' Market, knowing it would be the ideal location to try out products. The market administrators liked her idea, but sent her off to get a food permit.
She returned to discover a heartbreaking message from the popular market: "We're full. There's a waiting list."
Minton couldn't wait another year. She knew timing was everything, and she needed to move on the concept immediately.
She showed up at the market offices with a presentation she calls: "I know you're full, but in case you find space." Her moxie paid off. Minton landed a spot, and the response was overwhelming.
Jill and Brandon Minton were working full time, raising two children and making product for the farmers' market during every free moment. They sold healthy snacks, Fusion tea and pomegranate and blueberry lemonades. They spent hours making sure the water was the exactly right temperature for quality control.
"We were making 35 gallons of product ourselves," she said.
Hard-core customers returned weekly to sample their fare. It was the proof of concept that they needed to open a storefront. It was also a gratifying turning point.
"You put your heart and soul in it," Jill Minton said. "You sacrifice with your own family."
She quit her full-time job, and her husband followed not long after. To this day, she is overwhelmed by the loyalty of her customers.
Many of them come every day or multiple times a week, she said. "There's great honor in that because I know it's not cheap."
POISED FOR GROWTH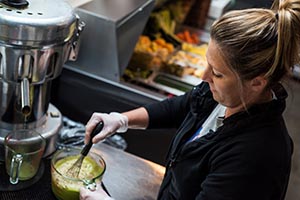 The first t.Loft store opened in 2013 on State Line Road with almost-instant celebrity status. Stores followed in the upscale Park Place shopping district in Leawood, Lawrence and—as of this fall—the Country Club Plaza.
"I think there's a community where she almost has a cult-like following—a combination of glamour and health (devotees)," Pipeline's Cobb said. "If you're doing a lot of yoga or the Bar Method, you probably know about t.Loft."
But that's only a portion of the customers these days. t.Loft is at a crossroads.
"She's poised for some significant growth," Cobb said. "She's taking care of the brand both with quality and experience, and she's been really careful to date about her growth path, and I think they're poised to where everyone will know who t.Loft is in short order in Kansas City.
"But our concern is we want to make sure that beyond Kansas City—whenever she decides to go that route—she's going into those markets with that strong brand that she's developed."
Jill Minton's background as an IT consultant has proven valuable to her success. She worked at the Ernst & Young and KPMG accounting firms, where she offered advice to publicly traded companies. She understands how to analyze the market and make rapid business decisions with a steady hand.
"From stem to stern, she is passionate about what she's doing," Cobb said. "She's also bringing extensive business experience and a very level head to her leadership role as she's making really significant choices right now on growth. She's already demonstrated traction. The company has traction. And they also have traction in a sector right now that is growing."
ANALYZE AND ADAPT
The business has not been without its challenges. For starters, taking time off from a growth business is nearly impossible, Jill Minton said.
She feels an enormous responsibility to provide the best product possible to her customers—some of whom have significant health problems. Her brand depends on quality control.
She's passionate about the business, but Cobb pointed out that Minton is not afraid to listen to sound business advice and make changes. That's essential to her growth.
If there's one piece of advice that Minton has for budding entrepreneurs, it's this: "Be adaptable."
It's not easy, she acknowledges, but it's worth it.
Minton took that skill to a new level recently when she made a radical shift in her own business model. She switched t.Loft from a "grab and go" approach to a made-to-order concept. Instead of ringing up prepackaged salads and meals on the cash register, the staff would prepare everything fresh.
It meant every staff member had to be retrained. Every process had to be rethought and reworked. And it needed to happen without sacrificing the convenient nature of the brand.
"We had to convert our staff over to a new business model," she said.
Minton never looked back. That one step was one of the best decisions she made, she said. Food is still delivered within minutes.
Though the shift took extra effort, Minton knew giving customers the ability to tinker with their salads and meals by leaving out the nuts or holding the dairy would boost sales and satisfaction.
"Food is just better when it's fresh," she said.
HEALTHY FOOD FOR EVERYONE
The customer demographics for t.Loft have been something of a surprise.
When the State Line Road location first opened, the demographic was 25 to 45 years old. To be sure, many athletic men and women come in to replenish after or fuel up before a workout. But even that is shifting.
On a recent weekday morning, a preschooler danced about while enjoying a juice. At nearby tables, a senior citizen was deep in discussion with a breakfast companion. On another afternoon, businessmen dressed in suits chatted with juices at their side as a group of 20-somethings gossiped on the couch.
All the while, people came and went with breakfast scrambles, protein balls, juices, smoothies, teas and salads.
Customer Brewster Ellis said he knows a good business concept when he sees it.
"I'm going to be interested to see how she scales this," he said. "She's up for the job."
(photography by Dan Videtich)