A sports apparel company with a social mission and a startup hoping to prevent distracted driving presented their business models and pitches at 1 Million Cups Kansas City this week.
Matano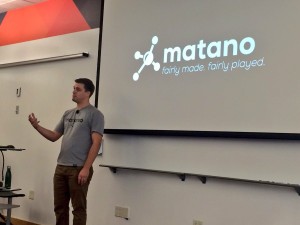 This new sports apparel company out of Wichita is based on the motto "fairly made, fairly played." The founders believe that sports culture should be more about community and connections, and less about self-worth and greed.
Founder Toby Kriwiel decided the best way to change the current sports culture was to infiltrate it with his message. So he started an apparel brand that manufactures certified fair trade products. The clothing for men, women and teams are high-quality items that are made to compete with the big brands in the industry, but are created by skilled workers who are treated fairly. Matano has partnered with Fair Trade USA to ensure every item is made with care.
Kriwiel wants his company to be like the Tom's of the sports apparel industry. This means high-quality items, a fair profit and a way to give back to the community.
Matano is looking to increase its marketing efforts, specifically in the big world of social media, and to create more relationships with big-name athletes.
Smart Drivinc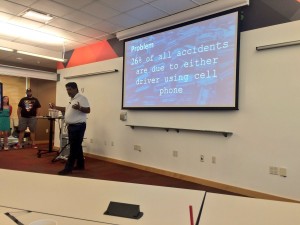 Smart Drivinc started after former bioptic physicist and founder Shashaanka Ashili's wife was in a four-car pileup accident that was caused by distracted driving. It was this moment when Ashili decided he need to take action to decrease these sorts of incidents.
His product has two parts: a hardware component for your car and a software component that is on your phone. Together this system can detect when you are driving and create a semi-lock on your smartphone. This limited access helps decrease distraction for drivers.
Right now, Smart Drivinc is selling to insurance companies  that then encourage their clients to use the program. The insurance company can use the system to see how safely its clients are driving. Ashili compared it to Progressive's Snapshot.
One challenge Smart Drivinc is working on right now is making sure the system differentiates the driver's phone from other passenger phones.