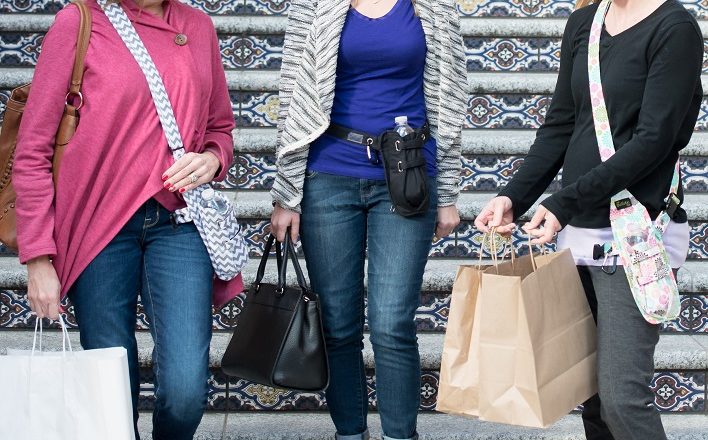 How a Medical Emergency Inspired the Creation of H2OLSTRit
Tamra Johnson wasn't trying to start her own business when she created H2OLSTRit, a hands-free water bottle holder. All she wanted was to make her young daughter's life a little easier.
Maleena Johnson lost both her kidneys when the family fell ill from E. coli bacteria during a vacation in 2013. After almost a year on dialysis, Maleena underwent a kidney transplant, but she still has to drink three liters of fluid every day.
"That's a lot of water for a little kid," Tamra Johnson said.
Her daughter was forced to lug around a giant bottle of water everywhere she went. So in 2014, Johnson got the idea to create the H2OLSTRit, a "holster" for water bottles. It can be worn around the waist or on a cross-body strap. (The company was previously known as Bollstr.)
It's different from other water bottle holders on the market, which tend to have a more athletic feel, Johnson said. She wanted a "cute, comfortable" feel for the H2OLSTRit, which comes in a variety of colorful patterns.
Johnson had a few made for her family. After friends started asking them about them, she wondered if there might be an opportunity. She worked with the Hovey Williams law firm to file a patent and consulted a friend with a business background, and he helped her line up a manufacturer.
Johnson started selling the H2OLSTRit last fall, appearing at nearly nine shows in the last quarter of 2015. She also has joined the E-Scholars program at the University of Missouri-Kansas City, which teaches new entrepreneurs how to build thriving businesses.
"I've had to learn everything, but that's also been the most fun, too," Johnson said.
Though the H2OLSTRit was originally designed for water bottles, it's also handy for carrying around keys, mobile phones and other items. In fact, Johnson already has a few ideas for spinoff products targeted to specific industries.
She's focused on laying the groundwork for the business, rather than trying to make big things happen right away. But she admits she's surprised at how quickly things have come together.
"I wasn't planning on starting a business," Johnson said. "It just organically happened."