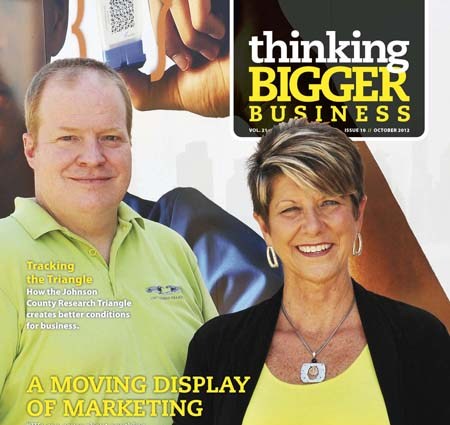 A Moving Display of Marketing
Unchained Creative creates one-of-a-kind marketing experiences for 18-wheelers, teddy bear stores and more.
Some of Unchained Creative's clients have wheels, and some don't. But each has a story to tell, and the team at Unchained Creative is eager to tell it.
President Jody Barrett and creative director Kevin Simms co-founded the multidiscipline marketing company in 2004, and since then, the Northland-based company has wrapped giant, colorful vehicle graphics around everything from 18-wheelers to golf carts. Its retail graphics are installed in stores around the world.
"We can cover about anything used to promote a business, whether it travels or stands alone," Barrett said. "There is no template or blueprint as each client has a different message to share. Each project is a start-from-scratch, creative experience."
Unchained Creative creates eye-popping exterior graphics and customized interior environments that transform its most visible clients—multipassenger buses, tractor-trailers and other mammoth vehicles—into hospitality trailers, trade show exhibits and other rolling "experiences."
Bringing the War to the Homefront
One example is the Honoring Our History gallery, a mobile World War I museum that traveled the country for 15 months. The exhibit, a collaboration between Kansas City's National World War I Museum and Waddell & Reed Financial in Overland Park, launched from Union Station on Memorial Day 2011 with a treasure trove of World War I memorabilia, documents and photographs.
More than 70,000 visitors have enjoyed the exhibit's sight-and-sound simulations of the Great War, including a walk-through of an army trench. The museum's tour ended in August after about 100 planned stops around the country, including one dockside by the USS Intrepid in New York City and another on Wall Street while Waddell & Reed executives rang the opening bell for the U.S. Stock Exchange.
The gallery is housed in an 18-wheel, 53-foot-long, double-expandable trailer wrapped with customized graphics pertaining to World War I. In addition to the museum's exterior (which includes two 72-inch television screens), the Unchained Creative team designed the history-rich interior using volumes of information provided by the National World War I Museum.
"We didn't want visitors to feel they were walking through a trailer, so we designed a flow that would surprise guests at each turn throughout the exhibit," said Simms.
That flow included rooms that folded out for more comfortable viewing and folded back in when the museum was on the road.
"It was like a giant puzzle that was put back together every time the museum reached a destination," said Simms.
An All-Star Effort
When the All-Star Game came to Kansas City, Unchained Creative worked with New York City-based Fugazy Sports & Entertainment and Arrow Stages Lines of Kansas City, Mo., to wrap three of Arrow's buses with baseball-themed graphics promoting State Farm Insurance. The buses were used to transport fans to and from the All-Star Game and its corresponding events.
"The team did a remarkable job, working over July Fourth and through the weekend to prevent downtime on the buses and still have them wrapped and ready for the game," Barrett said. "They were stripped three days later, and the buses went back to their 'day job.'"
Unchained Creative also is proud of its long-term relationships with corporations such as Tenneco Automotive of Monroe, Mich., a leader in the automotive emission control industry and one of the company's first clients. Over the years, Unchained Creative has customized Tenneco's exhibit to help promote different brands within the Tenneco family such as Monroe Shocks, Dynomax Mufflers and Rancho Performance products.
On the larger mobile experiences, Unchained Creative collaborates with its sister company and next-door neighbor, Custom Mobile Designs, to do the interior build-outs for its exhibit trailers. Custom Mobile is managed by Jody's husband, Richard Barrett, and the companies work hand in hand on the large experiential marketing projects.
"Sometimes we are their client, and sometimes they are ours," said Jody. "Working with Custom Mobile ensures great quality control. They are the best at what they do."
The Unchained Creative team recently helped design a trailer for Cepheid, a molecular diagnostics company. Cepheid partnered with Unchained and CMD to create the Mobile Xperience Center. This custom, expandable trailer provides hands-on access to Cepheid technology in a fully self-contained and branded environment.
According to Richard Barrett, most of the interior build-outs for the large trailers take about 120 days with the exception of the World War I Museum, which was completed in 68 days to meet the launch date.
"No two units or projects are alike," said Richard, an 18-year veteran with the company. "We work with the different philosophies of different manufacturers, and when we get thrown a curve ball, we simply adjust since we do everything here."
Although the large exhibit trailers and trucks get a lot of attention, Unchained Creative also designs wraps for smaller vehicles such as cars, pickups and trailers. The Unchained Creative team is behind the wraps for many vehicles buzzing around town such as United Heating, Cooling & Plumbing's Breast Cancer Awareness Van, Moovers, Cajun Bistro and more.
Simms said focusing on the smaller vehicle wraps helped the company weather the economic downturn in 2008.
"It was a challenging time," Simms said. "Many of our large vehicle clients had severe budget cutbacks, so we focused on the smaller vehicle wrap market. That business steadily increased and is still thriving today."
More in Store
Not all of Unchained Creative's clients are on the road. Build-A-Bear, for example, is a children's retailer selling customized teddy bears and other stuffed animals at hundreds of national and international locations. Build-A-Bear's U.S. stores, as well as all of its international locations, have colorful, kid-friendly, three-dimensional signage on the walls, produced and installed by Unchained Creative's retail graphics department.
The company also offers Web-based stores for national franchisors such as the Trex Company in Virginia, so franchisees can order vehicle wraps, signage, brochure holders and more for individual locations. Here in Kansas City, Unchained Creative's customized graphics and wallpaper decorate the walls of the new Sea Life Aquarium at Crown Center and numerous other businesses throughout the city.
About 75 percent of Unchained Creative's business is a result of crossover between its different specialties. For example, Build-A-Bear became a retail client only after it had hired Unchained Creative to build a mobile store inside a big rig.
Big Wheels, Small Staff
Considering the oversized design offerings for both the all-sized vehicles and retail graphics clients, it is surprising the company has fewer than 10 employees. However, each is an important link to the company's success.
"I try not to micromanage," Jody Barrett said. "We find people who can do the job well, have a good work ethic and enjoy the creative aspect of what they do."
Barrett also notes there is no substitute for learning the business from the ground floor up, as she and Simms did. Barrett's career began 25 years ago at Western Auto, where she coordinated sales conferences, worked NASCAR and National Hot Rod Association (NHRA) events and oversaw the grand openings of new stores across the United States and Puerto Rico.
Later, as vice president for event marketing at a sports marketing firm, she worked with corporate sponsors of NASCAR and produced large conferences for other organizations, which often included "big rig" experiential marketing projects.
Over the years, she worked closely with Simms, a "very entrepreneurial" graphic artist who created and supervised all of Barrett's experiential marketing projects. When the marketing company Barrett worked for sold, she and Simms took a deep breath and launched Unchained Creative.
"We've all worked together for a long time," said Barrett, "I have a good feel for the corporate side, Kevin has great understanding and insight for the design and graphic aspects, and Richard (at Custom Mobile) always provides unique solutions for putting it all together."
Creative Unchained has received a great deal of attention and awards over the years. Even so, Barrett's and Sims' goal for the upcoming year is to promote their business more effectively.
"No matter how busy you are, you have to continually promote what you do and why you're better than the competition," said Barrett. "We also need to view our business as our customers do. When you're immersed in it every day, it's easy to overlook how unique this business is."
Simms notes the company's steady, year-to-year growth is a result of both its creativity and a willingness to do "whatever it takes" to fulfill the client's vision. But he adds one more thing that stands out about Unchained Creative.
"We don't believe in the term so-so," said Simms. "We don't do anything so-so. Never have and never will."