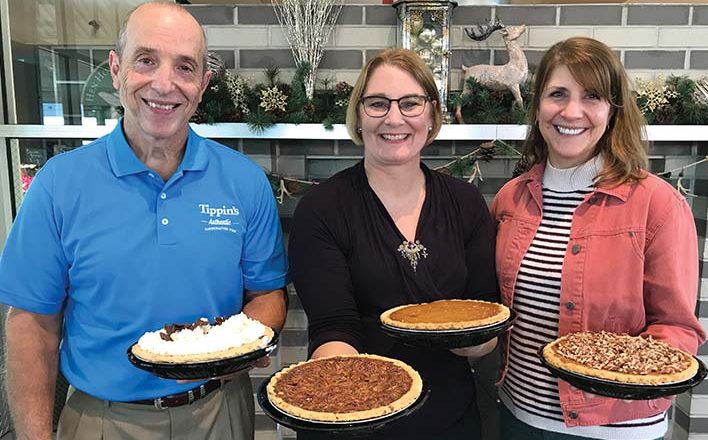 A Palatable Partnership
You can hear it in Robin Knight's voice. This is not a woman who gives up easily—particularly when it comes to her daughters.
STRATEGY
Partnering with a larger operation to grow
Emily Kate's Bakery
Gluten-free bakery
Prairie Village, Kan.
(913) 645-7674
EmilyKatesBakery.com
Founded: 2014
Employees: 3 full-time, 5 part-time
Tippin's Gourmet Pies LLC
Artisan pies, baked goods and soups
Kansas City, Kan.
(800) 435-3382
Tippins.net
Founded: 1980
Employees: 80+
So, when both girls were diagnosed as gluten-intolerant several years ago, Knight set out to make sure that sweet treats were still a part of their lives.
The diagnosis came first for Knight's eldest, Emily, whose biggest sadness about the diagnosis was the idea that she'd never again enjoy the raspberry cream cupcakes she'd come to love as a high schooler working part-time at Dolce Bakery.
Knight took to the kitchen, and before long, Emily had a gluten-free raspberry cream cupcake.
But from her experience in a career in marketing and advertising, Knight was able to quickly recognize the marketplace gap for delicious, gluten-free desserts. Her products were quickly accepted and sold in bakeries throughout the metropolitan area, but she wanted to reach more people.
Pie Partners
After meeting restaurateur Jasper Mirabile, he encouraged her to get her products to David Ball, owner of Hen House Markets. One Saturday morning, a little more than two years ago, Knight joined Mirabile at an event and passed some samples to Ball.
By Monday morning, she had two voicemails from Balls Food Stores and one from Tippin's Gourmet Pies LLC (sister companies both owned by Four B Corp.). A partnership soon was born.
Tippin's hadn't necessarily been in the market for a gluten-free partner, but the opportunity was too good to pass up, said Mark Boyer, Tippin's president.
"For us to do (gluten-free) would mean building another production facility," he said. "We talked with Robin and were impressed with what we saw. She runs a really good operation."
'One of the Hardest Things I've Ever Done'
But the road from a Saturday morning meeting to grocery store shelves wasn't always smooth.
The first—and biggest—challenge was taste. The treats that Knight brought Ball were delicious. But could she mass-produce a gluten-free pie crust that would be up to Tippin's standards?
Knight's first efforts at a crust were, well, crunchy, Boyer said. But the taste was delicious, so Knight and the Tippin's team went back to the drawing board.
"One of the hard things about gluten-free flour that it has no personality, no strength," Knight said. "I had to modify the recipe."
On the production side lay another significant challenge:  being a small bakery operation in a big production world, Knight said. The rules and regulations Tippin's is subject to are expansive—and Knight had to adhere to them as well.
"We were really punching above our weight class, and they were punching below theirs," she said. "It was easily one of the hardest things I've ever done. But Mark gave us so many resources, such patience and time."
She wasn't about to give up, Knight admits.
"The stakes were so high," she said. "I am real competitive."
It took until the ninth iteration of crust, but, finally, the taste, texture, smell—everything—came together, and the team at Tippin's was ready to move forward.
A Delicious Collaboration
For the holiday season of 2016, Tippin's debuted gluten-free pumpkin pies at its KC-area Hen House locations. In 2017, it offered them in Kansas City, St. Louis, Oklahoma and Wisconsin. Plans are in the works to collaborate this year, as well.
Small-scale manufacturing has always been Knight's goal.
"Limited quantity, custom production just doesn't make sense," she said.
Still, the next move—to different flavored pies and year-round distribution—is a big one. It's not imminent, but it's definitely the goal.
"I really want to do fruit pies and, eventually, French silk," Knight said.
As for Tippin's, Boyer is looking forward to more pies from Knight and continuing their partnership.
"It's fun to see them be successful," he said.