Sean K. Simms and SKS Studio design landscapes for elite hotels and resorts around the globe.Even billion-dollar resorts need curb appeal. That's why hotel developers around the world rely on SKS Studio for one of the most important elements of their projects.
Founder Sean K. Simms and his team have been hired for landscape architecture and master planning jobs in more than 50 countries. They tackle a variety of projects, including commercial retail, but much of their experience is in hospitality.
Right now, they're hard at work on the Royal Atlantis Dubai, a $1.5 billion hotel project slated to open in late 2018. The 800-room, 200-apartment development will serve an elite international clientele, and visitors are going to expect an experience that enchants and awes.
"The simplest way to tell people what we do is we design everything but the building," said Simms, who is headquartered in Kansas City's Crossroads Arts District.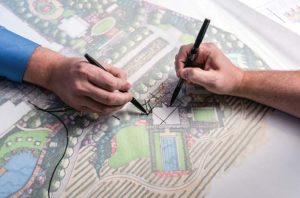 For master planning projects, clients will come to SKS with a large tract of land and ask for guidance in how to best to use it. Should the property include commercial retail? A golf course? A hotel? Simms and his team will not only give expert opinions on what should be built, but where.
The other half of SKS's business is pure landscape architecture. The team designs pools, hardscapes, walking paths, parking and other exterior attractions. These are the first things that visitors see and the ones that leave the deepest impression.
When you come back from vacation, you probably don't think about your hotel room or the resort's plumbing, as important as those things are. You're more likely to rave about the stunning view or the great time you had lounging poolside.
That's one of the keys to making these mammoth projects succeed, Simms said—always remembering the human element. His team wants to make sure guests will have places where they can take great pictures to show friends back home.
"We're all about creating environments—destinations, if you will," Simms said. "So you know, we want to know, how is it going to feel when you're there? Because at the end of the day, it's the experiences. That's the takeaway. It's in the memory. Where's the photo op?"
'NO SAFETY NET, NO PLAN B'
Simms was born in Kansas City, but grew up in Scottsdale, Arizona. He came back to the Sunflower State for college. He earned his bachelor's degree in landscape architecture at Kansas State's world-class architecture and design program.
Then, after graduation, Simms landed jobs with firms in Fort Lauderdale and Orlando, eventually becoming a principal.
He loved the work and, over the course of 12 years, amassed a portfolio of striking landscape architecture projects for international clients.
But Simms still felt the pull to strike out on his own. In 2008, he decided to make his move.
"My wife was born and raised in Olathe, so we'd kind of been wanting to get back home," Simms said. "We decided to take the plunge and move back to Kansas City and start the company."
Right now, SKS Studio employs a team of five. Back in the early days, though, it was just Simms, sitting at the coffee table at home. But this may have been an unexpected strength.
"I think the one thing that has enabled us to succeed is that from Day One I've been all in," Simms said. "There's been no safety net, no plan B, no what-if scenario. You know, I didn't have funding or a trust. There's nothing to fall back on."
So, how did a brand-new firm in a highly specialized niche land its first clients? Simms relied on his network of professional contacts and past clients, people who knew and trusted his expertise. In fact, personal networking is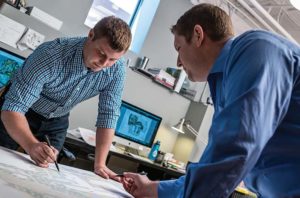 still how SKS discovers most of its new business.
That's the nice thing about operating in a niche.
"Folks move around all the time," Simms said. "And so you know someone you may have worked with at one company has moved to another company, and they've got a new project, but you still have that personal relationship."
Is a Midwestern address a drawback when courting international clients? Not necessarily. Global clients care more about what you can do and less about where you're from. Thanks to modern technology, performing a job in the Middle East isn't that different from working a project in, say, Tulsa.
"Kansas City is probably not the first place they look for their landscape architect," Simms said. "There are ones where it takes a little convincing. But because of our portfolio and because we've worked in a variety of places, we can establish, hey, we've got experience."
HAVE PROJECT? WILL TRAVEL
While SKS spends most of its time here in Kansas City, working internationally requires a certain amount of globe-trotting. Recently,
Simms traveled to seven countries in the space of eleven days. A client needs his team in Cambodia? If you've got an opportunity, they've got passports.
Sometimes that means going to countries or regions where other firms might not venture because they don't have history or connections and just don't feel comfortable.
"I think our willingness to do kind of whatever it takes to get something done is something that is a huge advantage," Simms said.
When SKS Studio debuted in 2008, the U.S. economy was cratering, but SKS Studio stayed busy by finding projects in other regions.
"That was actually one of the reasons why I've always felt we were able to grow through the Great Recession," Simms said. "We were diversified in a bunch of different places around the world, and when there was nothing going on in the U.S., we were working in Europe. And when Europe was tanking, we were in Morocco. When there was not much going on in the Middle East, we were in China."
Even when Simms and his team are at home, they're still collaborating with colleagues around the world via teleconferences and email.
The Dubai project, for example, involves a global team, and SKS Studio must coordinate closely with all the other players.
"There's two sets of architects," Simms said. "One's based in Toronto. One's based in New York. Two sets of interiors folk— one based in London, one based in Paris. Lighting designer's based in Singapore. Project and clients are based in Dubai."
The ability to do whatever it takes—what Simms calls "SEAL Team survival mode"—became an intrinsic part of SKS Studio's character early on. When the firm's business took a big leap forward in 2014, the team stayed hungry. They don't take new business for granted.
"You've got to be willing and able to take on anything that's thrown at you," Simms said. "And not just take it on but knock it out of the park."
METRICS THAT MATTER
SKS Studio has excelled because of the exemplary service and technical skill that Simms and his team offer. But like a lot of entrepreneurs, Simms acknowledges that he didn't know everything about the business side of business.
"We kind of—frankly kind of muddled along for a long time, and I kind of learned as I went," Simms said.
He has realized that he doesn't need to do everything himself. In addition to building a solid team internally at SKS, he has developed a team of external professionals, including his attorney and accountant, to help guide the company.
"I've surrounded myself with a good team of folks that help me out," Simms said. "Let smart people do what they're good at."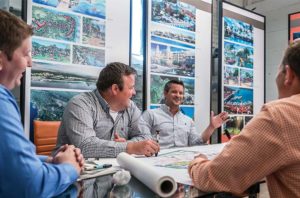 At the same time, he has also invested in his own development. A few years ago, he joined the Helzberg Entrepreneurial Mentoring Program. HEMP pairs established but growing owners with seasoned executives who serve as mentors.
In Simms's case, that's Hush-Mat founder Tim McCarthy.
"I think the biggest thing he has helped me with is to be able to understand my business based on a set of metrics, measurable things," Simms said.
The SKS founder has created a spreadsheet that tracks important measurables like leads and proposals, so that he can see how the business is truly performing and forecast what he should do next.
The spreadsheet isn't very complex—just a couple of quick pages. Nevertheless, Simms said, "I know what we've got going on financially. I know what we have going on from the business development side."
The tool has become so important that he checks its numbers every single day.
'THE OPPORTUNITIES ARE KIND OF ENDLESS'
SKS Studio is always looking to expand into new markets, and there are two that Simms is studying right now. One is Africa. The other is a lot closer.
"We simply don't do a lot work here in Kansas City, which is unfortunate," Simms said. "We would like to."
It's a problem that Simms and his team are working to fix.
"There's so much we have to offer to the community and to the region from a design standpoint," he said.
Not that Simms minds working globally.
"The commute's a little longer, but I think the world has gotten a lot smaller," he said. "And the ability to do work in far-flung places has become a lot easier. I think because of that, in my opinion, opportunities are greater.
"If you've got that attitude where, 'yeah, we'll do anything anywhere,' then the opportunities are kind of endless."
ENTREPRENEUR // Sean K. Simms
COMPANY INFORMATION // SKS Studio | 1925 Central St., Ste. A Kansas City, MO 64108 | (913) 544-5730 | info@sksimms.com | www.sksimms.com
TYPE OF BUSINESS // Master planning and landscape architecture
YEAR FOUNDED // 2008
EMPLOYEES // 5
KEYS TO SUCCESS // A willingness to do whatever it takes.