Carrie Kiefer and Morgan Georgie met as graphic design students at the University of Kansas. Today, they run Ampersand Design Co., which creates designs that appear on products ranging from textiles to stationery to home décor to fashion for companies such as Crate & Barrel, West Elm, Target and Chatbooks.
Ampersand also has its own line of products sold online and in shops across the world, including the company's first brick-and-mortar space, which opened this year in the Made in KC Marketplace at Country Club Plaza.
Kiefer and Georgie worked at Hallmark Cards Inc. for nearly a decade, where they learned about product design, collection creation and sourcing materials. They toyed with striking out on their own for years and freelanced at night while testing the waters.
Finally, when Kiefer was laid off and Georgie had her first child, the women took the plunge and went full-time with Ampersand.
Kiefer and Georgie shared details of their entrepreneurial journey and advice.
Talk about Ampersand—what you do and your artistic vision.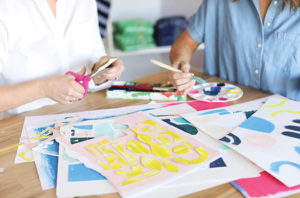 In terms of media, we work with paint, pen and ink, cut paper and anything else we can get our hands on. We are most known for combining graphic and handmade marks to create bold patterns.
Our design aesthetic is modern and artful, geometric yet organic. It's frequently simple, bold and full of unexpected color!
We like to say that Ampersand is where color and pattern come to play, and that's what we really hope comes across—a feeling of playfulness. We know it can sound a little cheesy, but we want our work to make people happy, whether it's a child waking up on our rainbow sheets or an adult who purchases one of our platters for entertaining.
Although it's a ton of work, we love what we do and never take for granted that we're living a dream.
Tell us about the beginning of your careers at Hallmark.
Hallmark taught us a LOT! It was an endless learning experience to work there. …
We spent the majority of our time at Hallmark working on gift wrap, which is where we really learned the art of repeating patterns. We had both loved surface pattern design without truly knowing how it worked before our time at Hallmark.
Hallmark is also a mecca for trend research and a wealth of resources for inspiration. We learned how to stay current on trends in the fashion and interiors industries, spending many hours poring over design magazines and books there as well as getting to travel for research.
In many ways, it was a dream job, almost like a grad school experience.
When were you bitten by the entrepreneurial bug, and what sparked the idea to go out on your own (together)?
Although our careers at Hallmark were successful and fulfilling, together, we had always dreamed of paving our own path and making our own unique mark in the world. After dreaming, scheming and many late nights of freelancing in addition to our full-time careers, in 2009, we finally followed a long-time dream to start a business creating patterns and artwork for modern, everyday living.
Truth be told, it wasn't quite as easy of a decision as we are making it sound. It was actually a really difficult and drawn out decision that we debated for literally YEARS. In fact, it was close to eight years! …
Our freelance graphic design became somewhat of a legit business on the side. Legit in the fact that we had actual clients and were bringing in a little money.
We were also learning about the basics of running a business while we had the safety net of our well-paying day job — and good thing for that safety net because when we say we brought in a little money, that is truly what we mean: very little.
We learned a ton of lessons the hard way in those days, but that time was a game-changer for us. … We met clients at coffee shops and listened to their needs, estimated our expenses (inaccurately at times), and on a small scale, learned to run a business.
It's kind of funny to think that we still had a drive to own a business after making so little money and spending so much time in addition to our full-time jobs, but we did. We wanted to create patterns and products. That was our shared goal.
What advice would you give to other entrepreneurs?
We feel that we really benefitted from working freelance on the side for several years. We had a financial safety net of our full-time jobs while we made (lots of) mistakes.
That being said, there's no perfect time to leap. If we had waited for ideal circumstances, we never would have gone for it. …
As with any new business, there are many aspects you aren't going to know how to do at the beginning. Our advice would be to go for it anyway. … Jump into it wholeheartedly. Give it your all! We try to remind ourselves every day, and this goes for all of us, there's just this one life, and we are all living our adventure as we speak. So make it a good one!
---
ONLINE EXTRA
You've worked with large brands like Land of Nod and West Elm. How did those partnerships come about? What have you learned from working with a big retailer?
We've been really fortunate to have had the chance to work with some of our dream clients, West Elm and the Land of Nod among them. Our partnerships have come about in several different ways, from companies approaching us to us pitching in a big way.
The partnership with Land of Nod came about after several different connections we made. Our first contact with them was when we tagged them on twitter mentioning how much we loved some rugs in their catalog. Unbeknownst to us, it was a day that their creative director was signed in to their twitter and wrote back offering to create a style board for us. We took her up on it and began an email relationship.
That following year, we got to meet the creative director in person at a blog conference in Salt Lake City because they happened to be a sponsor and hosted an evening dinner.
We had dreamed of designing products for them! When we realized we'd be meeting them in person, we spent weeks putting together a little booklet showcasing examples of what we could design — everything from rugs and pillows to storage bins. We did five full rooms and included some info about ourselves in hopes this booklet would get passed around to more than the one person we were handing it off too.
We set up an appointment in between presentations and sat there amidst hundreds of other people hoping to talk to them and presented this little pseudo-catalog of our own. To be honest, we didn't get much response. We walked out of the room feeling pretty dumb.
We enjoyed the rest of our conference and just hoped to hear something from them, but nothing really happened. Over the next many months, we just let it sink in that we basically gave them 30 ideas of products, and handed it off and walked away. Almost a year passed and we never heard a word.
Then out of nowhere, we got an email from another blogger, who had been hired from Nod to put together 10 mini-holiday parties hosted by bloggers across the country to promote the Nod holiday products, and she asked us to be one of them. We leaped at the opportunity. Really, we wanted to put our name with theirs in any way we could!
When the party rolled around, the Nod representative that was flown in to help us host just happened to be their lead product manager, and right away he mentioned doing a partnership (designing products) together! A week later, we got an email from him confirming they wanted us to design for them!
In the case of West Elm, we have to say, this is one that we did not go after at all. In fact, to this day, we have absolutely no idea exactly how they found us. We would like to attribute it to being really active on social media, including Pinterest and Instagram. We try to put our work out there, be consistent with our messaging and our look, and we hope they simply found us through one of those outlets and thought our brand would be a good fit with theirs!
Working with big retailers has taught us a great deal. Since we were familiar with life in a corporation from our time at Hallmark, we do feel like we've had a bit of an advantage navigating among large clients, but every business has their own unique way of working.
Often, the larger the company, the more processes they have in place which can sometimes take extra time and patience (a skill we continue to master).
We've learned that nothing guaranteed until we see our designs on the shelves at retail, but when we do, it's still always a thrill. Larger retailers are a fun challenge because we love thinking on that bigger scale to make collections that are cohesive and relevant to a large audience.
Land of Nod is no more – did that have a big impact on your business?
We sorely miss our Land of Nod days because we worked with some of the most amazing people there, and many of them have moved on to new endeavors so we will miss our collaboration. The Land of Nod was a partnership that really helped put us on the map, and for that, we will always be thankful. The vision behind Nod was so innovative and it always felt unique in the marketplace.
All of that being said, The Land of Nod was always owned by Crate & Barrel when we worked with them, and the Land of Nod brand didn't end so much as evolve into Crate & Kids. Crate & Barrel folded it in more closely as a branded category within their company. Their aim was to align the businesses for a stronger future and more visibility.
The upside to the merger was that the audience is larger, and many physical Crate & Barrel stores now carry our products. We've been fortunate to continue working with Crate & Kids and some of our previous contacts and we have many new products coming out in the next few seasons, many of which you should be able to see in person at the Leawood Crate & Barrel store!