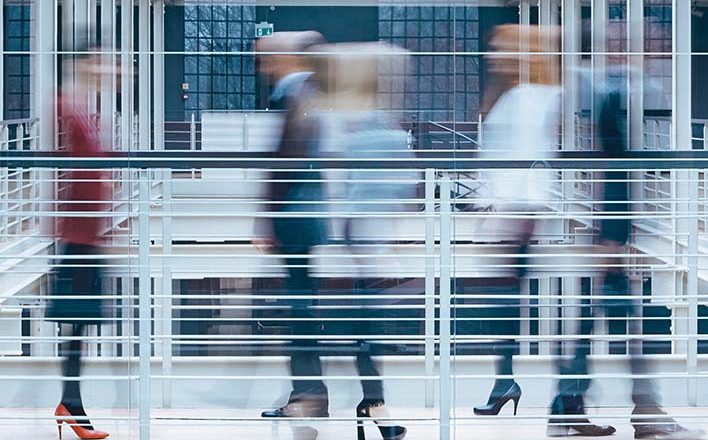 How to Avoid the Blurred Lines of Harassment
The recent torrent of sexual harassment headlines has created significant uneasiness in workplaces across the country.
In February, the Lean In organization released a survey that showed that after #MeToo:
Male managers are twice as uncomfortable working alone with women.
Senior-ranking men are more than three times more likely to avoid a work dinner with a female colleague.
Senior-ranking men are five times more likely to avoid travel with a female colleague.
This uneasiness is understandable, but for most non-creeps, it's really not necessary. The #MeToo movement should not mean avoiding interactions with our coworkers. Instead, it's a good opportunity to re-evaluate our actions and work to build constructive, healthy working relationships with people of all genders.
Here are a few tips for non-creepily navigating the workplace.
How to Give a Compliment
Genuine, polite compliments are essential at work. They encourage employees to continue positive actions, and they improve morale.
Focus on professional achievements, hard work or intelligence. Some examples:
"You made my job easier."
"You made the company money."
"You acted like an owner."
Steer clear of superficial topics like body, weight, clothing or anything appearance-related. They can be open to misinterpretation and, depending on delivery, may border on the creepy.
How to Have Appropriate Physical Contact
Just like compliments, friendly touch can communicate feelings of trust and cooperation. When that touch is appropriate and wanted, it acts as social glue.
Handshakes, high fives and fist bumps are usually fine. As with any interaction, pay attention to how the other person responds. Some people are less comfortable with physical touch than others—respect that. For some, casual hugs may be welcome; let your relationship evolve to that comfort level.
When in doubt, keep your hands to yourself.
How to Travel with Colleagues
Many client interactions and significant projects happen on business trips, but travel isn't without risks—alcohol, hotel rooms and late nights among them. To avoid even the appearance of impropriety:
Avoid spending time in any coworker's hotel room // Meet in common spaces instead.
Drink in moderation // Late nights are not only fertile ground for inappropriate behavior, they may also impede your ability to work the next day. Don't be afraid to turn in early.
Use your emotional intelligence // Evaluate your travel teams for obvious power imbalances or tricky pairings. If adding a third member to a travel team mitigates potential discomfort (or potential claims), it's well worth the expense.
Set the standard // Make sure employees know there's no "code of the road." You may be out of the office, but you're still at work—and inappropriate actions will be investigated and addressed.
How to Manage Consensual Relationships
A whopping 37 percent of workers have dated a coworker, according to a CareerBuilder survey. Because dating someone at work is gnarly business—even when the relationship is healthy and welcome—it's helpful to have a policy that articulates what is appropriate.
It's hard to forbid all workplace dating, but it's prudent to prohibit fraternization between supervisors and direct reports. Allowing managers to date their reports risks, at a minimum, the appearance of favoritism or special treatment.
When breakups occur, enforce your standard for civility and professionalism. Ideally, maturity will prevail, and the erstwhile lovers can behave at the coffee pot or the copy machine. If not, observe and document bad behavior and promptly address any squabbling.