Steve Holle and KC Bier Co. don't want to rule the world—just Kansas City. And that local focus has led to big growth.
---
Steve Holle, founder and CEO of Kansas City Bier Company, wasn't the first to brew and market German-style beer in Kansas City. That distinction goes to German-born Peter Schwitzgebel, the first known Kansas City brewer in the late 1850s to brew and sell lager and other German styles of beer.
Roughly 160 years later, KC Bier has introduced a new audience to classic versions of German beer with a modern craft approach.
ENTREPRENEUR
Steve Holle

COMPANY INFORMATION
Kansas City Bier Company
310 W. 79th St.
Kansas City, MO 64114
(816) 214-8691
www.kcbier.com

TYPE OF BUSINESS
Brewery with focus on German-style biers

YEAR FOUNDED
2014

EMPLOYEES
25
"I have a passion for German beer, but few craft breweries make German-style beer," Holle said. "We make beer that I like to drink—authentic German flavor from imported malt and hops brewed locally to be at the peak of freshness."
In the early 1800s, immigrant Germans brought knowledge of their native beer styles, recipes and production methods to the United States. German lagering methods helped to transform the early U.S. brewing industry. A growing population of European immigrants moving westward across the United States and created a market for German-style lagers, and especially pilsners. Post-Prohibition, those German recipes were modified to satisfy American palates seeking milder and eventually less caloric brews, brewed in massive quantities, and offered by macrobrewers such as Anheuser-Busch.
While mass-produced lagers dominate sales in the U.S. beer industry, craft brewing has steadily carved out a niche in beer production and sales. According to the Brewers Association, craft beer accounted for a 12.2 percent share of the overall U.S. beer market in 2015. Growth of U.S. craft beer sales shot up nearly 13 percent last year.
Nationally, the number of craft breweries supplying that demand expanded from 2,863 breweries in 2013 to 4,225 in 2015.
Holle saw an opportunity for a brewery to produce fresh, local craft beer that could be widely distributed throughout Kansas City. Since 1989, Boulevard Brewing Co. has been the only local brewery to fulfill that role.
"Kansas City is a good beer town," Holle said, "but I could not think of another city in the U.S. as large as KC that only had one brewery selling beer wholesale."
Holle retired from a successful 33-year career in real estate investment and finance and moved from Dallas back to Kansas City, his hometown. Along with Bavarian native and brewery CFO Juergen Hager and the backing of 45 mostly local investors, Holle founded Kansas City Bier Company.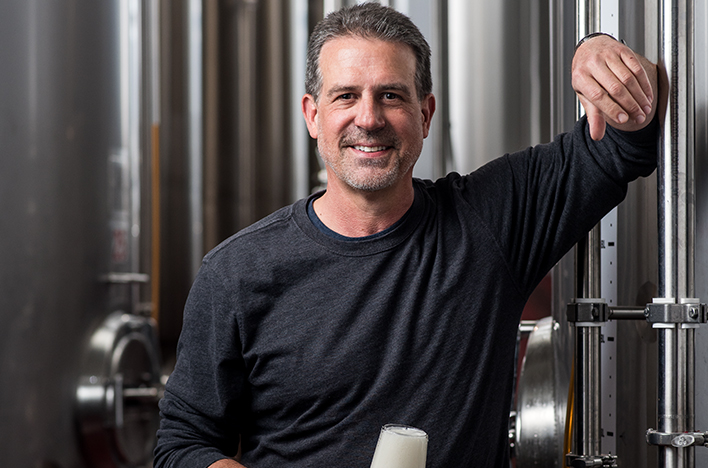 Seize the Middle Ground
Holle was keen on brewing authentic German styles with a craft approach as an alternative to the American, Belgian and English craft beer pervasive in the national and local market. The predominance of American and Belgian-influenced craft beer in the past 10 years is typified by styles with high alcohol by volume (ABV) and bold flavors. At the other end of the spectrum, macrobrewed brands comprise the largest part of the market. They offer beer with low alcohol and flavor profiles familiar (and predictable) to generations of beer drinkers.
"The beer industry is too segmented," Holle said. "There's a middle ground for better-tasting, approachable beer."
KC Bier's three year-round offerings are about 5 percent ABV, meaning customers are able to consume several glasses in a drinking session. Also, the year-round beers won't overwhelm the palate with high levels of bitterness from hops or aggressive flavor profiles. However, the brewery does offer a list of seasonal beers featuring higher alcohol levels and hop character.
Holle hired brewer Karlton Graham, a graduate of the Chicago- based Siebel Institute's Master Brewer Program, to head brewery operations. KC Bier uses malts from Kulmbach and Bavaria in Germany, and hops from Seitz Farms in the country's famous Hallertau Valley to produce approachable, authentic-tasting German-style beer.
"I like many styles of craft beer," Holle said. "With ours, I can have more than one glass. Some craft beer drinkers are focused on 'going to the top of the mountain' each time they have a beer rather than focusing on refreshment and enjoyment. Sometimes, it's about having a beer versus exploring new beers."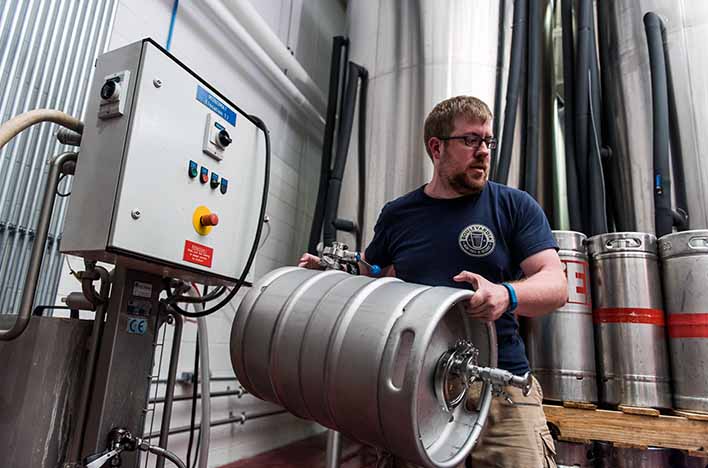 Top Draft Pick
KC Bier brewed its first batches in mid-December 2013 and opened for business in February 2014.
Holle knew what type of brewing operation he wanted. KC Bier does not operate as a brewpub model, where a full-service restaurant has a brewery on premises. Instead, the brewery is designed for large-scale production with a focus on wholesale operations and extensive local distribution.
KC Bier's beers are now available on tap at more than 425 area locations. Its best-selling year-round styles include Helles, Dunkel and Hefeweizen.
"We sell as much beer as close to the brewery as possible," Holle said. "It's a better flavor experience for the customer. Shipping requires a focus on quality control, shelf life and packaging."
Demand exceeded Holle's business plan forecasts. In Year One, the brewery produced 1,650 barrels in 10 months and surpassed a projected annual volume of 1,350 barrels. Year Two's 4,396 barrels trumped the estimate of 3,500 barrels. In 2016, Holle projected the brewery will brew 9,000 barrels, nearly double his Year 3 forecast.
This rapid growth in volume is generated by sales of kegs within a small geographic territory and without the benefit of packaged beer sales.
"I am most encouraged by the type of growth we have experienced," Holle said. "We sell beer in a fairly small area that includes greater KC and
Lawrence. We hope to continue to increase our market share in KC rather than spread out over
a multistate or multicity distri- bution area."
KC Bier built and tested a bottling line during spring 2016 and planned to have bottled beer in stores by summer. Distributors projected that KC Bier's bottled beer sales could potentially double the brewery's sales.
Room to Grow
Holle invested significantly in the brewhouse and additional space to expand KC Bier's production capacity for fermentation, conditioning and storage to keep pace with demand.
"We initially opened with 480 barrels of cellar capacity. We had to stop selling to new accounts in summer 2015 because we maxed out production," Holle said. Adding more and larger cellar tanks and other equipment boosted capacity from 600 barrels to 960 barrels to the current 1,680-barrel cellar. "That should allow us to produce about 12,000 to 13,000 barrels per year."
If it really wanted to, KC Bier Co. could produce 24,000 to 26,000 barrels of filtered ales in the same size cellar, in a shorter amount of time.
"Eighty percent of our beers are lagers. They ferment colder and require longer fermentation and cellaring time than ales," Holle explained. "Our beers are also unfiltered, so we have to wait for natural clarification through gravity instead of removing the haze with a filter."
Holle has also channeled investment into the brewery's infrastructure.
"Much of the investment in the last nine months has not only gone to purchase tanks, but also to increase our refrigeration, steam and electrical capacity to support growth," he said. "Future increases to our capacity should be faster and less costly because we have the infrastructure in place."
Robust sales generated cash flow for such expenses. Further, "our early sales success gave us more confidence to accelerate capital spending," Holle said. "Two years of operating history also allowed us better access to bank credit."
This year, KC Bier plans to acquire an 18-head bottling line, keg cleaner/filler, new cold room and more tanks and kegs. Also, it will finish building out its warehouse space next to the brewery, where bottling, storage and distribution will take place.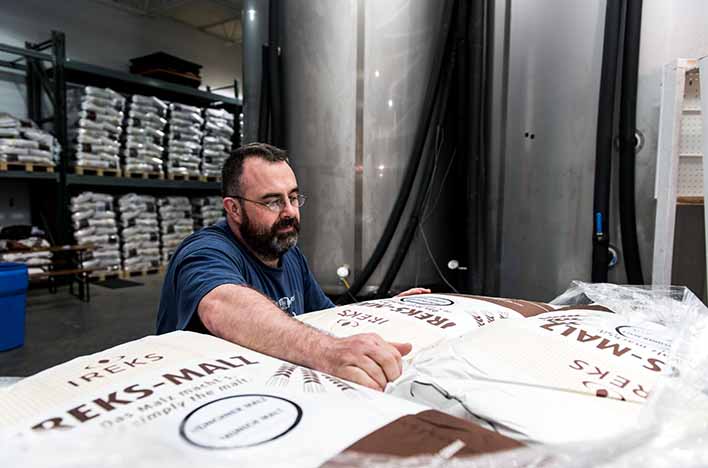 Show and Tell, Taste and Sell
KC Bier's brewery houses a taproom and beer hall. Holle envisioned the space as a showcase.
"The tasting room was an important part of our cash flow and survival before we had lots of retail accounts," Holle said. "The hall helps us bring consumers, retailers and distributors to the brewery and have a German beer experience."
Also, Holle anticipated that if the public could taste the brewery's beer in a German-style beer hall and find a favorite, then they might be more inclined to order the beer on tap at local bars and restaurants. Strong sales have validated Holle's theory.
Whether customers enjoy KC Bier on tap or eventually in bottles, Holle attributed the brewery's success to customer demand and repeat business.
"What I hope the success of our draft beer indicates for the long run is that we have established a degree of brand loyalty and
that consumers drink our beer on a regular basis," Holle said. "Craft beer drinkers are often characterized by brand infidelity and promiscuity."
In other words, they try new beers and explore new brands but may not repurchase those brands, let alone on a regular basis.
Knowing this, Holle has chosen a clear strategic path for KC Bier's distribution and sales territory to fuel future growth.
"Do you want to distribute to many markets and be the new beer for a time before craft beer drinkers move on?" Holle said. "Or do you develop a local and regional market, build brand loyalty and be the beer that customers order repeatedly?"
(photography by Dan Videtich)