Two Kansas City women have launched a vending machine business at Kansas City International Airport that sells travel-size mementos created by local artists.
Tiffany King and Suzanne Southard are the co-founders of SouveNEAR, whose first machine in Terminal B at KCI offers such articles as handmade jewelry, fine art prints and original artwork. Items range in price from $2.50 to $40.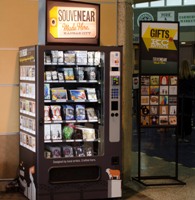 "The idea is that anything in this machine should be of the same quality that you might find in a cute little boutique shop or a museum store," King said. "We're hoping that SouveNEAR will be a brand that stands for 'locally made.'"
The SouveNEAR machine contains up to 30 different items representing about 20 Kansas City artists, including Megan Leong, whom King and Southard met at the Plaza Art Fair.
"We were able to commission her to do a series of original paintings that were 4-by-4-inches and ready to hang," King said.
"Over the next couple years, we'd like to see our machines in at least 10 cities featuring local artists—primarily in airports, but we're not limiting ourselves to that."