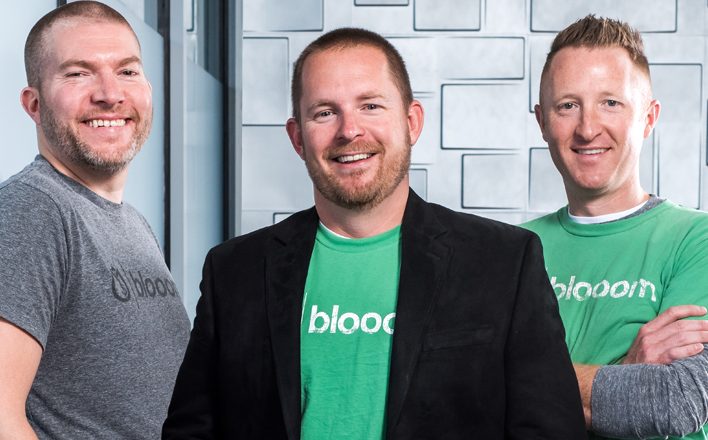 How Blooom Helps 401(K)s Grow
Millions of small American investors are putting their financial futures at risk. One local startup wants to fix that.
ENTREPRENEURS
Chris Costello, Kevin Conard
and Randy AufDerHeide
COMPANY INFORMATION
blooom
5325 W. 115th Place
Leawood, KS 66211
(888) 446-8416
www.blooom.com
TYPE OF BUSINESS
Online 401(k) adviser for
middle-class Americans
YEAR FOUNDED
2013
EMPLOYEES
18
KEYS TO SUCCESS
"A broad swath in the middle-class market
has been massively underserved. We are
going to change that."
— Chris Costello, CEO
Each month, nearly 90 million Americans put money into their 401(k) accounts, with the hope their savings will grow large enough to cover their eventual retirement.
Unfortunately, most of these people have no idea what they're doing. They're forced to choose precisely where to invest their money, usually with no expert help. Many end up allocating their funds to the wrong kinds of assets. And that can have significant consequences over the long term.
Chris Costello, Kevin Conard and Randy AufDerHeide co-founded blooom in March 2013 to address this problem. The startup's online service analyzes a customer's 401(k) holdings and offers an optimized investment strategy to manage the account for their clients.
Though just a few years old, blooom has notched several significant achievements.
In late 2014, the company took home a "Best in Show" honor from the Finovate conference in New York, which showcases startups in the financial and banking sectors. This fall, blooom was one of 10 companies that won $50,000 from the LaunchKC grant competition during Techweek Kansas City. And most recently, blooom won the first-ever One in a Million competition hosted by the Ewing Marion Kauffman Foundation, beating out more than 375 national applicants.
The company also just secured $4 million during a Series A round of investment. The funds came from Alexandria, Va.-based venture capital group QED Investors, Prudential and other venture capital firms along with Kansas City-based DST Systems and UMB.
While they're proud of those accomplishments, blooom's founders are motivated by a larger vision: helping everyday investors make smarter choices with one of their most important financial assets.
"You can't ask 90 million people to be their own money manager," said Costello, a certified financial planner who serves as blooom's CEO. "They are teachers, journalists and firefighters. They didn't want to be a money manager. You can't educate them to death. There's a broad swath in the middle-class market that needs blooom's help."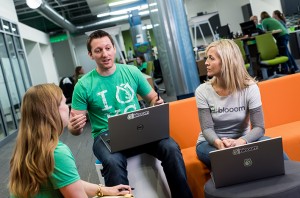 The idea for blooom grew out of a business that actually served the higher end of the market.
In 2004, Costello and Conard co-founded The Retirement Planning Group, their first enterprise, aimed at older, wealthier individuals with at least $1 million in retirement savings. The firm currently has $600 million in assets under management and caters to a specific clientele.
"We targeted people on the doorstep of retirement with significant portfolios," Costello said. "I struggled with the fact that people without significant assets were left in the cold because they didn't qualify."
Costello and his fellow blooom co-founders realized that another major audience in the investment marketplace needed help. No one in the financial planning arena handled asset allocation and managed trades for 401(k)s of the average investor, especially not on a large scale. Friends, colleagues and neighbors confided that they had no idea if they were properly investing their 401(k).
"I had them send me a copy of their account statement. In almost all situations, they had screwed up their allocations," Costello said. "That was the core of the problem and an opportunity."
Last year, Costello stepped away from The Retirement Planning Group to focus on growing blooom. He left the company in good hands: Conard has been president of The Retirement Planning Group while also acting as blooom's chief operating officer. AufDerHeide had launched Netspinners, an IT solutions, Web and database design firm, 15 years ago, and at blooom, he became the chief technology officer.
So, How Does Blooom Work?
The sign-up process begins when clients create an account and provide some basic information through the blooom website, such as their name, their age and their date of retirement. Each client identifies the company, such as Fidelity or Vanguard, that currently holds and manages their 401(k). Next, customers provide log-in information for that account.
Then blooom analyzes the asset allocation mix and provides an easy-to-understand report on the account's health based on risk and volatility. Clients view a comparison of the account and how it could be improved with a different investment allocation within the plan. Clients have some flexibility to choose the stock and bond allocation that suits their comfort level for risk.
Once the clients are done, they no longer need to do anything with their 401(k). Blooom's software determines the ideal mix out of the possible investment choices and makes the trades. The assets don't move from the custodial institution. Also, blooom reviews the account each quarter and automatically rebalances the asset mix, if needed, to maintain optimal investment.
The service is priced to be attractive and practical. Pricing is either one dollar per month for 401(k) assets under $20,000 or $15 per month for assets greater than that. In return, clients receive account analysis and money management with minimal time and hassle.
Currently, blooom only handles 401(k)s and similar employer-sponsored retirement plans. An investor with an IRA rollover, Roth IRA, SEP-IRA or other retirement plan may seek options available at retail financial planning firms and investment companies.
Turn Up the Volume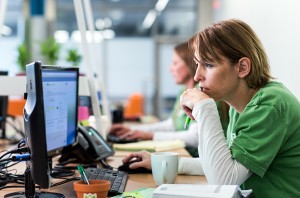 Technology is the backbone of blooom's scalability. AufDerHeide utilizes proprietary, patent- pending software that makes it easy for clients to do business with blooom. It also allows for rapid growth of the company's client base and minimizes the need for vast infrastructure.
The company's software can capably review 10 or tens of thousands of accounts and investments, evaluate allocations and rebalance as needed, using parameters established by blooom's investment management team.
Digital account management is a key advantage for both blooom and its clients. Namely, blooom doesn't need to hire hundreds of service staff or advisers to service and manage an exponential increase in its client base. The company can keep its real estate footprint and overhead low, which translates into lower-cost management fees.
"We will staff up as growth continues," Costello said. "It doesn't require the same manpower, though."
With blooom's tech-forward approach, clients still receive efficient professional financial management they are not able to access from advisers that only handle high-value accounts.
"Our technology offering to clients doesn't discriminate whether you're a $1,000 or $100,000 account," Conard said. "That's the difference from a human adviser where the client experience isn't the same. If a $1,000 client and $100,000 client both call, who do you think the adviser will handle first?"
Conard points out that most of blooom's clients didn't have a broker or financial adviser in the first place. Knowing their 401(k) is properly managed for optimal return reduces investors' stress.
"The key is getting people to pay attention for three minutes and sign up for blooom," Costello said. "Then they can go back to living their life, not worrying or thinking about their retirement savings."
Cut Through the Clutter
No other retail-level, brand-name companies have provided this service until now for average investors. Why? According to AufDerHeide, it's a challenge to work with the 401(k) record-keeping platforms of JP Morgan, Charles Schwab and other "custodian" financial institutions that hold clients' securities for safekeeping.
"Each platform looks different," AufDerHeide said. "Each company's 401(k) may have different investment options even if it is the same custodian."
Blooom's cut-through-the-clutter approach has gained traction among investors and accolades from the media. The Wall Street Journal identified blooom as "one of the best online tools for retirement planning." Fast Company selected blooom as one of "The World's Top 10 Most Innovative Companies of 2015 in Personal Finance." Other business media have lauded the company's innovative approach.
To date, the firm manages assets of more than $150 million and serves almost 1,400 clients in all 50 states. Over the next 18 months, Costello forecasts that blooom's growth will shoot upward to 30,000 clients.
Growth Spurt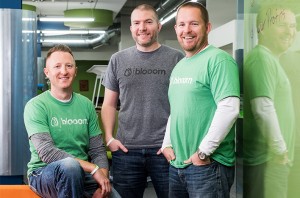 The founders—who all met years ago when they were students at the University of Kansas—bootstrapped the company for the first two-and-a-half years before raising any capital. With little marketing, growth has been fueled by organic word-of-mouth and positive public relations.
Even as the company aims to secure a major slice of the middle-class market share, blooom's founders are driven by the frustration they first encountered among friends and neighbors.
"The perception is that financial advice is widely available," Costello said. "The reality is that most people don't qualify. Wall Street is fighting for a small slice of wealthy customers."
The implications of poor investment choices are important and all too common.
"A bad 401(k) decision doesn't discriminate. It happens across every social and economic background, whether you're in public relations, teaching or part of the financial services industry," Costello continued. "The account balance doesn't matter either. Across the board, people don't need another financial calculator to help. They need someone to do it for them."
Blooom's co-founders and team intend to make the company and its services more visible in the months ahead and convey how the company can benefit clients.
"It's special to have the feeling that we're helping someone with their future," Conard said. "Our employees see how they're working to make a difference in someone's life."
(photos by Dan Videtich Photography)