The leader of a Lenexa company has been named as an industry influencer.
Tradewind Energy CEO Rob Freeman was recognized by the industry intelligence service A Word About Wind as No. 9 on its list of the most influential individuals in the wind industry, according to its Wind Industry Report: North American Power List 2018.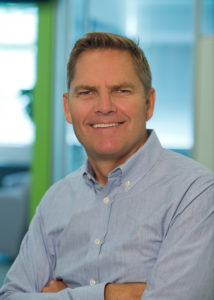 The report is the first U.S.-specific independent and impartial wind industry influencer report. A Word About Wind is a finance and investor community providing regular intelligence briefings and special reports on the wind industry, as well as creating networks among its membership.
Freeman was recognized for the success of Tradewind Energy under his leadership. Freeman was a founding member of the company in 2003, overseeing the formation of a partnership with Enel Green Power North America. Tradewind has since completed over $5 billion in U.S. wind and solar projects.
The report cites the sale of the 320-megawatt Rattlesnake Creek wind farm to long-term strategic partner Enel Green Power North America and the sale of 170-megawatt English Farms to Alliant Energy. Freeman also serves on the board of directors for the Solar Energy Industries Association (SEIA), all illustrating his influence in the industry.
"It's an honor to be included in this report, and I thank A Word About Wind for providing opportunities for those of us who work in the wind industry to be connected and inspired," Freeman said. "I share this recognition with the Tradewind Energy team, who is truly the best in the business and continues to take this company to new levels of excellence."
The recognition isn't new to Freeman, who was included in the Top 100 Power People in Wind 2017 global report released by A Word About Wind.
Tradewind Energy also was named as the No. 1 utility-scale wind developer by the American Wind Energy Association in 2017. The company continues to see growth and anticipates a doubling of its current output over the next three years.