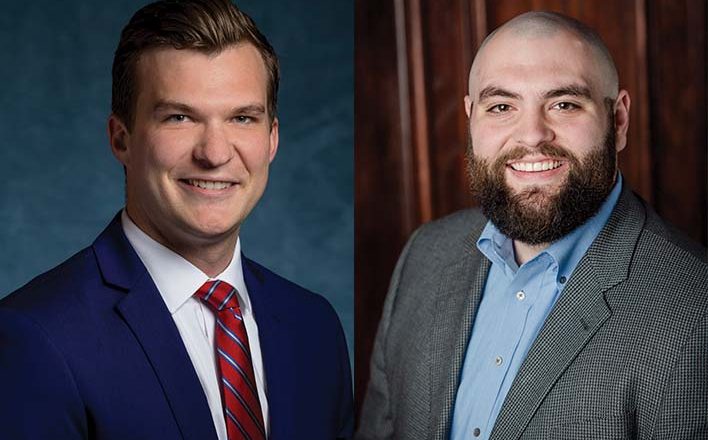 Chat Service Growth Balloons
When Professional Chats moved from its original 400-square-foot office to a 5,000-square-foot space in June 2017, COO Trevor Flannigan thought the fledgling company had secured room for long-term growth.
ENTREPRENEURS
Trevor Flannigan and Scott Hansen
COMPANY INFORMATION
Professional Chats
20 NE Colbern Road, Suite 200
Lee's Summit, Mo. 64086
www.ProfessionalChats.com
(401) 992-4287
TYPE OF BUSINESS
Professionally managed online chat service for businesses and institutions
YEAR FOUNDED | 2016
EMPLOYEES | 65
The 2-year-old business—which saw its employee count soar from five to 65 in the past year—already has run out of space and recently leased 2,500 additional square feet in the same Lee's Summit, Mo., building.
Flannigan said the company likely will need even more space within the next few months as the company continues to grow.
With rapid growth comes opportunity.
"Eighty percent of our team coaches, directors, sales people, etc., all started in the chat position," Flannigan said. "I very much believe in developing people. If someone has the right attitude and has consistently exhibited our core values, I will teach them the skills to do any role."
The company's roots are tied to founder and CEO Scott Hansen's experience as the manager of his family's orthodontic practice. That business successfully launched an online chat service to attract new patients and improve customers service.
Hansen said he considered outsourcing the service, but existing companies either used overseas labor or contracted agents who worked from home. Hansen forged his own path, hiring and training a chat specialist.
That was the beginning of Professional Chats, which since has launched lines of service for residential service companies, audiologists, dentists and chiropractors in addition to orthodontists.
"Our chat specialists are specifically trained to handle conversations in specific industries," Hansen said. "Not only do we provide rigorous training to our chat specialists, but our quality standards are unmatched."
Hansen said having staff work in a central office—rather than outsourcing labor or allowing people work from home—improves the quality
of service. Chat specialists have weekly training sessions and one-on-ones with their managers.
Flannigan said Professional Chats can increase sales leads on a client's website by up to 40 percent, and clients have told him that the return on investment is 10 to 40 times what they spend on the service.
Professional Chats is working with nearly 1,000 companies, and Hansen said it has "a presence in virtually every country worldwide with English as a first language."
"We are always looking ahead," Hansen said. "The exciting part of our business is that there is virtually no ceiling. The market is always changing, and new markets are always being created. There is always going to be a demand for high-quality customer service and sales.