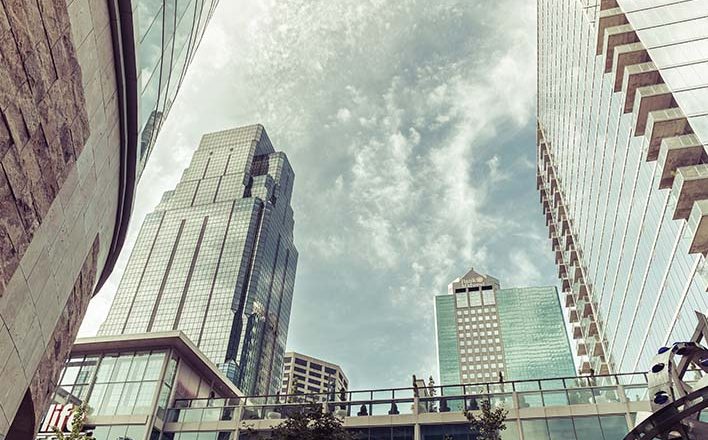 Construction at a Crossroads
Contractors nationwide are experiencing a shortage of skilled labor in construction, according to a recent survey. Those same  contractors expect strong demand for construction services in the next 12 to 24 months—setting the industry up for a potential bottleneck.
The 2017 Q4 Commercial Construction Index, an undertaking by USG Corp. and U.S. Chamber of Commerce, took the temperature of large, midsize and small contractors in the commercial and institutional sectors. The results showed optimism about the future, tempered with hiring concerns.
The CCI analyzes quarterly surveys in order to follow trends in construction. In the fourth quarter of 2017, 57 percent of contractors reported an intention to hire workers in the next six months.
"We found that over 90 percent of contractors are concerned about workforce readiness. Contractors need employees with safety, technical and communications skills," the report said. "However, only 11 percent have a formal skills development program, and just 23 percent require employee training on a regular basis."
KC Follows Trends
In the Kansas City metro area, companies are seeing the same trends: strong demand for construction with a shortage of skilled labor.
Jay Lucas, vice president of construction operations with McCownGordon Construction, said his company has seen a substantial increase in both the number and scale of projects it has worked on in the past three to four years. The Kansas City-based construction management firm focuses on a variety of commercial projects, including corporate, K-12 and higher education, science and technology, as well as health care.
Kansas City's overall construction market has been hot, too.
"It looks like over the last three years it's been on the rise, and I really don't see an end in that growth in sight right now," Lucas said. "All the building trades are busy, and the contractors are busy. So it's putting a little bit of stress on finding qualified tradesmen to staff projects across the board."
It's not one or two skilled trades that are suffering the most, Lucas said shortages are across the board. It affects McCownGordon both in direct hiring and in its trade partners' ability to scale up, he said.
"We're seeing it from foundation through the finish of the project—all those trades in between have been impacted," Lucas said.
McCownGordon intends to staff up in the next six months, Lucas said. It's not only construction associates that McCownGordon is looking to hire. He said the Kansas City-based construction manager also needs professional staff, such as project managers, estimators and safety personnel.
Economic Implications
McCownGordon has long-range strategic growth plans that map out its desired course, Lucas said. In the past few years, the company has become selective in the projects it takes on and has focused on early-stage planning to maximize its limited resources, he said. That includes communicating with trade partners early to get everyone one the same page about expectations and deadlines.
But that planning can be affected by market forces.
"We try to have measured growth, but you also have to go with what the market is giving you. Because if the market in Kansas City is up, somebody's going to do that work. … So it might as well be us," Lucas said.
To keep up with demand, Lucas said the contractor has partnered with minority-owned and women-owned businesses to help educate high school and disadvantaged students about the benefits of working in construction. Those include having a new challenge each day and not being tied to a desk, he said.
Apprenticeship programs have been ramping up over the past 10 to 15 years in anticipation of the building boom, Lucas said, but those haven't completely filled the worker pipeline. McCownGordon will hire people with the interest to learn skilled trades, he said, if they fit the company culture.
"If you're a good person, if you have a work ethic and desire, together we can learn how to do anything," Lucas said.
Reasons for Optimism
The nationwide uptick in construction has made it challenging to recruit workers from other cities, Lucas said, because there's building
going on everywhere. However, he said Midwesterners are a valuable resource.
"One thing we sometimes forget here in the
Midwest is that we have the best people," Lucas said. "In Kansas City and the surrounding area, we have good, smart people that have work ethic."
Kansas City also can claim a steadier stream of work than some boom-and-bust regions, Lucas said.
"We don't have extreme high highs and we don't have the extreme low lows of other areas. We're typically less roller-coaster-ish than other regions, so it is a really good place to have a career, be able to raise a family and do good things for the community," he said.
The shortage of construction workers
naturally causes wages to rise, which Lucas said is a benefit for workers and the local economy. However, that also can create challenges for companies that need to hire. According to the CCI, 37 percent of contractors expressed concern about the cost of skilled labor; small firms were even more worried—49 percent of contractors with less than $10 million in revenue said they were concerned about labor costs.
But for Lucas, who has worked in construction for his entire career, the benefits of working in the industry go beyond the earning potential.
"There's a lot of young people out there that don't get excited about sitting in an office or putting together widgets. They like to work with their hands. They like to see something get accomplished every day," he said. "And construction gives that to you — it gives you a sense of purpose and accomplishment. You can visually look at what you accomplished and feel good about it."