Adding to the list of dog day care options, Dogtopia opened its doors in February to serve clientele in and around Overland Park.
Located in the Corbin Park shopping center (Metcalf Avenue and 135th Street), this state-of-the-art facility offers day care, boarding and a spa for dogs.
The franchise is owned and operated by the Continos, a local husband-and-wife team. With years in the corporate world, the pair wanted a new challenge after their only son left for college. They surveyed several franchise opportunities before landing on Dogtopia.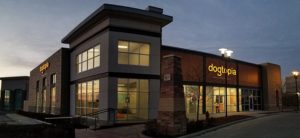 "Once we came across about Dogtopia, we just kind of fell in with their business model and the way they were approaching dog day care as an industry," said Hilary Contino, who is full-time at Dogtopia while her husband, Jeff, maintains a corporate career.
The Continos were attracted to Dogtopia's philosophy to dog day care as well as the company's approach to placing facilities in high-end retail areas that experience a consistent level of traffic.
After entering into their franchise agreement in late 2016, the Continos built out a vacant 5,200-square-foot space with Gnich Architecture and Bear Construction, in accordance with Dogtopia's industry standards. The facility features industrial-grade HVAC/air filtration systems in each playroom to maintain clean air and reduce disease outbreak. It is soundproof and has rubber flooring to promote safer play.
A total of 3,200 square feet is dedicated playroom space, divided among three areas based on animal size. The location can accommodate up to 90 dogs for day care and 45 dogs for boarding, filling a void in the area.
"We pretty much seem to have landed on a location where there is not a lot offered right there with regard to dog care, and also it's densely populated," Hilary Contino said. She said there are 2,500 apartments within a one-mile radius with an additional 200 luxury apartments under construction.
Focusing on day care also provided the Continos with a secure business model.
"When you're relying on day care and you're building a day care business, that's more a constant stream of revenue than the occasional holiday weekend boarding," she said.
Dogtopia differentiates itself from traditional day cares by providing three key benefits: education, exercise and socialization. Dogtopia staff are trained in keeping dogs safe and providing a high level of care. All dogs are evaluated for behavior before entering the open-play communities, and web cameras are available in all rooms, allowing owners to check on their dog at any time.
Founded in 2002, Dogtopia now has over 65 locations across North America.