Craig Safety Technologies: Adapt and thrive
Brenda Craig's entrepreneurial journey has been one defined by adaptation.
Before starting Craig Safety Technologies in 1998, she had been a teacher, a flight attendant and a hotel manager. She also spent more than 10 years in the food distribution business, serving on the board of directors at her father's company.
In 1997, Craig started selling CD-ROMs with instructions for OSHA (Occupational Safety and Health Administration) compliance — but few of her clients had technology capable of accessing the training yet. She quickly discovered that several companies in the Kansas City area didn't even have a safety department to begin with.
So she adapted.
"I knew the issues my dad faced with government compliance, and that's why I started the company," Craig said. "I wanted to serve people because I could offer them a better way to manage their business with a simplified system."
"My purpose is to help simplify compliance and to create consistent compliance systems."
'It continues to evolve'
When Thinking Bigger first interviewed Craig for a feature in 2002, Craig Safety Technologies was primarily an OSHA (Occupational Safety and Health) consultation firm.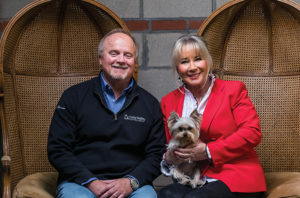 In 2004, Craig acquired server-based software for Department of Transportation compliance. But by 2006, she had discovered that OSHA and DOT regulations were very different and that selling software was another learning curve.
She sold her consultation business and began the process of deconstructing the technology and rebuilding it from scratch. After years of managing companies' various safety records in paper files, Craig simply streamlined what she had learned.
The end result was Craig Safety's current flagship SaaS (software as a service) system, Compliance Safety Manager.
The cloud-based, centralized platform allows Craig Safety to interface with several other companies' services and store all compliance, safety and personnel documents in one secure, centralized and easily accessible enterprise platform.
The programming also permits unlimited users and provides 45-day alerts, which forewarn those in the system when their compliance and safety documents are nearing expiration.
"It continues to evolve. Our goal is to create a one-stop-shop platform for managing companies' compliance around personnel and assets," Craig said.
CSM interfaces with other companies that provide a variety of compliance services, such as drug-testing, physicals, background checks and motor vehicle requests.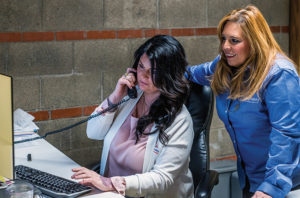 Overland Park screening service Validity Screening Solutions serves Department of Transportation-regulated employers by conducting checks on criminal histories, driving records, past employment verifications and drug testing. The company started working with Craig Safety in September 2018.
Validity CEO Darren Dupriest said that Craig Safety's best-in-class services "perfectly complement" Validity's and that CSM has "allowed Validity to enhance its service offerings to DOT-regulated employers."
"(CSM) significantly enhances the collaboration efficiency of our respective developers," he said. "Our mutual clients are afforded customized workflow that uniquely serves their operations and employees, and this allows them flexibility in accessing their files, documents and data.
"Brenda Craig is exactly the type of entrepreneur I enjoy working with," Dupriest added. "Her desire to continually improve her software is inspiring, and her vision for a relatively mundane yet critical aspect of business will take Craig Safety far."
Cradle-to-grave services
Craig Safety Technologies currently manages the information of more than 350 companies. Of those, its central clientele is companies with fleets of trucks that face stringent compliance and safety requirements.
"Our platform handles everything with the vehicles from cradle to grave—from entrance to exit of a company," said Craig Safety's director of sales, Scott Anderson. "Rather than having HR, fleet, safety, DOT or maintenance managers all running on disparate systems, our platform allows them to share one space."
Craig Safety recently witnessed a surge in business due to new government requirements: As of April 2018, all "hours of service" for commercial driver logs must be stored in electronic logs as opposed to paper systems.
"Companies are now more willing to look at technology and how it can streamline and  improve their business. People are embracing safety along with how risk management can improve their bottom line, and documentation will mitigate risks. Most people didn't care 30 to 40 years ago, but now they get it!" Craig laughed.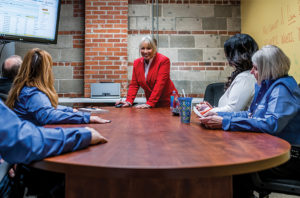 CSM is also beneficial to clients in its organizational structure. Rather than using spreadsheets, filing cabinets and outdated silo systems, companies can ensure they have "all their ducks in a row" through cloud-based storage, Craig explained.
She detailed a few instances in which her company's platform was crucial for her customers maintaining their businesses, such as the morning when a truck driver collided with another automobile. The incident resulted in a fatality and almost certainly ensured an impending lawsuit. But thanks to CSM, it never came.
"Within three hours after the accident, we had all the documented maintenance and repairs on that truck, and all the records and file information on the driver," Craig recalled. "We saved hundreds of thousands, if not millions, of dollars in legal expenses just because our client had all of his paperwork organized through our system."
CSM provides a detailed list of regulation checks that truck drivers must adhere to before hitting the road. The drivers physically inspect their trucks and sign off on everything that's up to par—and if something isn't, the software immediately pings a mechanic.
"Our care for our customers is key, and we're really focused on making sure customers are compliant. They come first," Craig said. "We're allowing customers to do processes electronically and quicker through our system, thus saving time and loss of documentation."
Entrepreneurial roots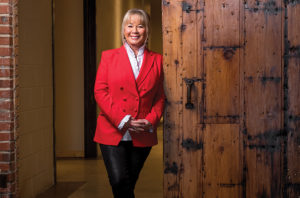 When asked about the inspiration for her company, Craig smiled and pointed to a faded, black-and-white photo framed on her office wall.
"See that milkshake candy bar truck? My dad started out with 50 peanut vending machines and $500 that he borrowed back in the late '40s," she said. "We ended up with over 200 tractor trailers and became one of the top 30 food distributors in the U.S."
Craig credits her entrepreneurial spirit to her father, Farris L. Craig, who started Craig Distributing Co. in 1947. He then won an SBA Missouri award in 1975 and an SBA Hall of Fame award in 1986.
Craig started her consulting business after witnessing her father struggle with government compliance regulations in his company. Her passion for her industry she also attributes to her family.
"My family was very advanced with technology for the times, and it's always caused me to be more inclined to get into software and technology," she said.
When asked about the lessons learned from her myriad of past professions, Craig had some anecdotal wisdom to offer.
"One of the things I know from being a flight attendant is that people always try to go out the same door they came in. Flight attendants have to be sure to divert them to a better route, which is what I do here," she said.
"I'm diverting people from systems they're used to. It's not easy to change where you came in, but you better be listening when someone tells you to go a different direction."
Continued expansion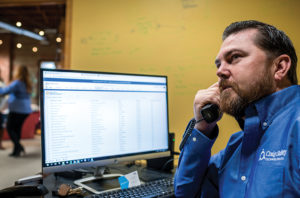 Craig's software keeps track of more than 6,000 locations for the hundreds of businesses it serves. Craig and Anderson are looking at dual authentication software for the new year, and they hope to expand customers' knowledge of their services across the country.
"I see us being able to expand into more national markets," Anderson said. "New technology has allowed us to reach markets that we couldn't do as a smaller company."
Even though the technology may evolve, Craig's motive remains the same going forward as when she started more than 20 years ago.
"I want to help companies be more efficient, more productive. I want to help them mitigate their risk and exposure. I want to help them grow successful companies so that if they desire to, they can sell them," she said. "Above all, I want to help customers better manage their safety, compliance and risk management in a simplified and secure system."