Candle-lit dinners, long walks on the beach, social media marketing strategies … what do these three things have in common? 
Well, on the surface, not much. But when you start getting into the nitty-gritty of dating and marketing, you begin to realize they're pretty similar: Both are all about getting someone to choose you (pick you, love you — Grey's Anatomy, anyone?) over the rest of the fish in the sea. 
And that got us to thinking: Maybe creating a brand for your business should mimic the act of making a dating profile. 
Think about it. If the goal on both items is to convert (i.e., close a sale, make a date, get a phone number), then the approach has to be pretty similar. You have to introduce yourself honestly, prove your worth, woo them into conversion, and keep them interested once you have them. 
In marketing, we call that "creating a brand persona" or personifying the characteristics of your brand. It's about turning your brand into a real-life person. 
And we can do this by creating a dating profile.
How to Create Your Profile
Set your preferences.
Before you start swiping right, you have to first set up some parameters for who you're interested in. In dating, that involves age, gender, height, hobbies, etc. With marketing, it's pretty much the same thing.
You have to know who you're interested in to start the wooing process. If you're interested in everyone, you'll never find a match. 
In marketing, finding your target audience starts with market research: competitive analysis, SWOT analysis, market trends, etc. You'll also want to talk to current and potential customers to see what their pain points are to understand what exactly they're looking for out of a partner. 
And while it may seem counterintuitive to narrow down your preferences to just three or four types of people (both in dating and in marketing), you'll find that making a small group of like-minded individuals happy is much easier than pleasing a large, diverse group of people. 
Make your profile stand out.
Figure out what makes you unique and own it. Sure, you can say that you love traveling or offer "industry-leading services" because that's exactly what the competitor is saying. And really, who doesn't love traveling or think their services are the best? 
Finding your unique selling proposition (USP) and leaning wholly into it is what will seal the deal for you today, tomorrow and in the future. 
You need to commit to telling the story of how you're not like other guys/girls. 
Here are some questions to help you kickstart this in your marketing: 
Why would someone choose your business over the competition? 

What do you do better than someone else? 

What emotional needs are you fulfilling with your services? 

What three words describe your business? 
Use these answers to help guide every business decision moving forward.
Be authentic.
While you have to pick and choose what to tell (and what to leave until the third date), it's still absolutely imperative that you're honest about who you are. Building trust and setting the stage for authenticity help build trust and respect, two essential building blocks for a strong relationship. 
It also will help weed out those who aren't there for the real you. Having one solid relationship is worth 100 incomplete ones.
As Amy Poehler says, "You attract the right things when you have a sense of who you are."
Be willing to put in the work.
Sure, I believe in love at first sight — but it's not the societal norm. In most cases, building solid and lasting relationships takes time.
Just like you can't expect to go engagement ring shopping on the first date, you also can't expect sales to skyrocket the day after a campaign launch.
The actual test of a strong relationship is if you're willing to put in the time and effort needed to make them grow. 
Creating a persona for your brand will help your customers create an authentic connection with you, one where they feel like they know who you are and why you do what you do. 
This exercise will extend into the rest of your marketing efforts, like logo, website design, content creation and so much more. 
It's about not just landing the first date but also the second, third and fourth as well.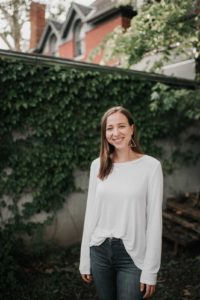 Taylor Sansano is the content strategist at MAKE Digital Group, an innovative digital marketing agency specializing in forward-thinking marketing strategies for small businesses. She works with clients to conceptualize and implement an authentic and business-centered approach to their content marketing. To schedule a free analysis of your current content marketing strategy, email Taylor at taylor@makedigitalgroup.com.