"I thought he was crazy," Michelle Crosby said.
This was her reaction when her husband and business partner, iResQ CEO Nick Crosby, told her he wanted to buy a Kansas City technology company.
Did they have a background in technology? No. Did they have a good understanding of how to run a technology company? Also no.
But what they did know was how to build a team.
With 30 years of military experience, Nick is a self-proclaimed "team builder." He excels at seeing opportunities and figuring out how to solve problems, while his wife does the behind-the-scenes work in her role of director of administration. In his words, he's "pedal to the metal" while she reins him in.
"We make a good team," he said. "The balance of our marriage allows us to make better business decisions."
Like buying a technology business in Olathe, Kan., apparently.
Starting from Scratch
When they bought iResQ — a device repair depot that services all makes and models of phones, computers, tablets, and more for individuals and businesses — in January 2020, the first thing the Crosbys wanted to do was understand the existing company culture and the day-to-day business output.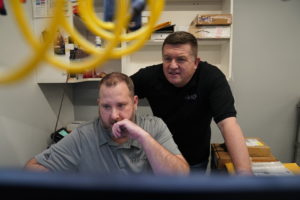 Nick will be the first to tell you he doesn't know anything about repairing an iPhone. But his military background provides him with unique insight into individual and team strengths, which is useful at nearly any type of company.
"The company was more about leadership, what our mission was and just direction for a lot of the people that worked here," Nick said.
And from that first day forward, it was evident to Nick and Michelle that their first task as new business owners was to develop a solid foundation of respect and trust with their team. From there, they said, business success would follow.
"I thought he was crazy when he came home and said he wanted to buy a business," Michelle said. "But what I did know about Nick was that he is a team builder, and he understands leadership and processes. And I knew that being in charge of an organization like this would be a really good fit."
And it was a good fit. From implementing six new core values (honesty, reliability, efficiency, service to others, compassion, and collaboration) to redesigning the workspace to encourage more communication between team members, the entire team can feel the new ownership impact.
"It feels like we're really in good hands," Dustin Smith, general manager with 10 years of experience at iResQ, said. "[There was] really a culture shift. People have a sense of pride and respect for their work now … iResQ has become a fun place to be again."
Adapting Immediately
But just when they started to feel more comfortable as small business owners, Covid-19 hit, bringing yet another wave of uncertainty.
As an essential business, Nick, Michelle, and the team needed to find a way to meet client needs in a safe, efficient, and, most important, affordable way. But unfortunately, their manufacturers were now shut down due to the pandemic—forcing them to pivot.
The team looked for unique ways to stay afloat, like locating device parts (and paying 200% over retail on eBay) and hiring a new marketing company, MAKE Digital Group, to help them rebrand their company and build a new website.
In the end, the iResQ team took pivoting to a whole new level—and it paid off.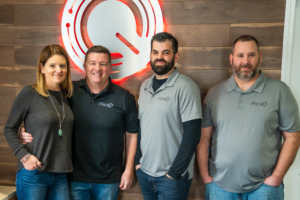 "We started picking up business from all the way from the East Coast, the West Coast. We got some laptops in from Hawaii," Nick said. "It was amazing how many people were looking for businesses to repair things that, one, had parts, and number two, that were open."
And as backward as it sounds to everyone involved, the pandemic also helped bring their team closer together.
Tech manager Lucas, who has been at iResQ for nearly nine years, has seen firsthand the impact Nick and Michelle have made on the company culture. From implementing new ways of learning to simple upgrades like a new break room TV and never-ending coffee, people now "want to work here and stay here."
"You can definitely see an uptick in people being happier," Lucas said. "It doesn't feel as stressed out. Even now, when we're as busy as we've ever been … we're still having fun, but we're still getting our work done."
Looking Forward
When Nick and Michelle bought iResQ, it had 10 employees. Today, they have grown to 22 and counting — rapidly — as more and more businesses, schools, and other organizations continue to rely on devices for their virtual productivity and connectivity.
As this business continues to expand and take on a new identity, it becomes increasingly evident that being adaptable is the core component of a successful business, especially considering the vast experience of its client base, which ranges from public and private schools and nonprofit organizations to sales companies with 700+ devices to government municipalities with entire communities riding on iResQ's productivity.
And in a world like technology, where things are continually changing and Apple is releasing new operating systems faster than you can say, "Have you tried turning it off and back on again," being adaptable is pretty much the only thing that matters.
As more and more entities shift toward a more mobile work environment, like schools with new funding for 1:1 programming or government municipalities with online access requirements, it's becoming increasingly clear that the future of iResQ is in bulk repair.
That's part of the reason why they wanted a new website. Their customers asked for more transparency in the repair process, and the old site just couldn't manage it. The new website, which is set to launch after this article is published, will offer real-time repair tracking, status updates from repair technicians, and ultimately a better look under the screen at what happens when a device is with iResQ.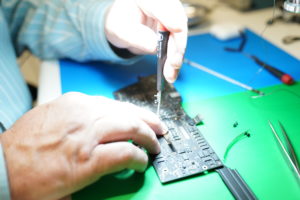 Plus, the launch will signal to the world that Nick and Michelle are the new owners of an increasingly innovative and technology-forward repair depot — and they're here to stay.
"We're lucky that our business model revolves around keeping people connected, and almost everybody has one to eight devices by which they maintain that connection with the outside world. Covid has made that even more relevant today," Michelle said.
"In some respects, we're really lucky that we're able to help them talk to their family that lives across the country, that they haven't been able to see for a year and to participate in their classroom Zoom calls so that they continue to learn and see other kids. I think moving forward, that'll be our focus, COVID and beyond, to help people maintain that connection through their digital devices."