Secure Medical Transport helps patients and their families meet one of their most pressing needs.
Entrepreneurs // Jeffrey Dunn, Brian Fleming, Kevin Teasdale
Company Information // Secure Medical Transport | 3000 Mercier St. Kansas City, MO 64108 | (816) 350-1800 | info@securemedicaltransport.com | www.securemedicaltransport.com
Type of Business // Non-emergency medical transportation
Year Founded // 2010
Employees // 50
Keys to Success // "It's that high standard of safety, professionalism."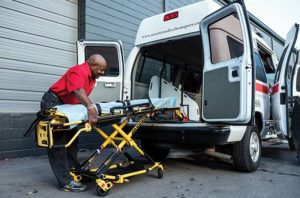 It's a dilemma that's too familiar for too many families.
A loved one suffers a health setback—a cancer diagnosis, an accident or just the rigors of old age—and they aren't able to get around on their own easily. Or at all.
But they still have doctor's visits, physical therapy sessions or other essential appointments that can't be missed.
At first, relatives can take off work, until they run out of vacation days. Sometimes friends can volunteer to play chauffeur, but that isn't always an option.
Eventually, families have to find a way to get that loved one—someone who may be using a walker or a wheelchair—safely to their destination. Not just to the curb, but into the building, securely checked in at the right desk.
And that's what Secure Medical Transport does. The Kansas City company operates a fleet of specially equipped vans that can take injured, disabled and ailing people where they need to go.
"By providing a professional service that people can trust, they say, 'I'm just going to hire Secure, I can't take off work for this,'" said Kevin Teasdale, Secure Medical Transport's managing partner. "And we're able to take them to and from the doctors' appointments, and they know that they're taken care of."
Business has boomed in recent years as Secure Medical Transport has teamed with a growing number of skilled nursing homes. Earlier this year, the Tutera Group—a large operator of senior living facilities—selected Secure Medical to be its exclusive vendor for transportation in the Kansas City region. St. Joseph Medical Center just became a partner, too.
Teasdale and the team have become a go-to resource whenever a patient needs to travel to a medical appointment—or even out-of-state treatment at facilities like the Mayo Clinic. As a result, revenue has doubled in the past two years.
Of course, the doctor's office isn't the only place Secure Medical Transport goes.
"We take people to special events, weddings, funerals, lunches," Teasdale said. One hospice client "was over 100 years old, just wanted to go fishing one last time, so we took him to Jayhawk Marina and took him fishing."
'I Just Kind of Saw a Niche'
Teasdale understands the importance of what Secure Medical Transport does because he experienced the same challenges that many of his customers do.
His father was the late Joseph Teasdale, who served as Missouri's governor during the late 1970s and early '80s. When the elder Teasdale's health suffered in his later years, he needed help getting to the doctor's office.
"The challenge that we saw when our dad would have to go to a medical appointment, we would have to take off work and come get him because we didn't trust the companies that were doing it," Teasdale said.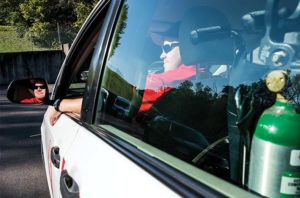 Back then, Kevin was selling insurance to trucking companies through Arthur J. Gallagher & Co., but he was looking for something different to do. He could find only one other company in town providing nonemergency medical transportation.
"So I just kind of saw a niche, Teasdale said. "And my wife and I talked, and I said this is something I want to do."
He wasn't the only one who realized the need. An old high school friend, Dr. Jeffrey Dunn, regularly encountered patients who were struggling with transportation.
Jeff and Kevin discovered they were both developing similar business concepts and decided to join forces. They brought on a third partner, Brian Fleming, who oversees business development and marketing.
Their families knew each other long before they went into business together—all three men went to Rockhurst High around the same time.
"So we already had that kind of initial respect for each other, and we like each other," Teasdale said. "So it was kind of easy … to say I think we should merge as opposed to staying on our own tracks."
The business chugged along for the first couple of years, as Teasdale was the sole driver. He also answered calls and put together invoices while he was out on calls. His day started at 5 in the morning and ended at 7 or 8 at night.
"For the first two years," Teasdale said, "it was me every day in the van."
A Commitment to a Higher Standard
One of the things that distinguishes Secure Medical Transport is its commitment to exemplary service.
As an industry, nonemergency medical transportation is largely unregulated, so Secure Medical has to set its own standards in many ways. The owners want those standards to be high.
Its fleet of 21 vans includes new or late-model Ford Transits or Toyota Siennas that receive regular and thorough maintenance and cleaning. Most are adapted for people who use wheelchairs, while are others are designed to accommodate stretchers for passengers who don't have the strength to sit up.
The company's high standards extend to the people that are hired.
Secure Medical Transport has created its own training program, and all drivers must be CPR-certified.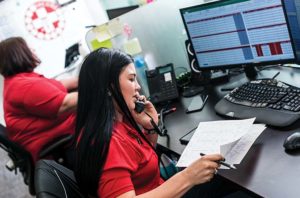 "We do all the training for the actual job," Teasdale said. "By the time you go through our training process, you're pretty well suited to do the day to day."
The drivers come from a variety of backgrounds. Some have performed this kind of work in states such as Florida and Arizona, which have large populations of older people. Others are recent retirees. Pastors take shifts during the middle of the week, while moonlighting teachers take evening calls.
(One thing they all have in common: Everyone wears one of the company's signature red shirts, but no blue jeans.)
One of Secure Medical's biggest sources of drivers is off-duty firefighters, particularly from Kansas City, Kansas. About a dozen of Secure Medical's drivers are KCKFD personnel.
"It's been a really good marriage for both of us because we benefit from the professionalism, and they benefit from the flexibility we offer," Teasdale said.
Being flexible with scheduling has enabled the company to attract people who represent the company well and treat passengers with excellent care.
Most of the recruiting has been via word of mouth through current employees. "They would just say, hey, I know somebody who would be good," Teasdale said.
It's gotten to the point where, if Secure Medical Transport comes across a handful of job applicants with the right mix of professionalism and caring, the company will bring them onboard because the leadership knows more growth is right around the corner.
 'The Need Is Only Going to Grow'
Secure Medical Transport moved into its current headquarters just off Southwest Boulevard not quite two years ago. Before that, the company didn't have an office. When they weren't in use, the vans were kept at a storage facility. If drivers needed to find Teasdale—and assuming he wasn't doing a transport of his own—he usually posted up at a neighborhood Panera.
The need for the company's service is only going to grow as more Baby Boomers age deeper into their golden years. While Boomers have been retiring in greater numbers in recent years, most of them live independently and don't need transportation services—yet.
"It was an underdeveloped industry when we started," Teasdale said. "And I'd say it's still underdeveloped."
Kansas City in particular will need services like Secure Medical's. The region is relatively spread out, without the transit networks of larger cities like New York or Chicago.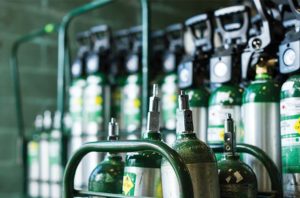 "The need is only going to grow, so we'd like to see our business grow, you know, whether it's another 75 percent in the next two years," Teasdale said. "But we also want to do a little horizontal growth."
That might mean expanding into transportation for schools or the Veterans Affairs Administration, or other niches that don't necessarily involve passengers with medical concerns.
"We feel like we cannot only do it, but do it better," Teasdale said.
Whatever Secure Medical Transport does next, though, don't be surprised if you see Teasdale behind the wheel. Even today, after the company has grown to include dozens of drivers, he still goes on a few calls each week.
"I'm a big believer in being in touch and knowing what's going on out there," he said.
Early on, his partners had tried to talk him into cutting back.
"But I enjoyed it so much," he said, "and it really just helped me understand what is needed."
The goal is to keep delivering excellent service, he said, "and kind of be what I didn't see when my dad needed it."