A trend rippling across the nation has reached Kansas City, and now it's spreading out to its suburbs in Eastern Jackson County: the resurgence of downtown.

The root of this trend is called urbanization. After World War II, development focused on suburbs; now, that's being reversed, with real estate developers, businesses and residents pouring back into cities.
However, suburbs aren't completely left out. According to CBRE Global Investors, a commercial real estate and investment company, suburbs that give themselves an "urban makeover"—investing in mixed-use developments, public transit and community-focused space—are having success creating vibrant, walkable areas that attract businesses and residents.
As Kansas City reaps the fruits of downtown reinvestment, including the streetcar, ever-increasing luxury living options and renovation of old buildings, its neighbors to the east are likewise building up their downtown areas. Lee's Summit, Blue Springs and Independence all are actively working to bring attractive businesses to their downtowns—and they're succeeding.
"If there's an overarching theme, it's that Eastern Jackson County tries to find stuff that isn't there and create it to fill that space," said Frank White III, director of business development for the Kansas City Area Transit Authority and a Lee's Summit resident.
Live, work, play
The key elements that make urbanization successful revolve around live, work and play. Car ridership is decreasing, and the millennial generation in particular prefers to live close to work, transit and amenities, according to a 2015 CBRE report.
As Eastern Jackson County cities have built up their downtowns, "play" has been the first step. Independence, Blue Springs and Lee's Summit all have succeeded in attracting unique boutiques and interesting food options to draw people in. The next steps include adding options for working and living; these suburbs are in various stages of taking those steps.
Area entrepreneurs are helping that vision become reality.
Play
David Mann started homebrewing eight years ago. His hobby grew into a passion that became a business this year. In June, he opened East Forty Brewing in downtown Blue Springs.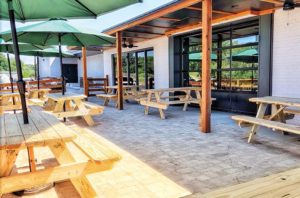 When he started looking for a home for his brewery, he said he looked at any available real estate in Eastern Jackson County—Lee's Summit, Blue Springs, Grain Valley and Independence. Though he lives in Blue Springs, Mann wasn't set on locating his business there, but he "grew to love downtown," he said.
The building he found at 1201 W. Main St. also offered everything he needed for the brewery, bar, kitchen and live music acts—a loading dock, available power and space.
Not only that, but "the city has been very excited and supportive of us," Mann said. "There weren't any hoops to jump through that we weren't expecting."
Blue Springs was eager for Mann to locate there rather than a nearby city, he said. It helped that the building he chose was eligible for a 25-year tax abatement.
"That was something we worked with the city on and was definitely an attraction to this area versus down the road. That definitely helps, for sure," he said. "For us, it doesn't lower the cost upfront—we still had to secure all of that money for construction—but we'll basically get it back in the form of tax savings over the next 25 years."
Incentives aside, Mann said he was happy to locate in Blue Springs, and not just because the brewery is five minutes from home. He said he and his wife have found that options for local eats and hangouts in Blue Springs are limited.
"It's kind of trying to be that change—bringing more stuff to Blue Springs," Mann said. "We're not alone. We know there's a lot of people down here—younger people like ourselves, young families—and a lot of demand for craft beer and food, and they're not having their needs met out here, so they're traveling to other areas. We're trying to fill the void that exists."
There are other unique, independent small businesses in downtown Blue Springs, Mann said. He said he hopes the addition of East Forty Brewing to the mix will draw not only visitors but eventually other businesses—even breweries.
"If we can bring more breweries out here, get a cluster out here—which I think eventually we will get more breweries out this way—that would be great," he said. "When there's critical mass, it makes it more of a destination for people to go to. While we like being out here by ourselves—a new brewery, the first brewery in Blue Springs—I'm definitely not opposed to more breweries opening down the street."
And the feedback he's received indicates residents are clamoring for more local hangouts.
"That's what we hear is, 'Thank you for opening a brewery in Blue Springs—we've been waiting for this.'"
Work
Blue Springs can look to its neighbor Lee's Summit to see the success that downtown reinvestment brings. Downtown Lee's Summit has a mix of unique, local businesses that have proven to be a draw for visitors and residents. It boasts boutiques, restaurants, a speakeasy and four breweries—it has attained the "cluster" that Mann hopes to see someday in Blue Springs.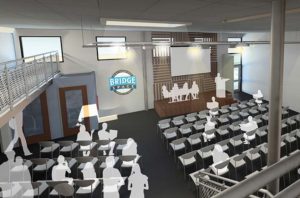 Between the interesting venues and the walkability of the area, Lee's Summit has succeeded in attracting people. Now, the bedroom community hopes to keep more of them there. The next step is offering more places to work in the suburb so less of the population has to drive to Kansas City, Johnson County or other areas of the metro.
That's a key motivation for serial entrepreneur Ben Rao, who this summer will open Bridge Space in a former post office downtown. It's the first coworking space in Lee's Summit.
Through the 16 month-process of renovation, Bridge Space is bringing back historical features of the 1962 building while adding the newest technology, including solar panels and LED lighting.
"It is about creating an experience that doesn't exist in Eastern Jackson County or Lee's Summit," Rao said.
Always a big-picture thinker, Rao envisions Bridge Space as more the "bridge" than just the "space."
"A big part of this project was because there's nobody focusing full-time on entrepreneurship in Lee's Summit," he said. "We've got great people, we've got great families. And I just wanted to build this support mechanism so people knew they had a place to gravitate to, and we could be the central nerve center out here to help play traffic cop between schools and education, and the civic groups, and the city, and entrepreneurs and the larger business community, and to be focused on that full-time, to be that glue to hold all of that together because that will bring hundreds of companies into Lee's Summit."
Ideally, he said, companies that incubate at Bridge Space will stay in Lee's Summit. Say each company that starts at the coworking space grows to 20 employees, he said—"if we can do that with 100 companies, that's 2,000 jobs."
And his goal with Bridge Space is not only to keep people in Lee's Summit but also to draw them in from elsewhere—and to help those visitors experience the downtown.
Bridge Space has event space that can accommodate 300 to 400 guests, Rao said, and it aims to host anything business- or philanthropy-related. For events such as full-day conferences, he suggests to the hosts that instead of catering in lunch, they buy downtown Lee's Summit gift certificates so guests can try some of the local eateries.
Live
The last crucial element in the urbanization formula is living space. So far, the Eastern Jackson County suburbs haven't focused on adding much living space to their downtowns; however, these cities remain a draw for the quality of life they offer.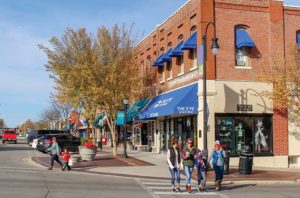 Millennials are cited as one of the key drivers toward urbanization. As that generation reaches their 30s, they are having children and looking for homes. As CBRE put it in a 2015 report: "Many of today's younger urban professionals may eventually be drawn to the suburbs as they begin to raise families and they search for better-quality schools, a yard of one's own and more space for storage."
The school districts in Jackson County's suburbs have long been a draw for families.
"That's what got my folks out to Blue Springs when I was a kid—the school system," said White, of the KCATA. "It's a fact that, in all the school districts in Eastern Jackson County, you've got a really nice synergy between the civic community, the business community and the parents."
What draws families also helps to keep others in the area, White said. The strong schools translate to high property values, which entice even empty nesters like himself to stay. White said he and his wife recently downsized but chose to remain in Lee's Summit.
In addition to schools, public transit is a part of the urbanization conversation, especially for the millennial generation.
"Communities that attract millennials have a multitude of transportation choices and urban lifestyle components (whether they live in cities or in the suburbs)," CBRE wrote in its 2015 urbanization trends report.
White agreed that there has been "heightened interest in public transit and different transit options" in Eastern Jackson County. Businesses there want employees to have options available so they can get to work, he said. New options like KCATA's app-based RideKC Freedom program help public transit to scale in those growing communities, White said.
'Open for business'
Even as downtown Kansas City continues its resurgence, Eastern Jackson County will grow as well, thanks in part to the businesses that have made it their mission to see their cities thrive.
"When I came to Lee's Summit—we moved here in 1978, sleepy little town didn't want to be bothered," White said. "But now, it's open for business. … The goal is to keep you from ever having to leave."