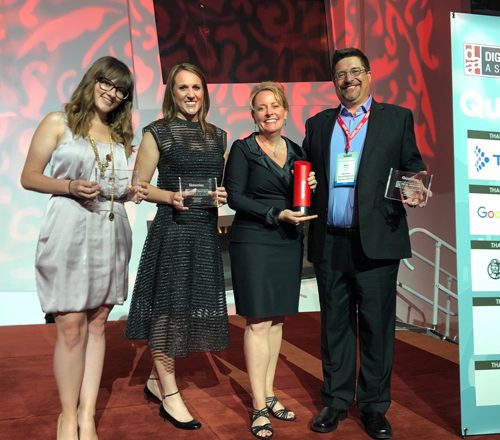 Parkville firm named as Top Analytics Agency by industry association
Earlier this month, Evolytics, a Parkville digital analytics firm, was recognized as Top Analytics Agency in the small to mid-size category by the Digital Analytics Association at its Quanties Award Gala in Las Vegas.
In addition to its accolade as Top Agency, Evolytics was named a finalist in three other categories: Top Analytics Team, Difference Maker and Top New Practitioner for Evan Vermilyea, analytics engineer.

"When we inspire people to use data in ways that make a difference in the world, this is what happens. So proud of the Evolytics team and the clients we work with," said Tom Wilkins, Evolytics founder and CEO.
The DAA is a nonprofit association supporting analytics professionals through resources and networking within its community. It strives to advance the profession of using data to improve business.
Evolytics is a 2015 honoree of Thinking Bigger Business Media's 25 Under 25 Awards. The firm, founded in 2006, provides a variety of services ranging from data auditing to data engineering, predictive analytics to A/B testing. Equipped with 28 employees, Evolytics works with clients across the nation, creating analytic solutions and delivering measurable results.
According to Carey Wilkins, Evolytics president, the honors from DAA are among the top in the industry.
"I am thrilled to share that Evolytics was named Top Analytics Agency by the Digital Analytics Association at the 2018 Quanties Award Gala held last week in Las Vegas," she said. "This is an incredible honor given the caliber of global analytics agencies who were competing for this award. I am especially grateful to the amazing team of talent at Evolytics who works hard every day to deliver awesome.
"And a very special thank you to our exceptional clients who give us so many opportunities to do forward-thinking work that delivers business value," she said.