FEWDM is poised to break big in 2016. Here's how owners Tommy and Kacie Saunders have prepared for success.
Witness entrepreneurs Kacie and Tommy Saunders, the owners of FEWDM, had a whirlwind year in 2015.
Their Northland startup recorded big sales for the Rock 360, the next-generation abdominal roller they sell, and this month, they'll start shipping their latest product, the OmniBalls, which deliver an even tougher workout.
While they were busy raising capital and preparing for the product launch, Tommy Saunders was selected to compete in the reality TV competition "Sweat Inc." When the show started airing on cable channel Spike in late 2015, FEWDM enjoyed a jolt of national publicity.
"In the last 48 days," he said, "we've done as much in sales as in the lifetime of the company."
And, last but not least, Kacie and Tommy got married last year, too. How the heck did they juggle all of that?
FEWDM'S ORIGIN STORY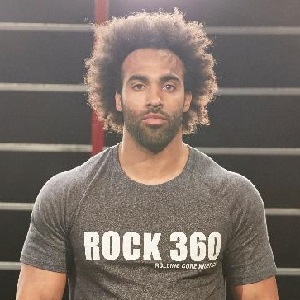 Tommy Saunders, a Kearney native who played wide receiver at the University of Missouri, got the idea for his first product, the Rock 360, back in 2010. One day at the gym, he noticed another guy was using a traditional ab roller—and Saunders realized there was a simple way to make the device even better.
Using a $4,500 savings bond from his grandmother and a $10,000 investment from his old coach, Saunders developed a prototype and started selling the Rock 360 in 2013.
HOW DO THE ROCK 360 AND OMNIBALL WORK?
Old-school abdominal rollers are based on a wheel, so users can only roll back and forth or side to side.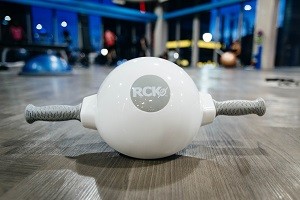 The Rock 360 operates, basically, like a giant ball bearing. It can go in any direction at any time, forcing users to activate more of their core muscles.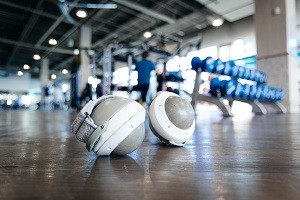 The OmniBalls are like the Rock 360, only instead of one device, there is a set of two balls—one for each hand. It's an even more challenging workout. (The balls can even be strapped to your feet, or used as 4-pound weights.)
WHAT DOES
FEWDM MEAN?
It's an acronym of Tommy Saunders' personal mantra: "For Everybody Who Doubts Me."
"Honestly, it's kind of second nature to us," she said. "Tommy was building this company when I met him, and a year after that, I came to join him. We really don't know anything different. We wake up, we talk about it at home, we talk about it in the car."
Fortunately, the Saunderses had extra help in the form of ScaleUP! Kansas City, a program offered by the University of the Missouri-Kansas City's Innovation Center and the U.S. Small Business Administration.
ScaleUP! is designed to help small businesses reach more than $1 million in annual revenue. Participants receive free training and mentoring that's tailored to their situation.
"It taught us how to be true entrepreneurs," Kacie Saunders said, "because I think there's an entrepreneurial spirit, and then there's action for being an entrepreneur. ScaleUP! really taught us how to blend the both of those."
Here are some of the most important lessons the Saunderses would share with other growth-minded business owners.
KNOW YOUR PAIN POINTS
ScaleUP! Kansas City pushes its participants to dig into the details of their businesses, so they know where the pain points are. After all, you can't fix a problem if you don't know it exists.
For Tommy Saunders, that involved a harder look at how he was using his time, especially when it came to courting investors.
"I'm always trying to raise capital," he said. "And so I have this 'never lose, never give up, for everybody who doubts me' attitude. I will follow up with someone every week for three years until they tell me no."
ScaleUP! made him realize that wasn't an effective use of time. Even if he only spends 30 seconds on a check-in email, that's 30 seconds that could be better used to approach someone new.
EXPAND YOUR MARKETING'S REACH—BUT KEEP IT PERSONAL
Early on, FEWDM's sales were done in person. Kacie and Tommy would travel to fitness expos and exercise conferences across the country to promote the Rock 360. They sold out at every show, and the face-to-face interaction gave them valuable feedback. But it ate up a lot of time.
So they shifted to online sales through their website and invested in digital marketing campaigns.
"You can only talk to so many people at a time at a trade show," Tommy Saunders said. "Online, it's virtually limitless based on how much capital you have to send the right message to the right people on the right platform."
Kacie, an alumnus of Mizzou's journalism school, oversees FEWDM's marketing. Though they reach exponentially more customers now, she makes a point of answering every single post on FEWDM's Facebook page—which can run into the thousands during a busy month.
"It was kind of crazy, but it's also nice because I don't think a lot of businesses do that," she said. "So people are always shocked when they get a response."
People are always guarded when trying new products like the Rock 360 or the OmniBalls. When a customer gets a quick response to a Facebook comment, they realize "there's a person behind this page," Kacie Saunders said.
YOU CAN'T STOP INNOVATING
With the Rock 360 and the OmniBalls, FEWDM has not one, but two unique products. Their time in ScaleUP! has encouraged Tommy and Kacie to keep thinking about the next big thing.
"In order to compete, especially in the fitness industry, you have to continue to innovate," Kacie Saunders said. "Because people get tired of fitness routines really quickly. And so if we can find a way to engage and draw interest from people for the long term, then we think we can really set a decent place for ourselves in the market."
One way to innovate is by upgrading the product itself. The Rock 360 comes with a complementary smartphone app that shows workouts you can do with the device. The Saunderses want to add new features to the app that would allow users to track their movements and performance.
They're also going to offer OmniBall certification to personal trainers and fitness instructors, who could hold OmniBall classes in their own facilities. Not only does that create another income stream, it also keeps FEWDM in the public mind.
"We're looking to really build a platform so we can take it into gyms and let trainers kind of teach the product for us and have a great reach in that respect," Kacie Saunders said.