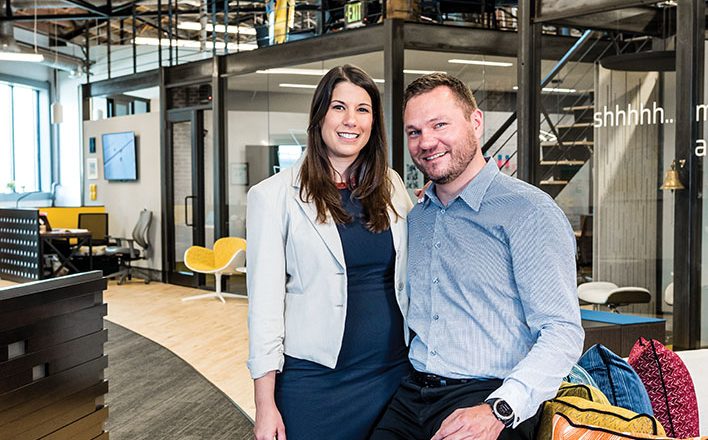 Freedom Interiors: Workspaces that work
Freedom Interiors creates the kind of workspaces that make people excited for Monday morning. The company figures out exactly how clients want their offices to feel and function, then translates that vision into reality.
For the longest time, though, Carol Espinosa and her team couldn't do the same thing for themselves. As a young, growing company, Freedom rented space in other people's buildings.
That changed late last year, when Freedom moved into its new home at 4000 Washington St. in Kansas City. The 7,000-square-foot brick structure — at one point, home to Westport's old post office — has been completely transformed into a showroom for Freedom's interior design and the furnishings the company sells.
"We really didn't have a good avenue to show people what we can do," said Espinosa, who launched Freedom in 2011. "We were in need of a space where we could bring people over and say, 'Do you like this? Here's what we can do.'"
Under the barrel roof, there are stylish desks and cubicles, as well as couches and booths and even a bar in the corner. On the other side of the building, you'll find brightly colored, munchkin-sized chairs and tables for classrooms. Freedom can source from over 100 furniture lines they sell.
Espinosa doesn't have to rely strictly on photos and catalogs when selling. Now, prospective clients can touch and sit on the furniture.
Growth spurt
The showroom is only one big change for Freedom Interiors. In six months, the company's headcount doubled from five people to 10.
Most of Freedom's business comes from the public sector. Government agencies and K-12 school districts are loyal customers, but the company is winning more business from corporate clients and local architecture and design firms, too, now that Espinosa and her team have an easy way to show people exactly what they can do.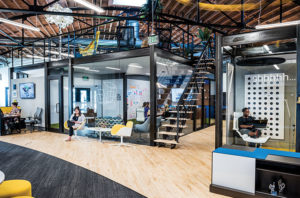 They don't just rely on the showroom. Freedom Interiors uses up-to-the-minute technology to complete its projects — much of it put in service by Garold Sokolenko, Espinosa's husband, who owned an IT company in the past and who now works in the business as a project lead.
The Freedom team employs a 3-D laser scanner to create a perfect digital copy of the client's space, down to the inch, and then uses that as a canvas for its interior design. Customers can wear VR goggles to "walk through" their reimagined offices before a single piece of furniture is ordered.
New tools, old-school methods
While the technology is important, Freedom's most important tools are much older: the ability to ask questions and sift the answers for what clients really need. That's where each project starts, Espinosa said.
"What we want to know is not what you want the space to look like," she said, "but what do you want the space to feel like, what do you want the space to do?"
An accounting firm, for example, might need quiet spaces so staffers can easily stay focused. An advertising agency? They probably desire a design that encourages employees to talk and collaborate — or even overhear others' conversations, so they can pipe up with another idea.
"Usually, you spend more time at your office, at your workplace, than you do at home," Espinosa said, "and it's incredible what the interior space can do for you,  both positive and negative."
From Project Manager to Principal
Despite starting and running her own successful company, Espinosa still doesn't think of herself as a businesswoman. Not a natural-born one, at least.
At heart, she's a project manager. Pulling together a million different details into a finished project, one that really makes a difference for people — that's what she thrives on, and it's what she did before starting Freedom Interiors.
Back then, she worked for another office-furniture company in Kansas City, where she learned the ins and outs of federal contracts after her employer started selling office furniture to different agencies.
Those contracts often required participation from woman- or minority-owned businesses, so Espinosa's previous company would partner with smaller firms on those projects. Espinosa, who grew up in Rio de Janeiro and became a U.S. citizen after attending the University of Kansas, realized that she was already doing the same kind of work as those other companies. So why not go into business for herself?
Plus, Espinosa already had experience managing the process that comes with government jobs. It's a Freedom strength: "We're not afraid of paperwork and forms and submissions," she said.
At first, the company was just Espinosa and a laptop. But she quickly made gains. She pursued and won certification through the U.S. Small Business Administration's 8(a) Business Development Program, which trains small, disadvantaged companies to be federal contractors. Then, a few years ago, Freedom Interiors earned a spot in the Blue Hills Contractor Incubator, a launchpad for small construction firms — and Espinosa's landlord until last year.
Collaborative focus
On a recent afternoon, Espinosa sat in her conference room and leaned over her computer, clicking through a 3-D tour of her building from before the renovations began. The structure used to house a hair salon and the studio of photographer Ben Weddle. (A triptych that hangs next to the bar — a portrait of a jazz saxophonist, lit in blue — is a Weddle work that Espinosa loved so much, she had him include it in their contract.)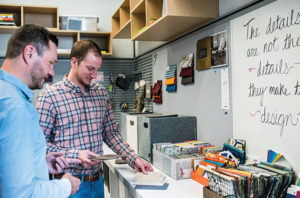 The renovation was extensive, but Espinosa wanted to pay tribute to the building's history. The wooden doors, original to the building when it was still a post office, have been repurposed as architectural features. Three are suspended over the bar, and two were converted into hanging barn doors leading into the kitchen.
Transforming 4000 Washington St. was an exciting process, though there were some challenging moments — like when they removed the drop plaster ceiling and one of the walls threatened to collapse.
Luckily, Freedom Interiors had expert support from JE Dunn. Espinosa has had a relationship with the construction company ever since completing its training program for minority entrepreneurs.
Much of the work on the building was subcontracted to other friends of Freedom, businesses the company met during its time at the Blue Hills  Contractor Incubator.
Espinosa wanted this to be a showcase not just for Freedom, but for fellow businesses, too.  And she wasn't disappointed.  Her friends came up with ideas that consistently wowed her, like a feature wall made from LED lights and reclaimed Missouri barn wood.
"They so took ownership of this project," Espinosa said. "They just wanted to blow us away."
JP Welding, a custom fabricator that's certified as a service-disabled veteran-owned business, made several connections while working on Freedom Interiors' building. As a result, JP Welding did more business in the first three months of the year than what had been expected for all of 2018, Espinosa said.
Espinosa was inspired to create opportunities for other contractors because she remembers all the help and encouragement she received while starting Freedom Interiors.
She sought out training from programs like the UMKC Small Business & Technology Development Center and the Missouri Procurement Technical Assistance Center. Last year, she was able to take graduate-level business classes at Stanford University as part of the  Stanford Latino  Entrepreneurship Initiative.
In addition to its 8(a) status, Freedom Interiors holds certifications with the State of Missouri and Kansas City, Mo.,  as well as the General  Services Administration.
Certification has helped the business win jobs, but it's not magic.
"They're helpful to get in the door," Espinosa said. "Once we're in the door, we still need to do a good job, and we still need to be price-competitive. But they definitely help start the conversation."
Headed for 25-25-25
Freedom Interiors has completed projects in all 50 states and overseas, too.
"We did a job on an island in the middle of the Pacific, 8,000 miles west of us," Espinosa said. "Tiny island, and we had to share with those end-users what their workspace was going to look like."
Freedom built 3-D visualizations so detailed that National Weather Service employees on Palau, a Micronesian island, could not only see the furniture and the design finishes, but look out the "window" at a virtual beach. Teams in Hawaii and Australia carried out the legwork and installed all the furnishings.
While government contracting has been profitable, Espinosa already has a major new goal in mind for Freedom Interiors.
"The goal is 25-25-25, which is 25 employees with $25 million in annual revenue for 2025," Espinosa said. "I have it broken down by year, so every year, we know what we need."
To accomplish that, the company will need to continue expanding into new markets like higher education, health care and beyond.
'The best of the best'
And Espinosa knows that she needs to keep growing, too, so she works with a leadership coach, Ted Davis of Grace Strategic Services, who's encouraged her to step out of her comfort zone when necessary.
Case in point: Espinosa had a tendency to hire other introverts. She realized that she needed other types of viewpoints and energy.
When she hired her first extrovert, they actually went through their personality tests together, so they each understood how the other communicated.
Today, Freedom team members take three personality tests, including StrengthsFinder. Everyone knows everyone else's top five strengths. That way, if someone gets stuck with a problem, they know which co-worker might be able to help them.
"When I say it out loud, it sounds like I'm overdoing it," Espinosa said, laughing. "But when you get a group of people together, it is so important that the dynamic is a good one."
Ultimately, that's what Freedom Interiors is about — creating places where people have the freedom and opportunity to do their best possible work. And for Espinosa, that absolutely includes her team.
"If we're going to do the best of the best for our customers," Espinosa said, "why not do the best of the best for us?"
---
FREEDOM INTERIORS
ENTREPRENEUR
Carol Espinosa
COMPANY INFORMATION
Freedom Interiors
4000 Washington St.
Kansas City, MO 64111
(816) 265-1110
Fre3dom.net
TYPE OF BUSINESS
Commercial interior design and furnishings solutions
YEAR FOUNDED
2011
EMPLOYEES
10
KEYS TO SUCCESS
"We help bring customer vision to reality through workplace design: We orchestrate vision, design and execution to create tailored workspace solutions that are right for your needs."
— Carol Espinosa, principal
and founder