Kansas City has a stated goal of becoming the most entrepreneurial city in the nation. At the same time, business owner baby boomers are reaching retirement age and need to hand off their companies to a new generation of leaders.
Generation Z, currently in high school and college, is starting to enter the workforce. Programs throughout the metro are ensuring that the pipeline of future business owners and entrepreneurial thinkers stays full by showing high school students what it means to be an entrepreneur.
Next generation of entrepreneurs
One potential future business owner is Evelyn Molina, who earned funding for her business idea at a pitch competition this summer.
Molina is part of the Youth Entrepreneurs program at J.C. Harmon High School in Kansas City, Kan., where she is a senior this year. She has taken classes there including accounting and business management through the school's business academy.
She works at Leslie's Taqueria and says she noticed that many construction workers in the area order ahead and pick up orders because they don't have much time for lunch. When it was time to choose a YE Market Day project, Molina explored the idea of street tacos. She and some classmates created a business plan and received a $300 loan from YE to buy supplies for a taco stand. The group earned $800 in one day.
With encouragement from her teacher, Molina hashed out a plan for Evy's Street Tacos food truck. She presented at a YE competition and moved on to the final round in Wichita in June. Her plan—and her mouth-watering tacos, which she gave to each of the judges—earned her $1,500 that can go toward education or her business.
The award money doesn't go a long way toward potential startup costs—Molina said a used food truck costs about $20,000—so the plan is tabled for now while she focuses on finishing high school and going to college.
But going through the process and earning the validation was invaluable, she said.
"Put in hard work—if you don't have dedication and take opportunities, you'll never get anywhere," she said.
Entrepreneurial mindset
Molina's success was in part predicated on her observation of a pain point for local workers—they have a short window to pick up and eat lunch. That's what several local programs refer to as an entrepreneurial mindset.
"We don't think that everybody will or should start businesses, but everybody can and should be entrepreneurial in their thinking," Katie Kimbrell said.
Kimbrell is director of education for the Kansas City Startup Foundation, which puts on MECA Challenge for high schoolers. MECA stands for Most Entrepreneurial Community in America.
The event is a one-day innovation competition. High school students work with a group of peers and an entrepreneur mentor to solve a business or social challenge. At the end of the day, they pitch solutions they've discovered.
MECA Challenge introduces students to "design thinking," Kimbrell said, that they can use in the classroom as well as in the community. The ultimate goal for KCSF is to train educators in teaching design thinking so they can integrate that concept into the curricula for every subject. That way, the entrepreneurial mindset is continuously reinforced.
"As startup champions, we think everybody should be starters," she said. "That doesn't mean they all start businesses or come up with ideas that are high-tech, high growth. Maybe they will. We think the odds of that increase if students are given the opportunity to be working on their own ideas—to be tackling real, local problems with their own ideas."
KCSF will put on 10 MECA Challenges this school year. Most will be open to students community-wide; only three are private events, Kimbrell said. The first challenge of the school year will take place Sept. 21.
While MECA Challenge is a community-wide initiative, some school districts already have made entrepreneurial lessons part of the curriculum. That's the case for Blue Valley's Center for Advanced Professional Studies.
The CAPS program, which started in the Blue Valley district and has shared the model with other school districts, has "strands," or concentrations. The accelerator strand includes an entrepreneurship class taught by Mike Farmer, a founder of startup Leap2 and Techstars entrepreneur-in-residence.
Farmer said his goal is to teach a "growth mindset." Rather than lecturing on business tenets, his students spend a semester working toward bringing a concept to market. Farmer lays out the timeline, but most of the classwork is student-led.
"Much of what I talk about, the way I teach, is show, don't tell," he said.
Farmer used the analogy of dribbling a basketball: It's easier to give students the ball and let them figure it out than to explain it. "That encourages them to be resourceful and to connect their own dots."
Connecting the dots builds that mindset of problem-solving, he said, that can apply to any situation.
"The elegance of this is it can serve the person who wants to go right to work, and students applying to highly competitive schools can differentiate themselves," Farmer said.
Real-world experience
The entrepreneurial mindset gives students a strong foundation to venture out into the business world. Independence School District has gone a step further, letting students run businesses in the city's downtown.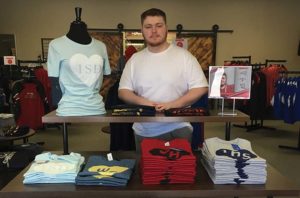 ISD structures its curriculum around career academies, from industrial technology to STEM (science, technology, engineering and math). The academies are based on workforce needs in the Kansas City area. All students graduate with either college credits and/or certifications that qualify them for jobs in their area of study.
Students in the business academy work at the district's retail store, All Things Independence. The store is overseen by a faculty member, but students are in charge of ordering, staffing, marketing, accounting and even payroll. Students also run a screenprinting operation that serves school groups, teams and community organizations.
"Most everything is student-driven," said facilitator Cindy Schluckebier. "That's why this works—freedom and mutual respect. In the real world that is so true—a thriving business doesn't work without leaders giving trust."
It's not only hard skills that students learn in the store, Schluckebier said—they develop soft skills like leadership and communication that they can take into any future job, even if it's not in business.
But most graduates of the academy do go to college with plans to major in business, Schluckebier said. And they'll be able to draw on their experience from working at the store throughout college and their careers—and parlay it into leadership of Kansas City's businesses, small and large.