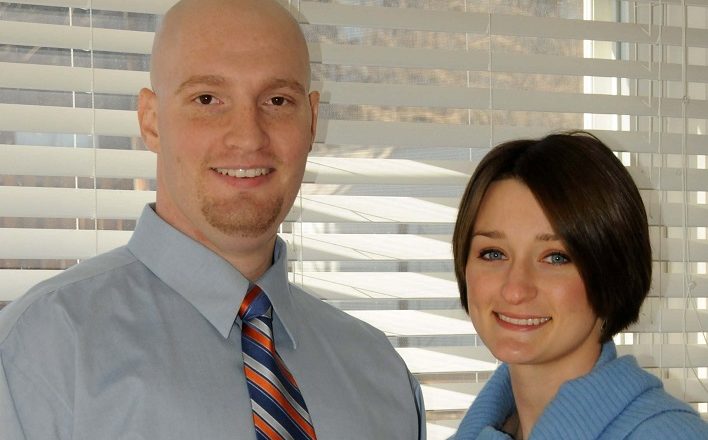 Great Day Moving's Wards Named KS Small Business Persons of the Year
If you have ever moved, and most people have, you realize it can either be a great day or a terrible day—all depending on whether the people in charge know what they are doing and have helped you adequately prepare. Roger and Dana Ward of Great Day Moving both have the tenacity, skills and integrity to make any moving day great.
---
The Wards have been named this year's Kansas Small Business Persons of the Year, in honor of National Small Business Week. Each year the SBA bestows this honor on entrepreneurs who have seen many successes, including staying power of the company, innovative business practices and community involvement.
After Roger returned from Iraq, Roger and Dana left military service and poured their life savings into the purchase of Marathon Moving and Delivery LLC in late 2007. The company was primarily a furniture delivery service to the greater Kansas City area.
The business consisted of just one piece of property: a truck. And shortly following the Wards' purchase of it, their primary client—responsible for more than 70 percent of the business's revenue—announced it was closing its doors.
This turned their projections upside down and left them with little value, but with the help of the Kansas Small Business Development Center at Johnson County Community College in Overland Park, they were able to turn things around.
On The Move
The SBDC helped the Wards shift their focus, find a target market and write a business plan to secure a $50,000 SBA-backed loan.
The Wards were able to improve the internal infrastructure of operations, their customer service and the day-to-day processes to make $327,000 in the first year of operation and were able to purchase a second truck.
By 2009, they began to operate debt-free. By 2011, they had a fleet of six moving trucks and $417,000 a year in revenue. Today, revenues top more than a half million dollars, and the company employs eight people full time, and 30 to 40 seasonal workers between April and November, when most Midwesterners move.
An updated business plan led to another SBA-backed $190,000 loan in 2013, allowing the couple to expand their infrastructure and bring on their first franchised Great Day Moving operation in the Tulsa metropolitan area. An integral part of the business expansion has been the development of computer software to improve overall operations, which also offers a new "Franchisee Dashboard" system to streamline business ownership.
With sights set on future gains, Roger describes the software as powerful and sophisticated enough to be used anywhere in the world, for any service-based small business.
Record of Service
Roger and Dana both spent their early years in our country's armed forces. Roger, a former infantryman, is a Purple Heart- decorated combat veteran who served three tours in the Middle East. Dana served in the Kansas Army National Guard while earning a bachelor's degree in business management.
The couple believes in using their trucks and donated services to build their relationship with the community: moving Christmas trees for the Johnson County Christmas Bureau and Marillac Psychological Center, as well as charity items for Friends of Overland Park Arts, American Heart Association, Harvesters Food Network, Operation Give-A-Bear, IHOPKC and the Touched by Cancer Foundation. The company also annually contributes time, money and resources to other charitable organizations.
Great Day Moving has received several awards for excellence, including the 2009 Kansas Small Business Development Center's Emerging Business of the Year, 2010 and 2011 Kansas Department of Commerce Merit Awards and Thinking Bigger Business Media's 25 Under 25® in 2011.
Their company motto says it all: "Our goal is to be the most professional, courteous and knowledgeable service providers in the local moving industry. We want to introduce society to accountability before, during and after moving day."