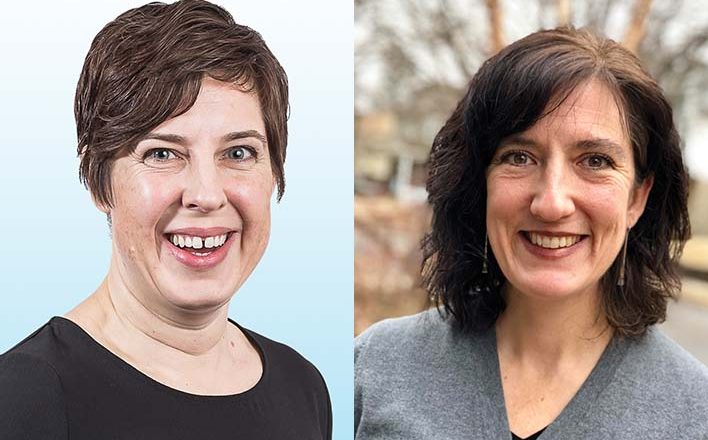 Growing Near And Far
It's a story we can all relate to in some way: Either you have been the traveler at the airport frantically searching for a last-minute souvenir while dashing to your gate, or you have received a less-than-ideal souvenir, bought at the last minute at the airport.
Entrepreneurs
Tiffany King and Suzanne Southard
Company
SouveNEAR
www.souvenear.com
SouveNEAR sells artful, locally made and designed souvenirs in vending machines. The machines are located in a number of areas at Kansas City International Airport and Oakland (Calif.) International Airport.
Are you ready to ScaleUp?
ScaleUP! Kansas City—a free program for KC small businesses—is looking for companies that want to supercharge their growth. Learn more at www.scaleupkc.com
In both cases, the gifter ends up feeling like he or she missed the mark and the recipients as though they were an after-thought. Nobody is happy.
There's a nearly four-year-old Kansas City company that's working to change all that, however. Meet SouveNEAR.
SouveNEAR curates locally made, artistic souvenirs and sells them through vending machines. The company was founded in 2014 by two local women, Tiffany King and Suzanne Southard.
Now, SouveNEAR is ready for rapid, nationwide expansion. To help with that process, King and Southard are working with ScaleUP! Kansas City at the University of Missouri-Kansas City's Innovation Center.
ScaleUP! Kansas City is a free program with support from the Ewing Marion Kauffman Foundation that offers classes, peer mentoring, professional guidance and more. It's open to small business owners who operate in a market capable of supporting more than $1 million in annual sales and who want to grow rapidly.
FORMING THE IDEA
SouveNEAR began over coffee at Aixois when two friends who shared an entrepreneurial spirit began discussing whether they should start a business together.
"After throwing out a number of ideas, we found one particularly inspiring," King said. Recognizing the challenge many travelers face trying to find a last-minute souvenir, they envisioned a national brand known for offering what they always wished they could find in busy places—artistic, maker goods actually designed and made in the cities they represented. King and Southard both loved the idea of helping artists and makers get in front of a wider audience, they said.
They immediately enrolled in the Kaufmann FastTrac program, which introduced them to many Kansas City professionals who continue to guide, advise and partner with them to this day.
"We knew getting into high-traffic locations would also mean high rents," King said. "A vending machine struck us as the perfect solution. We pictured an indie craft fair in a box, open 24 hours a day. It seemed like a fun way to offer transportable, affordable, locally made souvenirs to travelers."
The company's first vending machine was installed at KCI in November 2014. Today, there are eight machines at KCI. They can be found inside Southwest, Delta, United and American Airlines gates, as well as outside security in Terminals B and C.
The vending machines offer a range of gifts such as jewelry, T-shirts, art prints and gourmet foods—each with a distinctive artistic take. The company owners are always scouting for new artists and makers to include in the mix.
In 2016, the company expanded to the Bay Area and now has four machines within Oakland International Airport.
Why was the Bay Area the second location for SouveNEAR? That's a good, old-fashioned story of making the most of an opportunity.
"After getting some early national press about our business, we received a very passionate email from a woman in the Bay Area who loved the concept of SouveNEAR. She expressed her interest in helping us expand SouveNEAR to the West Coast."
Betsy Wolf, a lifelong traveler, felt the idea of SouveNEAR was long overdue. With a background in project management and software development, she made a great addition to the team. Soon she was a partner in the business, managing Bay Area operations as well as working with King and Southard to grow the company nationally.
Now, it's time to take on the East Coast and the rest of the country.
NATIONAL EXPANSION
But to really gear up across the country, King and Southard once again turned to Kansas City's powerful entrepreneurial community, applying for and being accepted into the seventh cohort of the ScaleUP! program, which began in January. It was an ideal match: ScaleUP! helps qualified companies with revenue of more than $150,000 reach their expansion goals.
Through ScaleUP!, King and Southard hope to develop a very detailed, clear plan for SouveNEAR's growth.
ScaleUP! is the perfect place for SouveNEAR to learn what it will take to go to the next level, King said.
"ScaleUP! gives us a chance to evaluate which path makes the most sense in achieving our ambitious goals for growing our business," King said. "We want to be ready to take on outside investment. ScaleUP! not only lets us learn from entrepreneurial thought leaders but also from other business owners with similar big goals."
Southard previously worked in retail, managing two Ten Thousand Villages stores in Baltimore. King had been in real estate, armed with a degree in economics. They both had transferrable skills, but starting and running a business is different, King said, and she and Southard always appreciate opportunities to learn alongside other business owners.
King is excited to be a part of ScaleUP! and has found it valuable, even just a few sessions into the 16-week program. Subject-matter experts offer their experiences, input and share insights with the cohort members.
One of the benefits she especially appreciates is meeting and learning from the other 17 members of this cohort. There's a wide range of businesses represented. "There's a great openness to helping each other," King said.