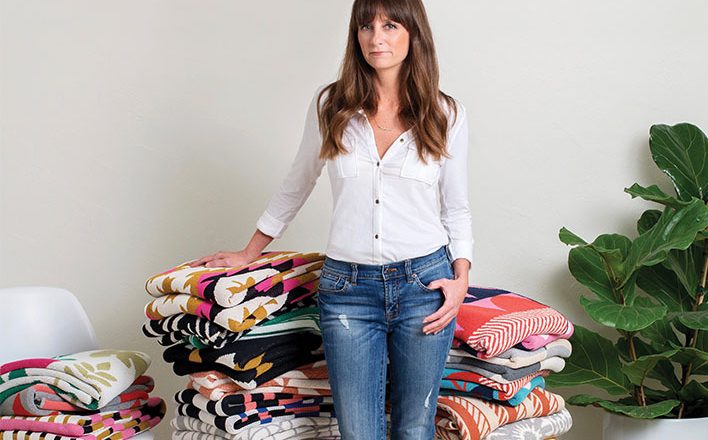 Happy Habitat Creates Color, Comfort and Style
Their blankets are a big piece of cozy art.
Karrie Dean always felt she was a designer, so she decided to fashion her own job after she was laid off from an advertising company. She designed a position for her own new business creating beautiful products that make a lot of people happy.
Any regrets after her layoff lingered only briefly as she got busy with Happy Habitat, designing comfortable and beautiful throws and pillow covers with vibrant patterns, a pleasant dose of comfort and a thrifty versatility.
Launching and Learning
Not everything came together overnight, but she did get the business launched in August 2011.
Although Dean is not a formally-trained designer, she was determined to learn. After reading voraciously and watching videos on YouTube about designing and materials, and after making numerous sketches, she decided she was good with patterns and needed to decide how to use them.
She wanted environmental-friendly materials, so she chose recycled cotton as the main ingredient for her throws. "It is good for the earth," she said about the recycled cotton, which comes from pre-consumer fibers and clippings collected after the cut and sew process. The product is used again rather than being discarded.
Dean said an entrepreneur must learn that he or she may not be able to do each task. After deciding patterns were her gift, Dean realized she needed some artisans for the production. She found two brothers on the East Coast who do her knitting and who have become an integral part of the team.
Artistic Throws
Happy Habitat features eco-throws, eco-pillow covers and eco-minis, all emphasizing the environment. The full-sized throws are 50 by 60 inches and are described on her website as "big enough for one blanket hog, two adults who really like each other or a mom and two kiddos who truly have no sense of personal space." The minis are designed for children, or as a lap blanket, and are 30 by 40 inches.
Dean said throws became her obsession because they are the perfect canvas and have an almost universal audience. They are a piece of happy art that provides window panes of color on a bed or even folded on a shelf, she said. No matter where you use them, they make a difference.
They can be used for blankets, for decorations on sofas and chairs, floor decorations, for wall decorations, for poncho sweaters and even for ground cover for picnics. "They are a big piece of art that is cozy," she said.
Toss a colorful throw into a white-decorated room, she said. "That one thing just changed your habitat," said Dean. "And that's why I design these blankets. Simple, immediate happy."
Throws Far and Wide
Happy Habitat's market is international as well as domestic. The company ships to Australia, Belgium, Canada, Denmark, France, Germany, Hong Kong, the Netherlands, Spain, Switzerland, Sweden and the United Kingdom.
Happy Habitat has rock stars for customers, but Dean just loves to see her work sprawled across a sofa, on a wall or being used for a decoration with other people's furniture creations.
It is particularly rewarding for Dean to see some of her favorite designers use the throws. "I love Orlando Soria's work. He recently took some pics with my throw on his sofa," she said.
Her advice to other entrepreneurs is to produce a quality product that you would want to buy.
"Be yourself, be authentic," she said. "Do the hard stuff, the stuff that takes a long time, the stuff that takes a lot of brain power, the stuff that seems menial. Those are the important things that you learn from and that stand out in the end."
Success often leads to an entrepreneur wondering how much farther they can go with a business. Although Dean has big ideas for the future, she doesn't want to the focus to become commercial production to the detriment of the art.
I want to be big while still being small," she said. "I am still building what I started."