Jacob Rieger's West Bottoms distillery plant was shut down by Prohibition in 1919.
Almost 100 years later, J. Rieger & Co. will open its new, 60,000-square-foot production facility on the other side of town.
The distillery announced it will expand its current 15,000-square-foot facility at 2700 Guinotte Ave. into the adjoining  Heim Brewery bottling house in the East Bottoms. When completed, the new factory will accommodate up to 100,000 visitors annually.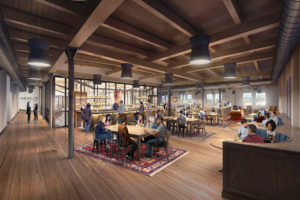 "This project is a true catalyst for change at our distillery and for the once vibrant Electric Park neighborhood," Andy Rieger, co-founder of J. Rieger & Co., and the great-great-great-grandson of the original distillery owner, said in a news release. "Our expansion allows us to continue to meet increased production demands, while also hosting the many spirits lovers in our community and beyond who want to participate in our brand story."
This announcement continues a spirited rise for the distillery and co-owners Rieger and Ryan Maybee. J. Rieger, a 2017 25 Under 25 Award winner, has increased distribution of its spirits into 20 states and now ranks in the top 10 percent of distilleries in the country. With its facility expansion, the company will quintuple its average daily production.
The new distillery and hospitality center also will celebrate the history of Jacob Rieger, Electric Park and Kansas City, which is important to the owners. Rieger said in a 2017 interview with Thinking Bigger Business that opening the distillery "was a combination of keeping the Rieger family legacy alive and reviving a distillery that was such a major player in Kansas City's history."
The hospitality center will host factory tours, tastings and classes on making spirits. In addition, plans are set to house multiple bars and lounges, as well as space for private events.
The former Heim Brewery bottling house, one of the largest breweries in the Midwest before Prohibition, is listed on the National Register of Historic Places. The Electric Park neighborhood is named after one of the country's first fully illuminated amusement parks, which dated back to 1899.