A Platte City vineyard and winery just won big for its commitment to sustainability.
Jowler Creek Vineyard and Winery was recently awarded a gold medal in Botanical Research Institute of Texas' (BRIT) International Award of Excellence in Sustainable Winegrowing competition.
Jowler Creek is also a Thinking Bigger 25 Under 25 award winner from the class of 2016.
BRIT's international recognition addresses three key factors of sustainability — environmental, economic and social aspects — as well as superior wine taste.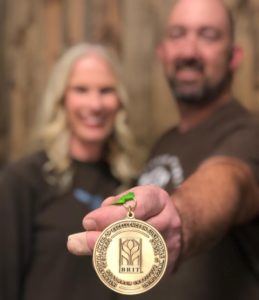 "From their work in the field and wine production to Jowler (Creek's) social programs for its workforce and community outreach with the Eco Trail program, they are to be commended," wrote Chris Chilton, director of marketing and public relations for BRIT, in announcing the award.
"The bottle of Estate Norton was also a fine example of how taste matches such a great program. Honestly, it raised the eyebrows of the judges."
The BRIT International Award of Excellence in Sustainable Winegrowing seeks to recognize the relationship between wine and botany, as well as to distinguish wineries that embrace a "ground to glass" attitude towards sustainability.
"For us, being green means making choices throughout the year to positively impact our environment, being efficient with the resources we have available and improving our wine quality to sustain our business," Colleen Gerke, co-owner and CEO of Jowler Creek, said in a news release.
"Since our family's home is in the middle of the vineyard, and just yards away from the winery, we try and do everything we can to protect the environment and sustain our business for generations to come."
Easy being green
Before becoming Missouri's first Green Winery, Jowler Creek's journey toward green practices began a decade ago when co-owners Jason and Colleen Gerke began searching for a system to control weeds while simultaneously reducing erosion. This sparked the idea to allow sheep to graze under the grape vines.
Since then, the winery and vineyard has worked toward increasing production while reducing its carbon footprint.
Here's just a sample of some of the green business practices Jowler Creek has implemented since its inception:
Maintaining a small flock of sheep during growing season to "mow" under Jowler Creek's Norton vines, which helps eliminate the use of herbicides, minimize soil erosion, decrease dependence on fossil fuels and improve soil health
Implementing a flock of free-range laying hens to naturally control crawling insects, which reduces or eliminates insecticide use in the vineyard
Incorporating native plants and grasses into landscaping to provide resources for monarch butterflies and other pollinators, ultimately producing successive generations and sustaining migration
Keeping bat houses that encourage bats to naturally manage pests and maintain biodiversity in the landscape
Tending to a honeybee colony that improves cover crops between the rows and surrounding ecosystems, which helps vines via increased biodiversity and improved soil health
Using an automated drip irrigation system, which uses 30 to 50 percent less water than a conventional sprinkler method. The technique also conserves water by reducing erosion and evaporation and improves overall soil health.
Using solar power to electrify the fence surrounding the vineyard, and solar panels to power Jowler Creek's tasting room
Keeping the local watershed cleaner and safer by keeping the creek free of waste and harmful runoff
Providing Tesla and Level 2 electric vehicle (EV) chargers for customers to use on-site, and using a 100 percent electric-powered Nissan LEAF to run errands and deliver wine around town
Offering lightweight, recycled glass bottles for wine
Partnering with green community programs like Ripple Glass, the Mid-America Regional Council Soil Waste Management District and the Missouri Conservation Stream Team
Recycling packaging material to keep it out of local landfills: "We have the goal of being a zero-waste winemaking facility within three years," Colleen said.
Purchasing grapes from local, family-run farms
Jowler Creek's tasting room and production area are sided with 90 percent recycled steel and framed with wood certified to the requirements of the Sustainable Forestry Initiative Program. The room is powered by solar panels and lit with fluorescent lighting, which uses two-thirds less energy.
The building additionally employs WaterSense plumbing features and low-flow nozzles to conserve water.
"For us, it's a lot of little things that we hope add up to have a positive, sustainable impact," Colleen said.