Entrepreneurial communities may have found their most enthusiastic advocates right here in the Midwest.
On Wednesday, the Marion Ewing Kauffman Foundation's CEO Wendy Guillies opened the annual State of Entrepreneurship address on the stage of the Medallion Theater at Plexpod Westport Commons.The event marked the 10th anniversary of the address, but its first year delivered directly from Kansas City rather than Washington, D.C. Via livestream, Guillies spoke to viewers across the nation about the foundation's future plans for expanding entrepreneurship.
"The reality is we all have a part to play in creating a more prosperous national economy and that starts with growing entrepreneur by entrepreneur and community by community," Guillies told both crowd and cameras.
"It's local and hyperlocal activity that influences our economy," she went on to say. "As a society, we need to champion the makers, doers and dreamers in our community."
Kauffman's five-year initiatives
Guillies told viewers that over the next five years, Kauffman aims to help 200,000 entrepreneurs start new ventures or grow existing ones, with heightened focus on underrepresented communities throughout Kansas City and the Midwest.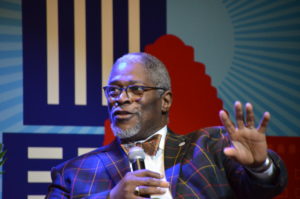 "We need to consider all parts of the community because the truth is that economic opportunity just a few blocks east of here looks very different from it does a few blocks west of here," Guillies said.
Guillies also touched on Kauffman's newly announced pilot project, Capital Access Lab. The initiative will provide capital to underserved entrepreneurs by establishing a new, national model of economic development.
'Growing our own'
The Kauffman Foundation provided some of the following stats about entrepreneurship in a recent release, as well as in the address:
83 percent of entrepreneurs are ignored or underserved by traditional funding services.
Less than 1 percent of entrepreneurs receive venture capital.
Almost 65 percent of entrepreneurs rely on personal and family savings for startup capital.
Only about 9 percent of proposals submitted to angel investors are from women.
Black entrepreneurs' loan requests are three times as likely to be approved than white entrepreneurs.
Three out of 1,000 individuals become entrepreneurs.
Over a five-year period, Kansas City entrepreneurs created 84,000 jobs from new businesses (more than Amazon).
Kansas City produces, on average, about 16,000 new jobs a year.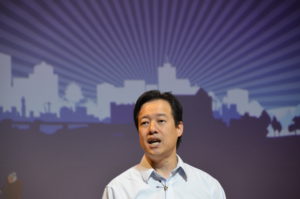 These statistics illuminate the importance of entrepreneurial efforts deriving not from politicians or corporations, but from the people themselves, according to Guillies and the Kauffman Foundation's vice president of entrepreneurship, Victor Hwang.
Hwang told viewers that it's time to "turn entrepreneurship into a community sport."
"There is no law in Washington, D.C. that will get passed to revive our communities," Hwang said. "There is no savior from the outside. The only possible answer is that we grow our own."
"You are the leaders you've been waiting for," he continued. "We're empowering the entrepreneurs in our community one business, one job, one idea at a time."