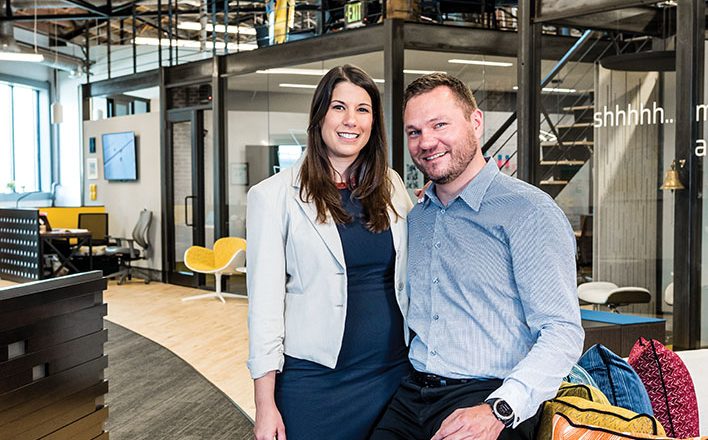 KC entrepreneur Carol Espinosa wins SBA Small Business Person of the Year
The U.S. Small Business Administration announced its winners of the 2019 Small Business Persons of the Year — among them, Kansas City's own Carol Espinosa, founder and president of Freedom Interiors.
"It's a very humbling and exciting experience to win this award," Espinosa told Thinking Bigger. "Being named Small Business Person of the Year for the state of Missouri means recognition of the hard work and perseverance it takes to start and grow a company, as well as recognition for all of the help Freedom has received from the Small Business Administration."
Freedom Interiors, which launched in 2011, specializes in building innovative workspace interiors and solutions. The company's growth last year included doubling its staff from five to 10 as well as relocating to a larger space — a 7,000-square-foot structure at 4000 Washington St. The new building allows for a showroom and enhanced technology, such as a 3-D laser scanner and VR goggles.
Freedom Interiors is a certified 8(a) organization through the SBA and has completed projects in all 50 states as well as overseas. The SBA's support has been "integral" to Freedom's success, Espinosa says.
Espinosa's goal for the next five years follows what she calls a 25-25-25 model: 25 employees and $25 million in revenue by 2025.
"We are on track for 2019 and have several incredible opportunities to expand our products and services in the near future," Espinosa said. "The most exciting development for me, however, is to see our team members evolving, and the personal growth that each and every one of us is experiencing as the company expands."
She also acknowledged the resources that Kansas City offers for entrepreneurs, such as the Kauffman Foundation, the UMKC Small Business and Technology Development Center and the Helzberg Entrepreneurial Mentorship Program (HEMP).
"It may be my name on the award, but Freedom wouldn't be what it is today – or continue to grow – without our team members, mentors, partners and customers," Espinosa said.
U.S. Small Business Administrator Linda McMahon, who spoke at the 2019 Global Entrepreneurship Summit in the Heartland event in Overland Park this week, congratulated the winners on their success and their innovative spirit.
"(Entrepreneurs') skills and creativity not only support their own families, but they also make our neighborhoods and cities vibrant places to live and work, fueling our overall economic strength," McMahon said when announcing the honorees. "These small business owners best represent the nation's 30 million small businesses."
Each of the winners will attend ceremonies in Washington, D.C., May 5-6 as a part of National Small Business Week (May 5-11). During the event, the SBA will announce the 2019 National Small Business Person of the Year from the 53 winners from across the U.S. and territories.
"My hope is that this award spurs our team's inspiration to even greater heights, to keep working together to make Freedom a better company, as well as inspire other business owners that are just starting out, to navigate the road to success," Espinosa said.
"It's rewarding to take the time to celebrate how far we've come."