How do you market a business when traditional advertising methods aren't an option? If you are Heather Hobbs and Kyle Steppe, owners of KC Hemp Co., you turn to Facebook, Instagram and old-fashioned word-of-mouth to find customers.
Hobbs and Steppe have used social media to their best advantage to get the word out about their retail store, which just opened in September. They are also regulars at area chamber of commerce events and at the Overland Park Farmer's Market.
They've worked with area hospitals, chiropractic offices, massage therapists and Midwest Rehabilitation to spread the word.
Why not use traditional advertising? Many media outlets aren't open to showcasing the company's products – which are completely legal but misunderstood by many people.
Dispelling confusion
One of the couple's key challenges is educating consumers about their products. People are confused by hemp and its relationship to marijuana. The two are very different, Hobbs said.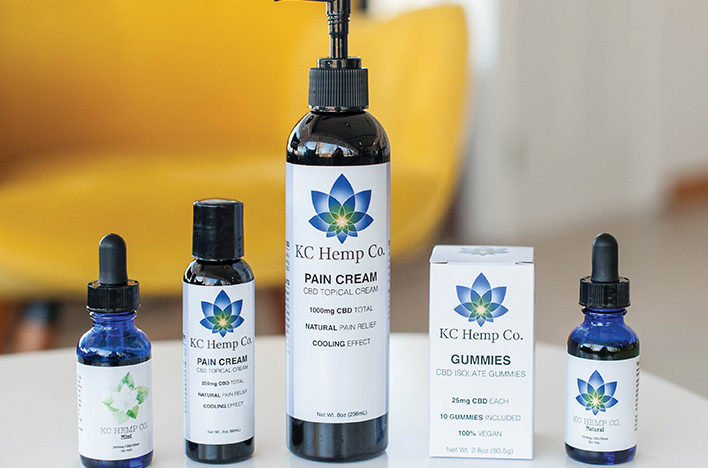 The basic difference is in their composition. Oil from hemp plants, cannabidiol (CBD), has a very small (less than 0.3 percent) amount of THC in it. THC is tetrahydrocannabinol, which is the active ingredient in marijuana.
Hemp is the stronger of the two plants as well. It can be used to make textiles, fuel and medicines.
In Kansas, marijuana is illegal. In 2018, the Kansas Legislature clarified laws surrounding CBD, excluding it from the state's definition of marijuana — as long as it includes no THC.
For Hobbs, the retail store is a dream realized since she started using CBD oil to combat ADHD. She'd been taking a variety of prescriptions but found the side effects weren't worth it.
Today, she uses the CBD oils exclusively to manage her symptoms, as Steppe does for his anxiety and depression.
The store's products have been fully embraced by their customers – most of whom you wouldn't necessarily mark as stereotypical hemp devotees.
"Seventy-five percent of our clientele is older," Steppe said.
Appealing to Johnson County shoppers
KC Hemp Co.'s store is a fashionable, airy, well-lit location. If you are thinking of a head shop or dank, dark or frankly scary place to shop, this isn't it.
Hobbs and Steppe knew that a Johnson County location meant a certain look and atmosphere would be a key to success.
Their shop has all kinds of natural light, eclectic, modern seating and enough room to host events, which they do often.
In building their first location, they wanted the store to appeal to a Johnson County audience. The store is across the street from the Matt Ross Community Center in the heart of downtown Overland Park.
The store almost didn't happen because the couple couldn't find a bank to finance their dream. Finally, Arvest Bank stepped up, even sending two of its employees to the shop to review the business.
"That was impressive," Steppe said. "They took the time to educate themselves."
Education is one of the prime ways the two spend their time.
The couple's first store is doing well, and they are looking to open several more locations around the area in the next year. They have not only oils but other hemp products, such as purses, bath and body products, and pet products.
Beginning this year, hemp farming will be legal in Kansas, and the couple hope to eventually sell only Kansas-based hemp.
"We want to be hyperlocal," Hobbs said. "People don't 'community' like they should. We want all of our products to be organic, natural and local."
They'd also like to build with the product.
"Hemp is incredibly strong," Steppe said. "Hempcrete is the building material of the future. I will one day have a building made of hempcrete."