KC Rising has created a 'strategic business plan' to fire up the region's economic engine.
---
Kansas City is at risk of losing its competitive edge in the coming decades unless the region makes a series of strategic moves now, a coalition of community leaders says.
KC Rising is a partnership that includes three of the biggest civic groups in town: the Civic Council, the Kansas City Area Development Council and the Mid-America Regional Council. For more than a year, KC Rising's volunteers have been researching the region's business needs and identifying ways to improve.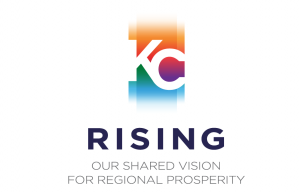 The initiative has already led to the creation of the KCRise Fund, a $20 million fund that will invest in early-stage companies based here in Kansas City. So far, organizers have received $10 million in commitments from investors.
KC Rising was inspired by a 2014 report from MARC and the Brookings Institution. "Prosperity at a Crossroads" found the region was falling behind on economic output, new business creation, patents and other important indicators.
"We didn't like many of the things the report had to say … but it caught our attention," Hallmark CEO Donald Hall Jr. said.
What Strategies Does KC Rising Recommend?
During a recent meeting at The American Restaurant in Crown Center, KC Rising's research groups presented their solutions for boosting Kansas City's economy.
Among their ideas:
»  Launching the KCRise Fund // It will function as a "sidecar fund" that invests alongside institutional venture capitalists. The VCs will help vet young companies, providing more assurance to wealthy, but less experienced investors. KCRise will help address one of the biggest frustrations of early-stage entrepreneurs in Kansas City—it can be difficult, they say, to find local capital to grow their companies.
»  Increasing collaboration between corporations and smaller entrepreneurs // Kansas City's largest companies have research and potential products that have been "sitting on a shelf," but could be handed off to startups and smaller companies to commercialize.
»  Organizing a series of Talent to Industry Exchanges // These are partnerships where businesses, schools, labor groups and economic development pros will try to increase the talent pool for their specific industry. KC Rising plans to start by organizing TIEs for the life sciences and the engineering-architecture sectors.
»  Offering a free Talent Toolkit—that is, a collection of videos, marketing materials and other information that employers and recruiters can use to sell job candidates on living in Kansas City. You can find the Talent Toolkit at www.kcrising.com/talent-toolkit.
»  Building up the region's construction and design sector // Kansas City already ranks among the nation's top 10 for design and engineering firms. KC Rising is meeting with local companies to find ways to grow that industry here—perhaps by teaming on "areas of common need."
The initiative also wants to find ways to boost the region's smart transportation, life sciences and cyber security sectors. The goal is to nurture areas where Kansas City has the potential to be world-class.
How Will We Know If It Worked?
Organizers have identified three standards: gross regional product, number of quality jobs and median household income. Among its 30 "peer cities," Kansas City ranks 14th, 12th and 12th, respectively. By 2025, KC Rising wants the region to be among the top 10 for each metric.
KC Rising co-chair Scott Smith, the former CEO of HNTB Infrastructure, acknowledged this will be a "heavy lift,"
but believes it's possible with the strategy that's been outlined.
Kansas City, Mo., Mayor Sly James thanked the KC Rising teams for their work. But, noting the "monochromatic," mostly white nature of the gathering, he urged business leaders to make sure their initiative increases opportunity for the entire community.
"Because there won't be any KC Rising if we leave half of it behind," said James.