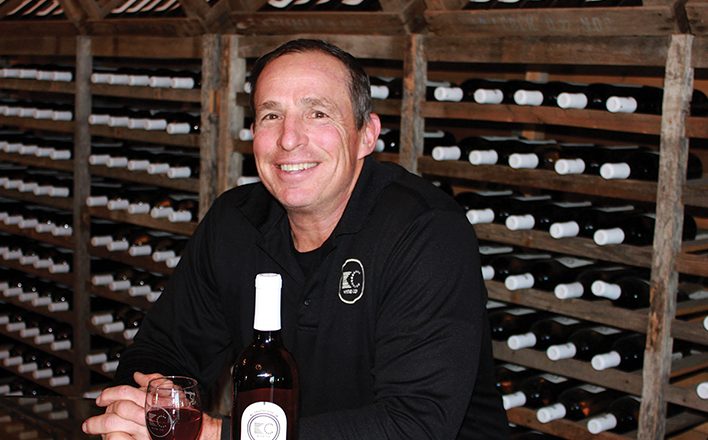 KC Wine Co.
ENTREPRENEUR // Kirk Berggren
LOCATION // Overland Park
FOUNDED // 2014
EMPLOYEES // 5
At KC Wine Co.'s farm winery, you can get a full country vineyard experience right here in town.
Founded in 2014 by Kirk Berggren, KC Wine Co. features a "country-chic" tasting room inside a renovated Quonset hut, which incorporates hand-milled cedar to resemble the inside of a wine barrel. The aroma of cedar and a quiet country setting overlap to enhance the sensory experiences of handcrafted wine.
Surrounded by vines and a five-acre pond, customers can listen to local musicians while enjoying hand-crafted wine, hard cider, sangria or peach bellini wine slushes.
The company recently began selling "Vine-Coolers," packaged bellini and sangria slushes that make portability easy for its customers.
"Product development has established KC Wine Co. as a revolutionary pioneer in the wine industry," Berggren said.
With such an idyllic space, it may surprise visitors that the company engaged in several legal battles to establish their business.
Berggren said KC Wine Co. struggled to obtain a farm winery license from Johnson County due to restrictive agricultural litigation and threats from neighbors.
However, the county ordinances that KC Wine Co. succeeded in legally disputing creates a step forward for small agricultural businesses and future wineries that Berggren regards with pride.
"We are confident that (our case) will be cited in agricultural exemption rights litigation for years to come," he said.
KC Wine Co. currently staffs five full-time employees, and after a year of growth and renovations, Berggren plans to expand regional distribution this year and to continue providing locals with a destination winery close to home.
"Our company goal is to build an original, laid-back retreat that welcomes what we call the 'everyday sommelier.'"