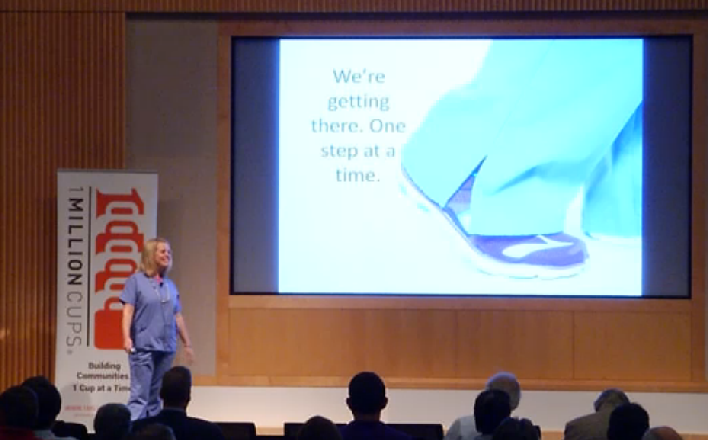 KC's Catalyst Scrubs Sells Medical Apparel Created Under Fair Conditions
Holly Godfrey did the near-impossible: She found one of the few things that you can't buy over the Internet.
Godfrey, a rehabilitation manager at Truman Medical Center, was shopping for medical scrubs and really wanted to buy a fair-trade product. But nobody was offering anything like that.
That led Godfrey to start her own business—Catalyst Scrubs, which works with women in developing countries to make and sell scrubs and other medical apparel. All the people who produce Catalyst's products earn fair wages and work in safe conditions.
"Any good, successful health-care provider knows that, in order to truly heal our patients, we have to treat the source of the problem and not just the symptoms," Godfrey said. "And that's what we're trying to do with Catalyst."
Godfrey talked about her company during the Sept. 9 edition of 1 Million Cups at the Kauffman Foundation.
She started Catalyst by working with friends in the social justice community. They helped her find overseas businesses and groups that employ women and offer decent working conditions.
Catalyst's scrubs are made by women in India. A group of Rwandan women produces keychains and lanyards. The company's Nepalese partners creates tote bags. All told, about 100 women work on Catalyst goods.
While Godfrey ensures that workers are treated fairly, the producers have ultimate say over how their businesses are run. "We're just connecting with them with a bigger platform," she said.
There's a huge potential market: About 8 million people in the United States purchase scrubs, and because of the wear and tear of hospital work, they constantly have to buy new ones, Godfrey said.
Godfrey recently participated in the BetaBlox business accelerator, which she described as a "rocket launcher." Catalyst's sales have been doubling on a weekly basis, and the company is close to securing B-Corp certification.
Godfrey has worked hard and been successful in her career, but she said that part of that is due to being born in America, where opportunities are abundant.
She feels an obligation to assist women from poorer countries who haven't been given the same chances. "They don't have the resources to fight for fair wages and safe working conditions."