In just a couple years, Owen Faulkner has turned Town & Country Heating and Cooling Co. into a raving success—by never letting customers down.
---
When Owen Faulkner started Town & Country Heating and Cooling Co. more than two years ago, no one needed to give him a warning about protecting his brand.
He had worked on the service and business sides of a long-established, mom-and-pop heating and cooling business. Then it was bought out by a corporation that he said focused on short-term gains instead of customer service.
Are You Ready to ScaleUP?
ScaleUP! Kansas City is taking applications now through April 19 for its next cohort. The free 16-week program is designed to help established small businesses grow their revenue through a mix of training, mentoring and networking. For more information, visit www.scaleupkc.com.
After the acquisition, "nobody ever mentioned the word customer," he said. "I just thought, 'What are we doing? This is nuts.' It was all about the quarterly earnings. Life is too short for this crap."
When the company was sold yet again, Faulkner knew it was time to set out on his own.
With 30 years of experience in the HVAC industry, Faulkner left on a Friday and opened Town & Country on a Monday. He hired a veteran technician and had a van immediately rolling out the door. Faulkner also created a growth plan that detailed when to hire the next employee. He was so confident of his success that he bought four vans at once so there would be no downtime when he was ready to hire the next employee.
After a few years in the business, he's doing something that many entrepreneurs never get the chance to do. He's stopping to gauge how far he's come and refine his growth targets.
Faulkner was among an elite group of entrepreneurs selected to participate in ScaleUP! Kansas City. The program, which is offered by the University of Missouri-Kansas City Innovation Center and the U.S. Small Business Administration, is available to those who have been in business for at least two years, generate $150,000 to $500,000 in revenue and are in a market capable of supporting more than $1 million in sales.
No Compromise on Customer Service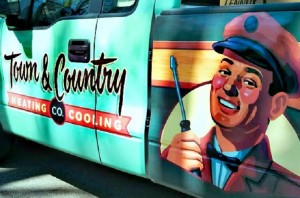 The 16-week class has convinced Faulkner that he focused on the right things with Town & Country, including accounting, branding and customer service. ScaleUP! has reminded him not to lose sight of those core values as the business grows.
Employees are empowered to solve problems and represent the company. He gives his team a pleasant but firm standard: Work with integrity and offer first-class service … or leave. Then he backs off and lets employees do what they're good at. From Day One, every employee is expected to work by that basic principle.
"Our name is all we've got," Faulkner said.
His employees also play a role in keeping Town & Country's cash flow healthy. Of all the work the company billed last year, all but $186 was collected within 30 days. Payment on delivery of service is a key component to his business, he said. Customers don't balk because they are told up front about the procedure.
"You've got to set that expectation," he said.
His social media manager and sister, Alexis Ceule of Social Media Mamapreneur, said that Faulkner tracks all customers to see how they arrived at his website and social media pages. And, she said, Faulkner stays on top of algorithms to make sure his marketing dollar is targeted precisely.
"He knows how much he needs to be making every hour to meet his goal for the year," Ceule said.
Office manager Malory Mertz said Faulkner is ideally suited to run Town & Country because he has worked on the technician side and the business side. He also has experience in corporate and small business environments, so he can draw on the best strategies.
"It's a small business run like a big company," she said.
'We're in for the Long Haul'
Everyone is expected to pitch in at Town & Country—including Faulkner, who answers the emergency calls on the weekend.
"So if I hear the phone ring at 1 in the morning, I'll actually return the phone call and say, 'How can I help you?'"
He even returns calls when someone doesn't leave a message. "They're probably dialing around looking for a live person," he reasons.
Faulkner hasn't turned a wrench in 25 years, but he carries the master license for his employees and can talk a customer through an emergency. If he can't help them find a temporary solution by phone, Faulkner will send someone out.
Some companies, he said, make it a habit to ask for good reviews on Angie's List and elsewhere. Faulkner takes a different approach. He tells technicians to be friendly and give customers an exact arrival time rather than a four-hour window. He offers fair pricing and doesn't push products that customers don't need.
He believes that strategy will naturally lead to good consumer reviews. But more importantly, it will lead to long-term financial success.
"We're in for the long haul," he said. "We're not in for the kill."
He recommends ScaleUP! Kansas City to other small businesses interested in growing.
"The ScaleUP! program has been quite refreshing to go through," Faulkner said. "It confirms our business is headed in the right direction!"