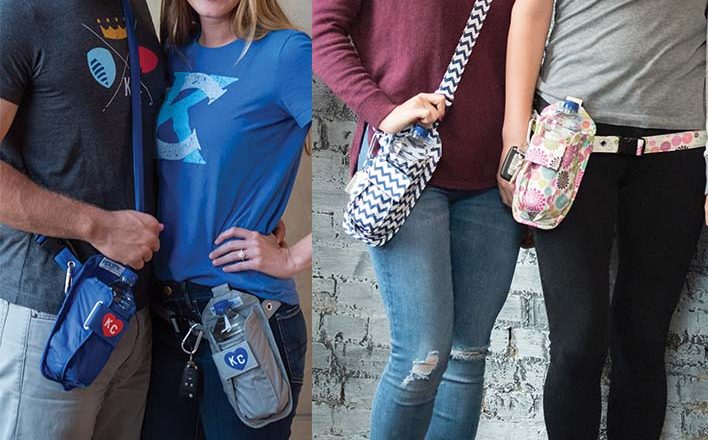 Look, Ma, No Hands!
It's been said that necessity is the mother of invention, and for Tamra Johnson, the phrase couldn't be truer.
The mother of five children ages six to 17, Johnson invented the HOLSTR, a fashionable bottle holder that allows the user to carry their favorite liquid hands-free.
"It has a back pocket that fits most phones, with an eyelet to fit earphone cords through. So you can listen to music and also carry your driver's license and credit cards," Johnson said.
Her company HOLSTRit produces the HOLSTR, which can be used with a waist or shoulder strap. It is available in a variety of colorful washable fabrics and retails for $24.99 to $29.99. It is sold online and through gift shows.
Johnson came up with the idea in 2014 after her daughter Maleena—who was 11 years old at the time—underwent a kidney transplant. (The donated organ came from Maleena's dad, Jamie Johnson.) Maleena has to drink at least 100 ounces of water daily to keep her kidneys healthy, but carrying a water bottle along with her schoolbooks was challenging. Then a light bulb went off for Johnson.
A Bright Idea for Her Daughter
"I was lying in bed thinking about her going to church camp and how was she going to do this, and I came up with this idea," she said. "There is really nothing out there that is comfortable and cute that encompassed all I wanted it to carry."
Johnson described her idea to her daughter's sewing teacher, who made up a few samples.
"I took paper and was pasting things where I thought they should go," she said.
Johnson took photos of every aspect of the prototype, wrote descriptions and sent it off to the factory, placing an order for 1,000 pieces. It takes up to three months for a shipment to arrive at Johnson's home, where she handles order fulfillment.
The HOLSTR is designed for anyone's use, not just people with kidney conditions.
"We have a ton of travelers who choose our product," Johnson said. "Most people don't realize that money or a phone can fit so it is a little more secure."
In her entrepreneurial journey, Johnson has sought advice from several sources, including her father and her husband.
Kansas City is a great place for entrepreneurs, Johnson said. She cited her own situation as a case in point. Johnson has a business coach through Johnson County Community College. She also sought advice through the E-Scholars Program, part of the Regnier Institute for Entrepreneurship and Innovation at the University of Missouri-Kansas City.
"There are a lot of free opportunities for entrepreneurs in Kansas City," Johnson said.
'It Has Been Hard but Exhilarating'
The HOLSTR has gone through a few revisions since it first hit the market.
"You used to have to choose a waist pack or a cross-body strap to go over the shoulder. We redesigned it so you get both in one product," Johnson said. "And we had to make them a half-inch wider because phones keep growing bigger."
Almost 4,000 HOLSTRs have been sold. Johnson has added new fabric patterns and formed a partnership with another stylish
Kansas City brand, Charlie Hustle. A portion of all sales from HOLSTRs goes to the National Kidney Foundation. As of June, $2,665 has been give to the foundation.
Johnson continues to look for new opportunities for her product. In September, for example, HOLSTRit will release two University of Kansas-branded products.
"I would eventually like to have more schools, but I have to take baby steps," she said.
While HOLSTRit operates an e-commerce website, the bread and butter for sales is still gift shows. Johnson is already booked
for multiple shows in the area, all the way up to the holidays. The HOLSTR is also available in Branson Mill Craft Village in Branson, Missouri.
Johnson is amazed at how far she has come with her company.
"Two years ago, I was just a home-school mom with five children … and now I am selling things," Johnson said. "I knew nothing about business when I started. I have had to learn accounting, web design, marketing and social media. I didn't realize I was so teachable until I did all of this. It has been hard but exhilarating."