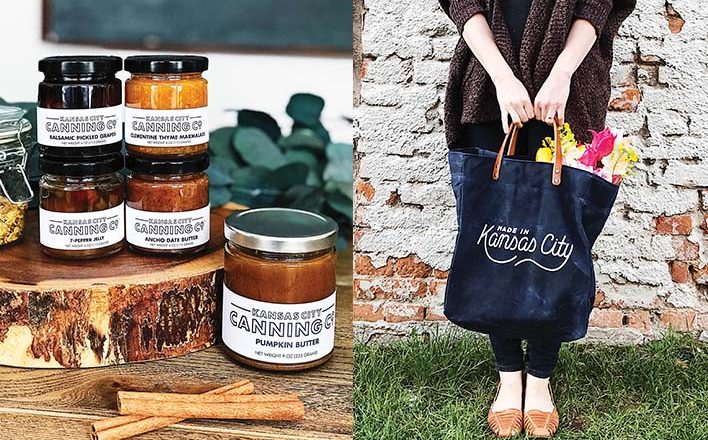 Made Men
Made in Kansas City carries products that are either designed or made right here in the metro.
"We represent what's around creatively in our city," said Keith Bradley, who owns the company with brother-in-law Thomas McIntyre and Tyler Enders, McIntyre's high school buddy.
"We wanted to bring locally made goods out to the suburbs of Kansas City and try to change people's buying habits by supporting local."
A Pop-Up That Still Endures
Made in Kansas City began as a temporary, pop-up operation.
"It started off with Tyler helping a friend get some of her products into some area boutiques. Then some other folks asked him to do it as well," Bradley said. "Based on the initial success from that, things fell into place our first pop-up shop."
McIntyre's connections in commercial real estate helped them find a spot in Prairiefire. Shortly thereafter, McIntyre opened the Briarcliff location. By early 2016, Made in Kansas City was in its third location at Corinth Square.
All three Made in Kansas City locations carry an eclectic mix of products that Bradley and his partners have sourced.
"We buy wholesale from the majority of our makers and do very little consignment deals," Bradley said. "One of my main roles is scouting artists and establishing relationships."
In 2015, Made in Kansas City offered products from 15 makers. Today, that number is over 200 in its retail stores. The Made in Kansas City website has additional items.
When sourcing products for Made in Kansas City, Bradley uses a few basic criteria.
"We always look for quality," he said. "A lot of these companies offer high-quality products that have succeeded before we existed. We also look to see whether the product being offered is something we don't already have in our shops, and does it have a 'wow' factor?"
The product mix includes a little bit of everything: coffee, apparel, artwork, jewelry, barbecue sauce and more.
Though none of the founders had a retail background before Made in Kansas City, they've made some very savvy moves, such
as developing a relationship with Hallmark.
"We started to partner with them toprovide local offerings in one location, and it has developed into providing products in 13 area stores," Bradley said, including Hallmark and HMK stores at Country Club Plaza and Crown Center.
Like Etsy for KC
Last spring, Made in Kansas City launched its new online portal: Made in Kansas City Marketplace (mikcmarket.com).
"It's like Etsy, where makers can upload the products and control the inventory, and we handle the marketing," Bradley said. "It's makers we want to support, but we just don't have space for in our brick-and-mortar stores."
The new portal features about 100 different makers and over 1,000 more items. Made in Kansas City takes a percentage of sales from purchases on the site.
"It's doing really well," Bradley said of the Marketplace. "It is one of our growth areas as a company, but we have been pleased with its initial success."
New concept brewing
In the meantime, Made in Kansas City continues its physical expansion. During the first quarter, Made in Kansas City will move into new headquarters in the Crossroads. The 4,800-square-foot facility will include offices on the top floor and retail and warehouse space on the bottom level.
The company plans to open another location in the first quarter with a new store at 1114 Baltimore in downtown Kansas City, Mo.
"It's a little different concept … and it's our first step into the food and beverage arena," Bradley said. "It is a Made in KC Café with a coffee shop and retail sprinkled throughout. … Later on, we will do a bar-taproom in the back featuring local coffees, food and drink offerings."
Moving into the New Year, Bradley said he and his partners would continue to have an eye toward expansion.
"We are doing more and more business and corporate gifts that we are excited about," Bradley said. "We are always open to exploring new opportunities."