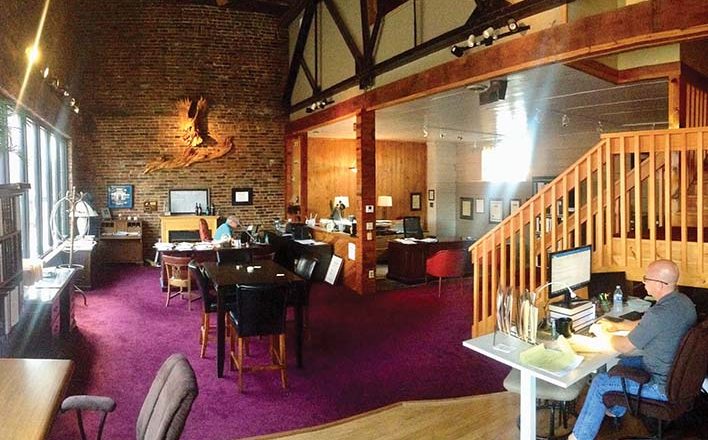 Mann Conroy — Bringing Experience to the Table
Nelson Mann knows all about large, corporate law firms. He knows about providing services to large, corporate clients.
He has nothing against large, corporate law firms or large, corporate clients. But, a few years ago, he decided that working in the large corporate world wasn't for him any longer.
STRATEGY
Hire specialists, not generalists.
COMPANY INFORMATION
Mann Conroy
1316 Saint Louis Ave., Kansas City, Mo.
(913) 219-1197
TYPE OF BUSINESS
Specialty law firm
FOUNDED
2016
ATTORNEYS
6
When he and Kyle Conroy set up shop at Mann Conroy, they made a strategic decision to do things differently. Growth would come incrementally and with attorneys who had specialty areas of practice, not just general practitioners. That's unusual for a small firm. The firm also is highly focused on entrepreneurs.
"We have someone on corporate finance, tech development/licensing, real estate development, one who is full-time on Chapter 11 bankruptcy and a patent attorney," Mann said.
The firm's focus is on adding value to its clients, he said. Mann Conroy clients are with the firm for the personal touch a small firm offers with a deep bench of experience.
"We could be generalists, but that's not what we wanted to be," Mann said.
Staying flexible
Mann Conroy's strategy has been a successful marketing tool. Most of the firm's clients are smaller companies looking for attorneys with deep expertise in a specified area.
Because of its size, the firm offers expertise at a lower fee than its larger counterparts and has the ability to make changes for clients as work progresses. Much like its entrepreneurial clients, the firm can be flexible and make decisions more quickly with less red tape than a big firm.
The small strategy is not meant to be a slap in the face to large firms. Far from it, Mann said.
"I'm a big believer in big firms," he said. "But they aren't structured to serve small to medium businesses.
"We have smaller clients. Larger, blue chip clients can afford a larger firm. But we can still handle big business."
The firm values its experience but isn't shy about telling a client or potential client that they need a bigger or different firm.
"We have areas of deep experience," Mann said. "But you need to know your limits. Sometimes it's better to let go and refer the business out. If you work like that, the money will follow."
Focusing on clients
While practicing law is practicing law no matter where you do it, there are some decided differences at Mann Conroy from Mann's last corporate gig.
For starters, there are the offices. Gone is the high-rise with private offices. Enter an open floor plan office in the West Bottoms.
"There are no walls in the building," Mann said. "We can just talk to each other. It's a fun atmosphere."
Being a smaller firm also affords Mann Conroy the opportunity to not focus just on billable hours or quotas related to bringing in clients or revenues.
Don't get the wrong impression, though. While Mann is happy with where the firm is now, he and Conroy are always looking for ways to expand, provided it's thoughtful growth, he said.
"We have some targets in mind," he said. "We want the right person. Someone who fits in with our ethics and values and has the expertise we need for growth.
"We're not just adding bodies. We're focusing on our clients."