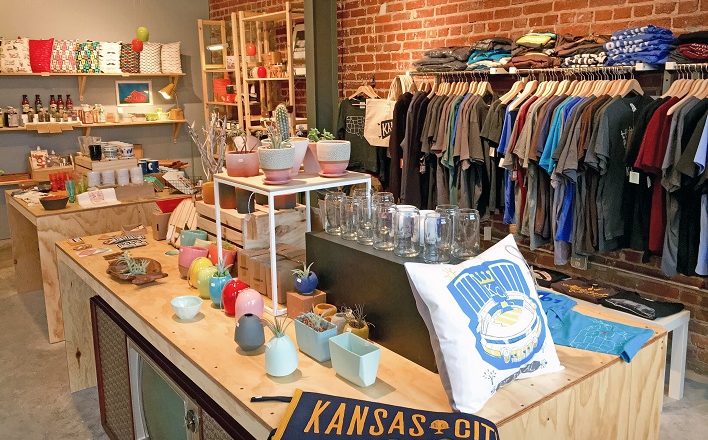 Mid Coast Modern Wins MO Rising Star Award for Small Businesses
Matt Bramlette is the owner and operator of Mid Coast Modern, a Crossroads-based retailer that sells apparel, home goods, gifts and other products—much of it from regional, "mid coast" creators.
Mid Coast Modern just won a Rising Star Award from the Missouri Small Business and Technology Development Centers—one of 10 winners statewide and the only one from the Kansas City metro.
Bramlette talked with Thinking Bigger Business about how he started the shop and what lessons he's learned along the way.
Tell me a little about Mid Coast Modern. What kinds of products do you sell? How would you describe it to someone who's never been there before?
Mid Coast Modern is a source for design-centric home goods, apparel, jewelry, artwork and limited edition gifts. We support indie business, makers and artists from the "mid coast" and bring in goods from indie business, makers and artists around the U.S., to offer a unique, fresh selection.
What's the origin story of your business? How long have you been in operation, and why did you decide to go into business for yourself? Did you immediately open a brick-and-mortar location, or did you sell online first?
I worked as a designer and art director at various agencies in Kansas City for many years and decided I wanted to experience a new career. I wanted something that related in some way. Many of the products I carry are created by former ad people and designers. So, I get to work with creative, passionate people on a small scale and help them grow their small business. And I get to continue with my experience in branding, but with my own products and business.
I did not start out online because I felt like breaking through that wall and getting out to strangers was even more difficult online. There are so many retail websites out there that it's a sea of options. A brick-and-mortar can be a bit more relevant with this type of more localized business. I don't carry exclusively KC-made products, and that isn't the goal. But about 40 percent of what I carry is KC made, and I'm totally supportive of the local scene and have popups with local makers regularly.
Community is a huge reason I got involved with this. We are going in our sixth month of operation.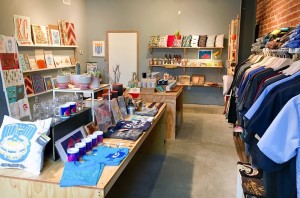 You worked with Rebecca Gubbels, a consultant at the University of Missouri-Kansas City's Small Business Development Center. How did Rebecca and the center help you?
I took a FastTrac business course with Rebecca as the instructor. As a designer and not particularly a business person, I was clueless to the business side of things. The class was very informative about all the important business topics that needed to be addressed. To be honest, my store was a mere concept, and some of the class topics glossed over my comprehension until I got the business up and running. It's a lot of info to take in before you have an actual business in place.
But I have revisited the class book many times since opening and Rebecca has been kind enough to offer some follow-up assistance a few times. She is extremely busy, and to go the extra mile says a lot about her commitment to the program and helping mentor new businesses.
What's been the most challenging part of launching your business?
The most challenging part for sure is getting customers in the door to shop. We did a good job with grand opening and did well during holiday for a new business, but it was A LOT of work promoting and getting awareness without spending money. People have lots of options, and when you are a destination location, you have to really offer something special to get customers to go the extra mile.
Has there been anything about the process that's surprised you?
I'm not sure if anything has surprised me, but most of the warnings people have about opening a new business have come true. I think everyone thinks they can skip the growth parts, but it's just part of the reality.
The weather and sports has a major impact on business in Kansas City. That is tough for a brick-and-mortar, for sure. But, when sports are going well, business picks up, as long as there isn't a game on! I'm not a sports shop by any means, but sports in Kansas City is the backbone for the city pride that has been so powerful in the last few years.
What's the next big goal you're working toward?
In addition to the store, I've launched a soap brand with my partner, Rick Leavitt, called Bear Soap Company. It's doing quite well and is definitely a focus in 2016. We plan to grow that brand and add more products and create a line. Also, as makers, we have yet another brand called Mid Coast /made. We have a growing list of goods including T-shirts, pillows, hats and custom drinking glasses.
In 2016, we've decided to participate in many of the artisan craft events in KC and even a few outside of KC. This will be a good opportunity to promote the store to a new market.