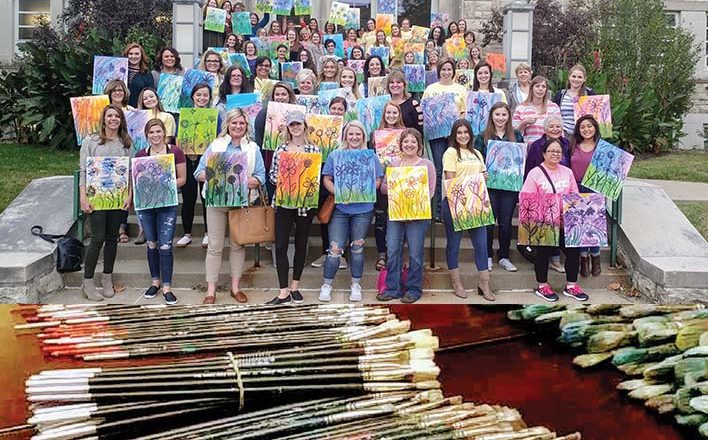 Mission to Spread Creativity Drives Philanthropic Philosophy
For Joey and April Kramer, owners of Apple Pie Painting, their passion for business is intertwined with their desire to give back.
"We believe that without creativity, we would live in a world where there would be no dreamers or innovators, no writers or musicians. Our ability to help play a tiny role in fostering this inspiration is our passion and our mission," Joey Kramer said.
Their company fosters creativity through the painting parties it facilitates. One way the Kramers are able to help others is through fundraising
parties, which they've structured so that 30 percent of the proceeds can go to the designated charity.
The Kramers also have a special affinity for Children's Mercy and donate a painting party each quarter for teen inpatients, whom they say are "overlooked."
"We truly love these events, as the children are always so grateful for the opportunity to escape the realities of what it is they are going through, even if only for an hour," Joey Kramer said.
Their connection to Children's Mercy is personal.
"With our youngest child having spent many nights, and sometimes weeks, in and out of Children's Mercy for medical issues early on in his life, we have a special place in our hearts for the hospital, the doctors and the staff," Joey Kramer said. "Giving this experience to these patients allows us to bring a little joy and inspiration to them as they struggle through the most challenging obstacle of their lives."
Apple Pie Painting also partners with the Dreaming Zebra Foundation of Portland, Ore., which donates new and used art supplies to impoverished children all over the world, including in the U.S. The Kramers aim to donate 1 million paint brushes to the program; so far, they've sent about 2,000.
To help meet the goal, the Kramers began offering #1MillionBrushes In-Home Painting Party Kits in November. For each kit purchased or video down-loaded, the company donates five new paintbrushes.
"So far, thanks to our donations, we've been told that children as far away as Africa, Indonesia and Haiti, and even closer to home at an autism school in Kansas, have used our donated brushes to help inspire them to create art, build confidence, and enjoy a simple thing that most of us would usually take for granted," Joey Kramer said.