Local startup Mobility Designed has created a new type of crutch that's easier on the human body—and it's trying to raise $30,000 on Kickstarter to fund an initial production run.
Traditional crutches force users to carry their weight on their hands, wrists or armpits. Over time, that can lead to chafing, discomfort and even nerve damage. The M+D Crutch allows people to support themselves with their elbows and forearms—a less painful arrangement.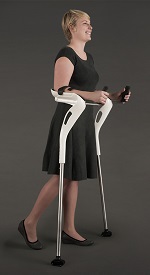 It's the work of a married couple, Liliana and Max Younger, who both are industrial designers.
Max grew up watching his father, Dan, use crutches on a regular basis, so he knew how inconvenient old-school crutches can be for people who have to rely on them daily. When Max was in design school, he noodled around with ideas for a better solution. Dan lost his leg to a staph infection a few years ago, and that spurred the Youngers to turn the concept into a real product.
Max Younger continues to work as a designer for Hallmark, but a year ago, Liliana Younger left the company to focus on Mobility Designed—creating a business plan, pursuing funding and producing a final working prototype.
"Jumping out of Hallmark was hard," she said. "I loved working at Hallmark."
But the Youngers, who have a young son, realized that launching a business was only going to become more difficult the longer they waited. And they were excited about the prospect of putting a potentially life-changing product into the hands of people who need it.
"After all," Liliana Younger said, "what we really want is for this to be everywhere."
Though its product won't go on sale for a few months, Mobility Designed has enjoyed a lot of early success.
The company won this year's Venture Creation Challenge competition at the Regnier Institute for Entrepreneurship and Innovation at the University of Missouri-Kansas City. And it received proof-of-concept support thanks to Digital Sandbox KC and UMKC's E-Scholars program. This fall, Mobility Designed was one of 20 startups chosen to present during the LaunchKC grant competition at Techweek Kansas City.
The campaign for the M+D Crutch will run through Dec. 21. You can find the Kickstarter page here.